Chef Chad Sarno is one half of a brother-partnership / two-man vegan food empire along with Derek Sarno, and the pair must be the two of the hardest working businesspeople in all of plant-based. This year alone, the number of achievements from Good Catch which we discuss in this interview, is truly astonishing.
The phenomenonally popular Good Catch plant-based tuna has this year expanded into UK retail, USA and Canada, into foodservice (in a delicious looking vegan tuna melt) with Veggie Grill, and last week became available through home delivery on newly launched DTC platform.
Chad Sarno somehow managed to find some time in his schedule to talk to us about this list of incredible success, and thoughts on the future of seafood.
For any readers who may have been living under a rock this year and have not heard of Good Catch – please introduce your brand and tell us about your current portfolio.
Good Catch is a chef-driven, innovative food company developing craveable, plant-based seafood products. Our current portfolio includes Good Catch Plant-Based Fish-Free Tuna, which is available in three versatile flavor offerings including Naked in Water, Mediterranean, and Oil & Herbs, and our frozen line-up of New England Style Plant-Based Crabless Cakes, Thai Style Plant-Based Fishless Cakes, and Classic Style Plant-Based Fishless Burgers.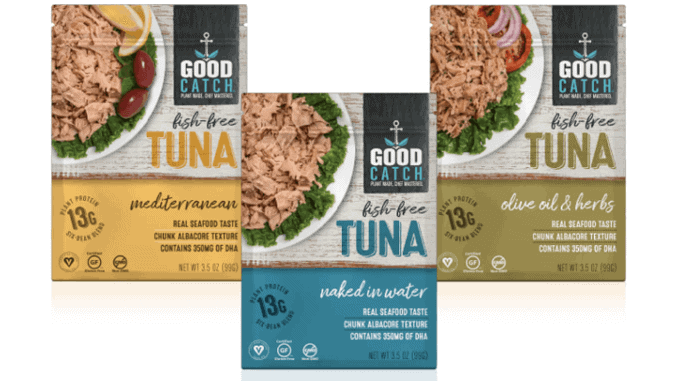 Our products are crafted from Good Catch's proprietary six-legume blend (peas, chickpeas, lentils, soy, fava beans and navy beans), which is high in protein and used as the base of Good Catch products to create the texture that mimics the flakiness of seafood.
We have published so many articles this year about all of your achievements – it's hard to know where to begin, but let's start with the oversubscribed series B round in January – what was the final raise and what did it mean for Good Catch?
Our final raise for our Series B funding was $36.8 million. This round of investment emphasized the food industry's recognition of our strategy, our reception by consumers, and anticipation for more innovation to come. This year, with those funds, we opened up our own manufacturing facility in Heath, Ohio. This gives us the opportunity to continue down the path to global availability of our products without the concern of production constraints.
You then went on to begin distribution in the UK, via Tesco. Has this been successful and do you have plans to further your reach in the UK and globally?
Along with my brother Derek, co-founder of Gathered Foods, we have built an amazing relationship with Tesco through our efforts to launch our Wicked Kitchen plant-based product line within their stores. Since this launch, we have seen enormous growth in demand for plant-based products from consumers so we felt it was the perfect time to launch Good Catch with Tesco earlier this year. Tesco is the leading grocery retailer in the UK, so it's been incredible to work closely with their team and place Good Catch on their shelves.
We do have more distribution plans in the works as we continue to expand. In October, we announced our launch in Canada through distribution with Loblaws. Our frozen line of appetizers and entrees will be available in over 600 stores across the country.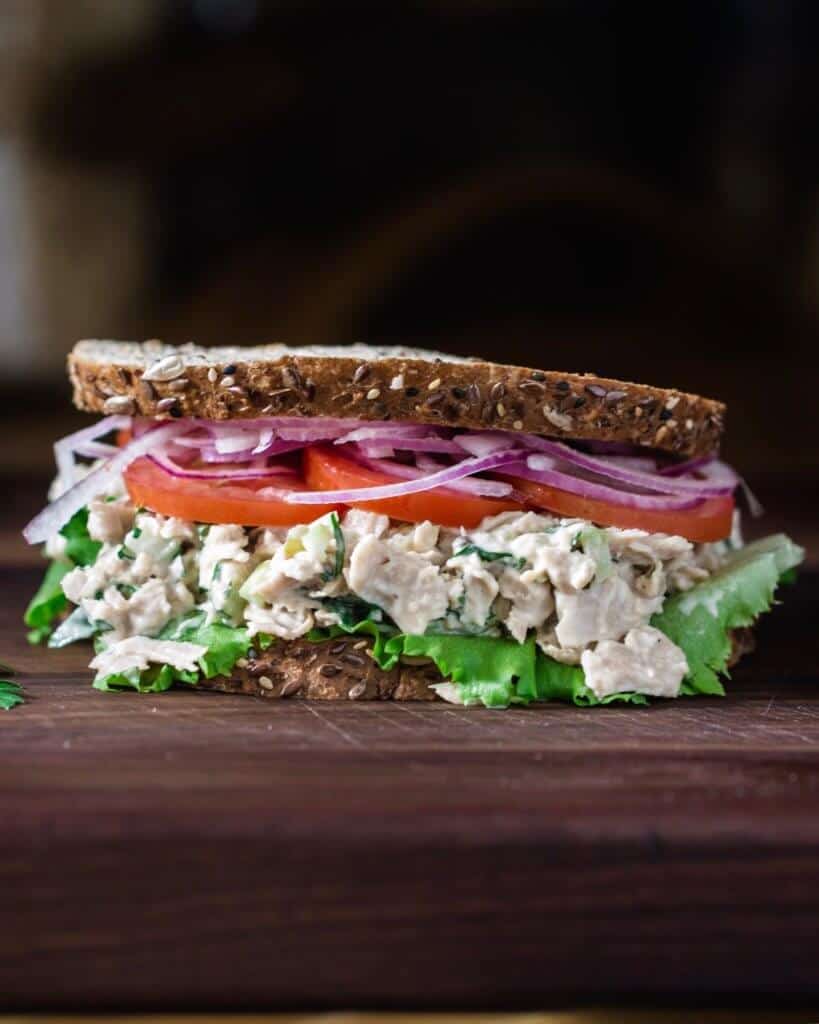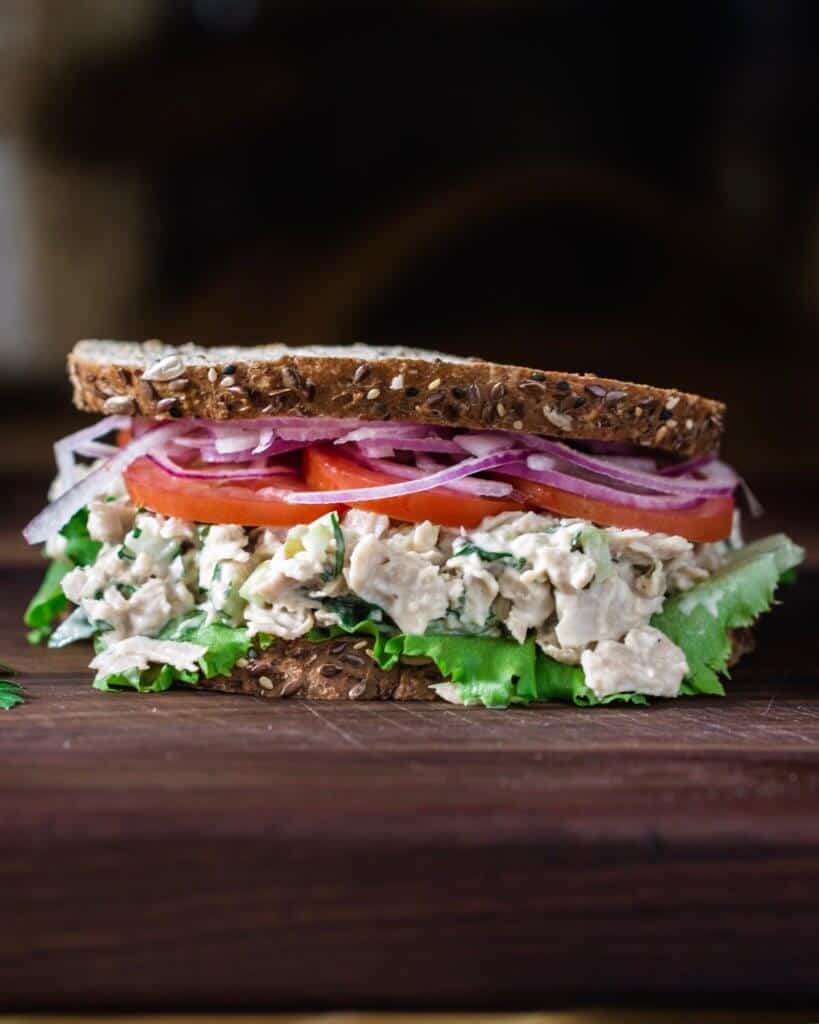 In March we reported that you had partnered with Bumble Bee, a substantial seafood processor. What changes has this brought?
Through this joint distribution venture, Good Catch products quickly became available to consumers across the country. As an independent company, Good Catch remains focused on developing and marketing our great-tasting plant-based products using our proprietary blend of ingredients that meet consumers expectations for the flavor, texture and nutritional value of seafood without the same environmental impacts as ocean harvested tuna.
In May you announced a line up of celebrity investors, did this serve to increase exposure for your brand and to plant-based industry in the US?
Consumer demand and culinary trends show the evolving excitement for plant-based foods. The unified support from these influential celebrities is invaluable to our brand. We're hopeful for the growth and continued innovation their endorsement creates, including the continued exposure.
In July you announced a new frozen product line which included New England Style Crab Cakes, Thai Style Fish Cakes, and Classic Style Fish Burgers, how have these been received so far?
Since launching in East Coast retailers this summer, this line, particularly the New England Style Crab Cakes, is flying off the shelves. It's a testament to our continued innovation and promise to deliver great-tasting, craveable plant-based seafood products to consumers. These products in particular are plant-based alternatives to some classic staples and we've continued to see the excitement surrounding these offerings following our launch moment.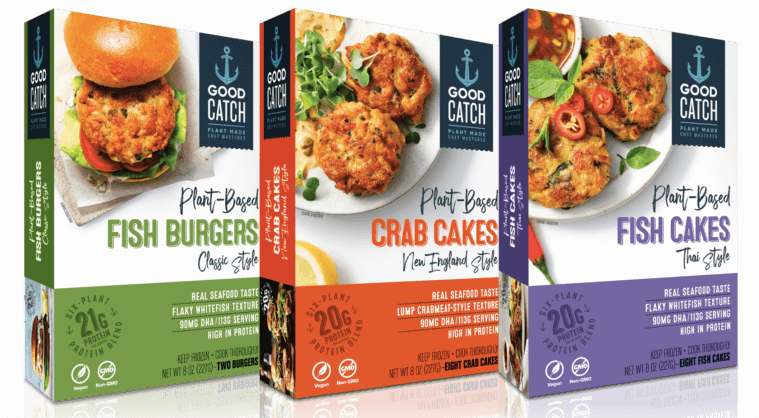 Can you tell us about any new developments or innovations?
Around 250-300 species from the ocean are consumed globally. We're being led by impact opportunity and we see this as a massive innovation opportunity for our culinary and food tech teams. We are constantly developing new ways to bring innovative plant-based seafood products to consumers. Our latest frozen line gained such great feedback and we are excited to add new products to our portfolio in the future.
It has been a difficult year for many in food production and foodservice but your brand is clearly making consistent advancements – what's the secret to your success?
We entered the market at a time when the white space posed an opportunity for innovation, and while the consumer demand for plant-based proteins began to surge. We are driven by passion. Passion for the culinary arts, passion for saving our oceans, and passion for providing great-tasting plant-based products for consumers that believe in our mission. It's what keeps us going and what makes our brand successful in this ever-growing industry.
We created Good Catch out of necessity. We saw growth in the plant-based protein category, but not many plant-based seafood options, so we made the innovative decision to make the product ourselves.
You have partnered with Veggie Grill for your first restaurant partnership – congrats! Can we expect to see more restaurants offering your products? Outside of the US possibly?
We do have plans to expand our restaurant and foodservice footprint in 2021. We're excited to work closely with our partners to bring our products into the culinary fold at their establishments with a global footprint. Exciting partnerships to come.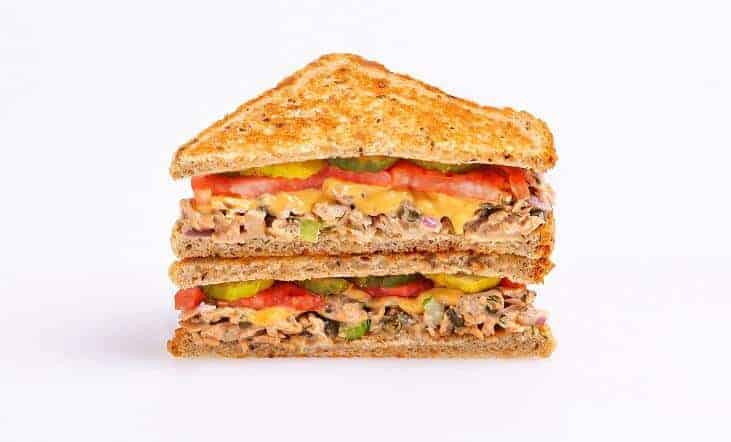 On a related side note – your other venture with brother Derek is Wicked Foods / Wicked Kitchen – which you just announced yesterday will launch next year into the US – can you tell us a little more?
We're thrilled to announce that Wicked Foods will launch our pioneering product line in the US by Summer 2021. Our launch plan takes into account the incredible success of our products at Tesco in the UK for the past three years under the Wicked Kitchen brand, which will now evolve to Wicked Foods to bring the brand globally. For the US, we will focus on convenient, ready-made products and meal solutions. We will have a few lead retailers over the next 6 – 12 months and a lead direct-to-consumer player early on so consumers across the US and Canada will have access to the products in the coming year.
What's next for Good Catch? And what's the end goal – how will you know when to stop or when it has been reached?
There's certainly much more to come from Good Catch! As we continue to grow, we plan to offer more great-tasting, craveable products to consumers. We also have some exciting foodservice and retail expansion plans in the works.
I don't think we'll ever stop, as we are committed to creating plant-based seafood options for consumers across the globe and to better serve our planet. Our mission is to raise consciousness, reduce harm, and preserve environmental resources, all while delivering a great culinary experience. Our team is dedicated to creating great-tasting plant-based foods for everyone, from vegan to omnivore and everything in between. We are united by a love of good food, plant-based eating, and animal welfare. We're excited for our continued growth.