Healthy Nibbles is the UK's award-winning healthy snack service for corporates and community, delivered through vending machines and snack boxes. They offer vending machines which are connected, 100% cashless, and full nutritional and allergen information is presented prior to purchase through a touchscreen interface. Customers can also search the range to find products that suit their dietary requirements.
Founder Sara Roberts says their services are successful because they are a perfect solution for businesses of any size; "The rapid growth and enthusiasm we have seen for the product made it obvious that we were onto something. We are seeing new markets develop for these, particularly within hospitality, aviation and conferencing. Our overarching goal is to help our clients create a healthy, sustainable and engaging community.
How did the idea for Healthy Nibbles come about / what motivated you to found this kind of company?
Several years ago, I sat at the hospital bedside of my father. It was 3 am and I was hungry. The only food available was from a vending machine. Standing in front of the vending machine, it suddenly occurred to me that there were no healthy options, and there was a poster beside the machine with the message 'Diabetes and obesity kill'. To me, it was staggering that in a place where people are trying to get better, the food options aren't always conducive to good health.
At Healthy Nibbles, we're on a mission – to improve the health of commuters and workers everywhere, and to prove to offices, hospitals, commuter hubs, that vending machines can dispense more than caffeine and sugar; and still make a profit.
Tell us about the different services that you offer.
Healthy Nibbles has four key services. Our vending machines are at the forefront of convenience retail. Our snack boxes are the perfect solution for small to mid-sized business or larger organisations with multiple sites.
We also work closely with clients to develop product ranges and the right mode of delivery to suit the environment, whether that is in a co-working space, retail site, for aviation or education. Our goals with these clients is to make healthy and sustainable food choices easy to access and relevant.
Finally, Healthy Nibbles work with client to develop an employee nutritional wellbeing strategy. As a Global Advisor on Nourishment with the International WELL Building Institute, we bring the principles of health, wellbeing, sustainability and welfare into the workplace.
What makes Healthy Nibbles unique?
Healthy Nibbles is an award-winning innovator within employee nutritional wellbeing, with a heritage of creating a number of firsts. From creating the UK's first nationwide healthy vending service, launching Europe's first plant based vending machine, being the first 100% cashless fleet of vending machines and providing an exceptional level of customer engagement at the machine, including the display of full nutritional and allergen information being available at the touch of a button to allowing the customer to search the product range via their dietary requirement.
How much of your product base is vegan?
We carry over 350 different products across our product portfolio, with approximately 75% of our range being vegan.
What kind of clients do you provide services to?
Healthy Nibbles works with corporate clients including market leading retailers, mobile phone providers, commercial property companies, investment banks and utility companies. We are proud to supply nutritious snack options to thousands of frontline workers throughout the country, improving working conditions for the most important part of the economy. Outside of the corporate world, Healthy Nibbles are available in schools, hospitals, and railway stations across the UK.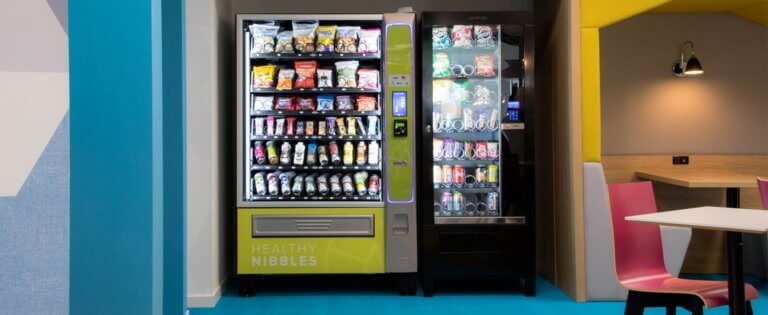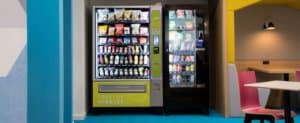 Your focus appears to be one of wellbeing. How is this integral to your business ethic and how much do you think wellbeing is increasingly important to consumers?
UK employees with poor eating habits cost employers 97 million lost working days (or £17 billion) each year. A 'perfect-storm' combination of factors is changing every aspect of our lives, mostly to the detriment of our health and ability to perform, and ultimately leading to such staggering figures. For business, wellbeing is a challenge. CEO's not only have a moral obligation to look after the wellbeing of their staff, but increasingly they will gain clear business advantage by putting wellbeing at the core of their strategy.
Beyond the health impact of food choices, Healthy Nibbles is driven by a multi-faceted sustainability ethos. Our vending machines have the highest energy efficiency rating in the industry in addition to being 78% recyclable. Our back-office printing is done in line with ClimatePartner and we seek to work with producers that have the lightest impact on the planet, reviewing practices on manufacture, supply chain and packaging. Our plant-based vending takes this a step further as new research has indicated that avoiding meat is one of the biggest things an individual can do to reduce their personal environmental impact.
Which are the biggest sellers and why?
Being honest, it depends were the vending machine is or where the snacks are going! However, the savoury nibbles such as lentil chips or smoked almonds and the various raw chocolates always go down well.
Where are your services currently available and do you have plans to expand?
Healthy Nibbles is currently available throughout the UK. We are currently in discussions with varies parties that will see us in the Netherlands, Ireland and UAE by early 2019.
Are you seeking partners and if so in what areas?
Healthy Nibbles are always seeking ways in which we can collaborate with us to help build and create opportunities. If there are any places of work that need healthy snacks or nutritional support, then we should be the first port of call. We also love finding out about producers that are creating amazing products, with a strong point of difference and good price point.
What are your future plans as a company or what are you striving to achieve?
Healthy Nibbles works toward being the leader in employee nutritional wellbeing, through a range of innovative solutions across vending, snack delivery and NPD. Having already built a strong reputation in the UK, which continues to grow, Healthy Nibbles expects to see our international footprint significantly increase.