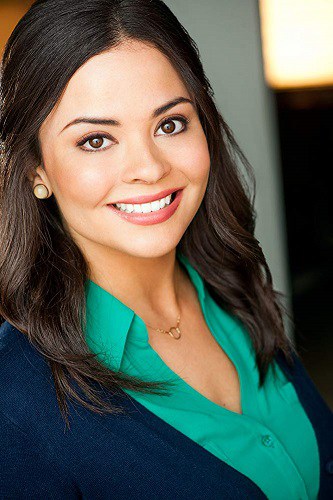 The founders of
Honest Paws
are passionate about creating ways to help pets live longer, healthier and happier lives. The Texas-based company offers CBD oil pet treats to fight the symptoms of different chronic pet diseases. Having started their online shop out of concern for their own pets, today they have had over 21,000 customers and sell their products in pet and drug stores across all U.S. states.
Chelsea Rivera, Head of Content Marketing at Honest Paws, took the time to answer or questions about this interesting and potentially revolutionary pet product.
Please can you introduce your brand to our readers?
Honest Paws is a CBD pet product company. We are all-natural, non-GMO, soy-free, and lab-tested. We derive our full-spectrum CBD oil from a single source farm in Oregon. We believe in simplicity. That's why you don't need a PhD to understand our ingredient list.
Additionally, our treats are ailment specific. We use strains with terpene profiles that support a specific ailment, whether it be anxiety, mobility or allergies. Our secondary ingredients also support the ailment as well. For instance, our Restore Treats – which combat allergies – contain coconut oil and our Relief Treats – which support mobility – contain turmeric.
What was the motivation behind the launch of an online shop for CBD enriched pet treats?
I have a 13-year-old Maltipoo, named Baby Rose. For years, Baby Rose suffered from seizures. The seizures only stopped when I started giving her CBD oil. I shared my story with my brother, Erik, who had experience in the internet space. From there, we started Honest Paws with the hope of sharing this effective, holistic alternative with all the pet parents in the world!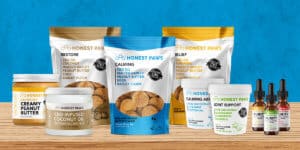 What is your current product range and how many products are vegan?
We pride ourselves on having a very diverse product line, a little something for everyone!
Calming Treats: The terpene profile in this treat is similar to hemp strains that combat anxiety, stress relating to travel, fireworks, social settings, doorbells, etc.
Restore Treats: Contain coconut oil and thus is rich in omega 6 fatty acids. This treat contains a terpene profile that supports irritated, dry, itchy skin, dull coats, cracked paw pads, dandruff, shedding, and allergy relief.
Relief Treats: The terpene profile of this turmeric flavored pet treat is known to provide relief from joint and muscle pain, post-operative pain, as well as digestion and nausea issues.
Calming Soft Chews: These chews are ideal for smaller and/or older dogs that may have dental issues. This calming aid also includes 20 mg of L-Theanine and 10 mg of Tryptophan, which both support calmness and tranquility in pets.
Joint Support Soft Chews: These chews are ideal for smaller and/or older dogs that may have dental issues. In addition to CBD, this joint support chew contains 500 mg of Glucosamine, 50 mg of Chondroitin, 15 mg of Boswellia, and 5 mg of Hyaluronic Acid. All ingredients are clinically-proven to help relieve inflammation and support your pet's joints.
CBD Oil Level 1: Full-Spectrum CBD oil for pets under 25 lbs.
CBD Oil Level 2: Full-Spectrum CBD oil for pets between 25 and 50 lbs.
CBD Oil Level 3: Full-Spectrum CBD oil for pets over 50 lbs. This is the preferred dosage for pets dealing with severe ailments like seizures.
CBD-Infused Peanut Butter: This fan favorite offers 5 mg per serving of peanut butter. This product is perfect for pets who are finicky eaters. After all, who doesn't love peanut butter?
CBD-Infused Coconut Oil: Made with premium, human-grade ingredients, this CBDinfused coconut oil is perfect for pets with allergies, aging brain function, parasites, and/or cardiovascular issues. You can use it topically or mixed into food.
The only products that aren't vegan are the treats, which contain organic eggs, and the Calming Aid Soft Chews, which contain Tryptophan sourced from turkey. Our other 8 products are vegan.
Which products are the bestsellers?
Our Calming Treats are definitely our best sellers!
Do you have any new vegan products in development?
We are working on expanding our CBD for cats line – including vegan options.
How much interest is currently shown in your product by retail chains?
Retail chains have been very receptive to our product line. Retailers are interested in:
1) high quality product
2) awesome brand support
3) solid brand recognition
Our products are top of the line, we truly partner with our retailers in that we are constantly finding new and unique ways to help them share Honest Paws with their customers, and we have phenomenal brand recognition due to us being the most searched for CBD for pets brand by name.
Who is your main target consumer group and why?
Our target consumer group varies but overwhelmingly tends to be women, 25-35, who maintain a healthy lifestyle and would like to share that with their pet as well.
How many orders do you receive monthly?
We receive an average of 8,000 orders per month.
What do you have planned for the rest of 2019 / 2020?
At the moment, we are focusing on partnering with more retailers, as well as moving into the South American market.