The INTERNORGA 2020 taking place from 13th March in Hamburg, is one of the most prominent international trade fairs. This year's INTERNORGA continues to focus on plant-based cuisine, while meatfree diet is and remains a highly topical issue in the out-of-home market and will play an even greater role in the future.
We spoke with Claudia Johannsen, division manager at Hamburg Messe & Congress GmbH, about the vegan developments in the out-of-home market and the increasing interest of trade fair participants in plant cuisine.
What role do vegan/plant-based options play in catering these days?
Alongside sustainability and digitisation, vegan and plant-based cuisine is one of the major trending topics in the catering sector. More and more people are looking for health-conscious, balanced and plant-based nutrition. Catering has already recognised and picked up on that development. The food on offer in work canteens, as well as the care sector, has been and continues to be expanded to include vegetarian and vegan dishes, and this will be extended further over time. That trend is largely being driven by millennials, who often favour plant-based nutrition. That is also confirmed by our cooperation partner, the nutrition organisation ProVeg, which has been supporting and advising INTERNORGA visitors on all matters relating to vegan and vegetarian nutrition for two years.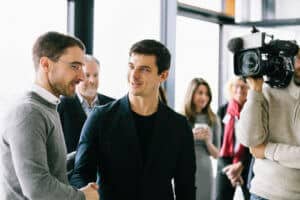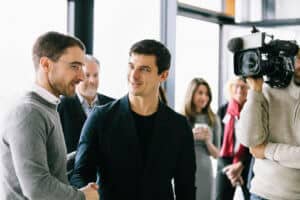 What space will the 'vegan/plant-based' subject take up at INTERNORGA 2020?
Vegan and vegetarian diets are a very contemporary subject, which of course plays an important role in the foodservice and hospitality market, too, and therefore at INTERNORGA. We believe the demand for purely plant-based products will increase further in future. Manufacturers and producers have recognised that and prepared for it with their range of products.
This can be seen in the variety offered by our exhibitors who are providing either purely plant-based ranges or additional vegetarian and vegan alternatives. The 'vegan/plant-based' topic area will take up more space at INTERNORGA 2020 than it has in previous years. Furthermore, ProVeg will be running a booth for interested restaurateurs and providing advice about the diversity of vegetarian and vegan menu designs in restaurants, and work canteens in particular.
Which companies will be presenting plant-based products? (some examples …)
With such a variety of plant-based offers being presented at INTERNORGA, it is virtually impossible to name just a few examples. Trade visitors interested in plant-based products will strike it rich in the Newcomers Area, for example. Two recently founded companies will be presenting their product innovations there: Frittenlove, which offers exceptional chips made with chickpeas, pumpkin seeds, black truffles and falafel, and Just Taste, who will delight the specialist crowd with organic vegetable pasta varieties. But there are also numerous plant-based product innovations to be discovered among the established exhibitors in Hall A1 and Halls B1 to B4. To name just two more examples, the jackfruit range from the exhibitor Valio-Avicola and the innovative vegetable hemp sticks from the manufacturer Avita/Schne-frost are interesting in this context.
Will there be signage for vegans again?
Yes, we are very proud to say that with the support of ProVeg we have been able to continuously expand the vegan/vegetarian pathway in the INTERNORGA app. The Veggie Path allows our visitors to get detailed information about exhibiting companies with a plant-based offering. What is special about it is that the products can be filtered by different food groups: an ideal way to maintain an overview among the numerous manufacturers offering plant-based products.