At this point, Juicy Marbles should need no introduction for the majority of vegconomist readers. Based in Slovenia and enjoying distribution across the UK and US, these plant-based whole-cut steaks have been causing a stir since they arrived in 2021, as was the intention.
Vladimir Mićković, co-founder and chief brand officer at Juicy Marbles, turned out to be a very characterful and quoteworthy interviewee!
What is the story behind Juicy Marbles?
I'm sure every "marble" could tell a different story, but we are all bound by a shared love of cooking. We come from a culture where food is inseparable from passion. There is this joie-de-vivre coursing through our veins, and feasting with friends and family is a way of celebrating life here. Meat was always center stage, of course. But being notorious softies, we couldn't turn a blind eye to what's happening in the world due to our ever-increasing appetite for meat and the consequent industrialization of its production.
So we asked ourselves a ridiculous question: could we somehow eat all the meat we wanted and still have a sensible food system? We believe it can be done. Furthermore, it can be done with gusto! Juicy Marbles is the love child of these two apparently conflicting notions.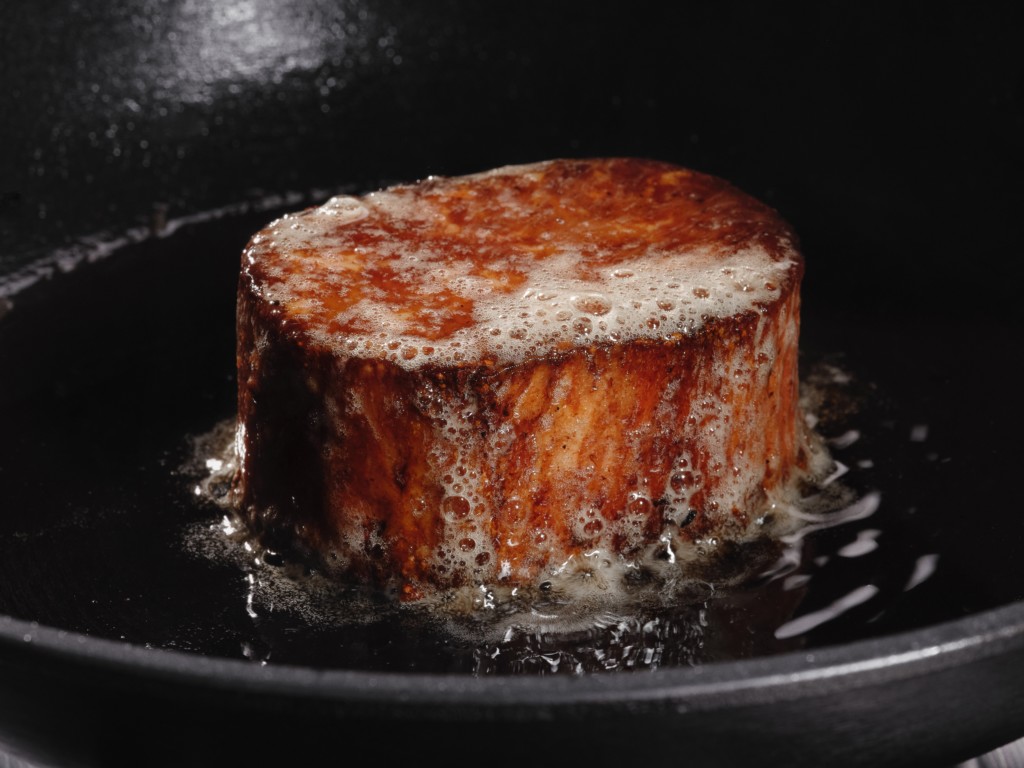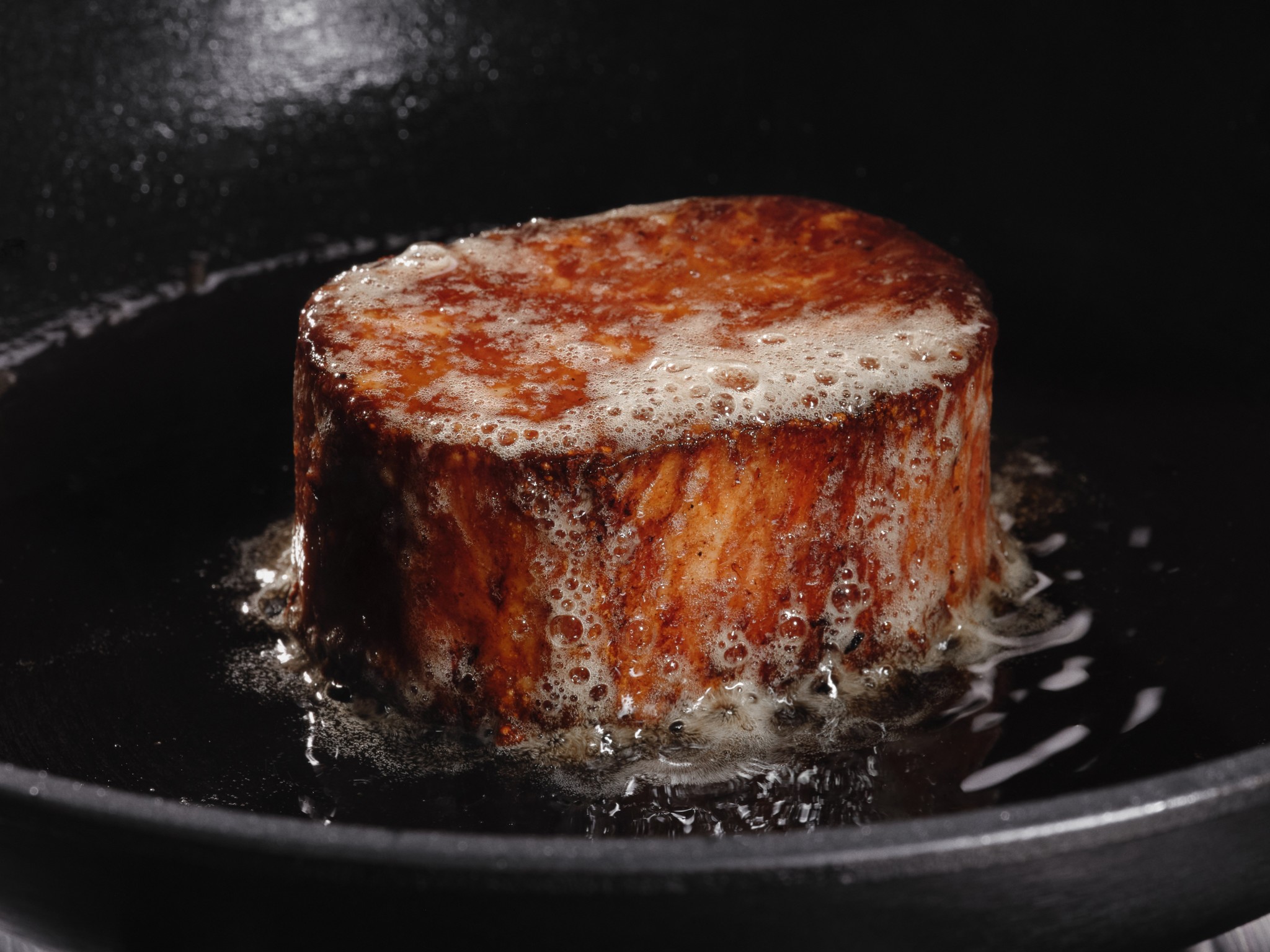 Tell us about your current portfolio.
We currently offer two products. Surreal plant-based analogs of the filet steak and the tenderloin muscle. Essentially they are the same, as we get the filets by cutting the loin into pieces. We opened our portfolio with the "Thick-Cut Filet," now named slightly more vaguely, as we might have insulted some French people by initially calling it "filet mignon." This verbal tango is pretty common in the plant-based industry, as you've probably noticed, and I am not against it at all.
"…we might have insulted some French people by initially calling it "filet mignon""
But not veering too far from the original's name is also important so as not to confuse the eater. We chose the filet for the "opener" because it vividly displayed what plant-based meat can be with its lush marbling and fibrous texture. It was a fancy little symbol of a new era for plant-based meats. However, after selling it for a while, we noticed that a lot of people were using it not only as steak but including it in all sorts of recipes, including broths, wraps, etc… So what we saw in the community was a real need for a product that is versatile, and so we decided to package the whole "muscle." There are a lot of families among our customers, making the loin a more convenient product for them.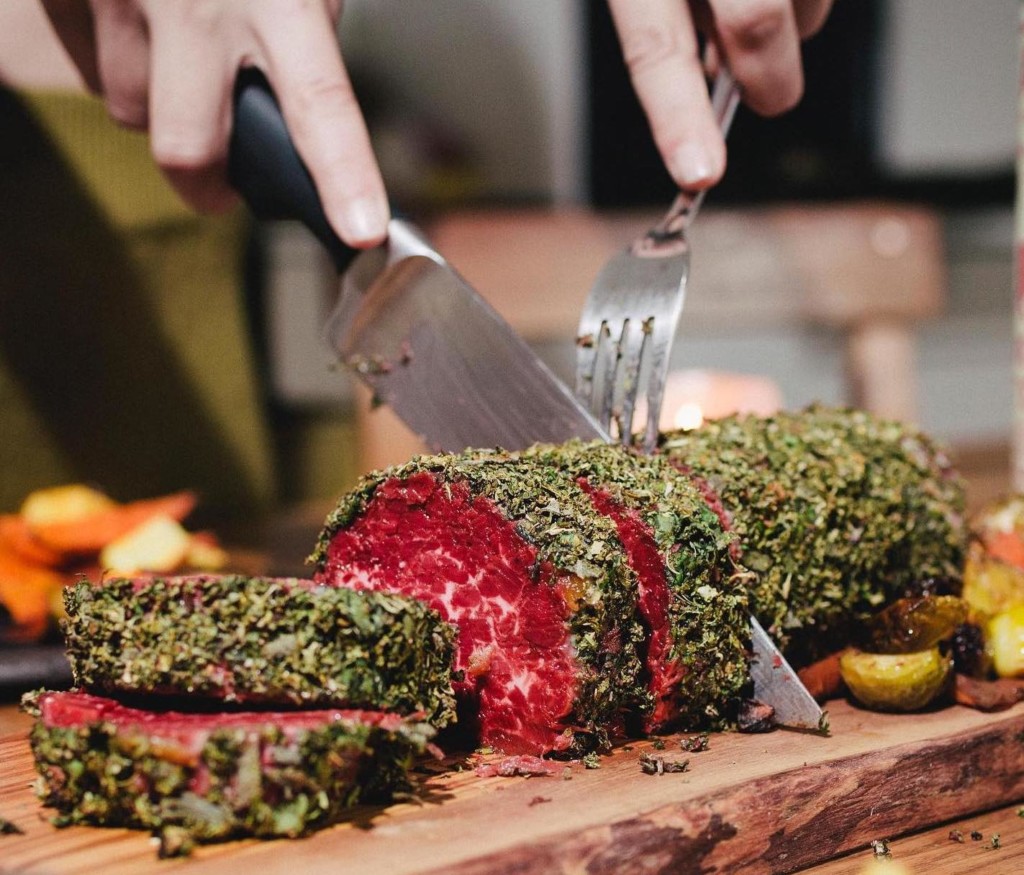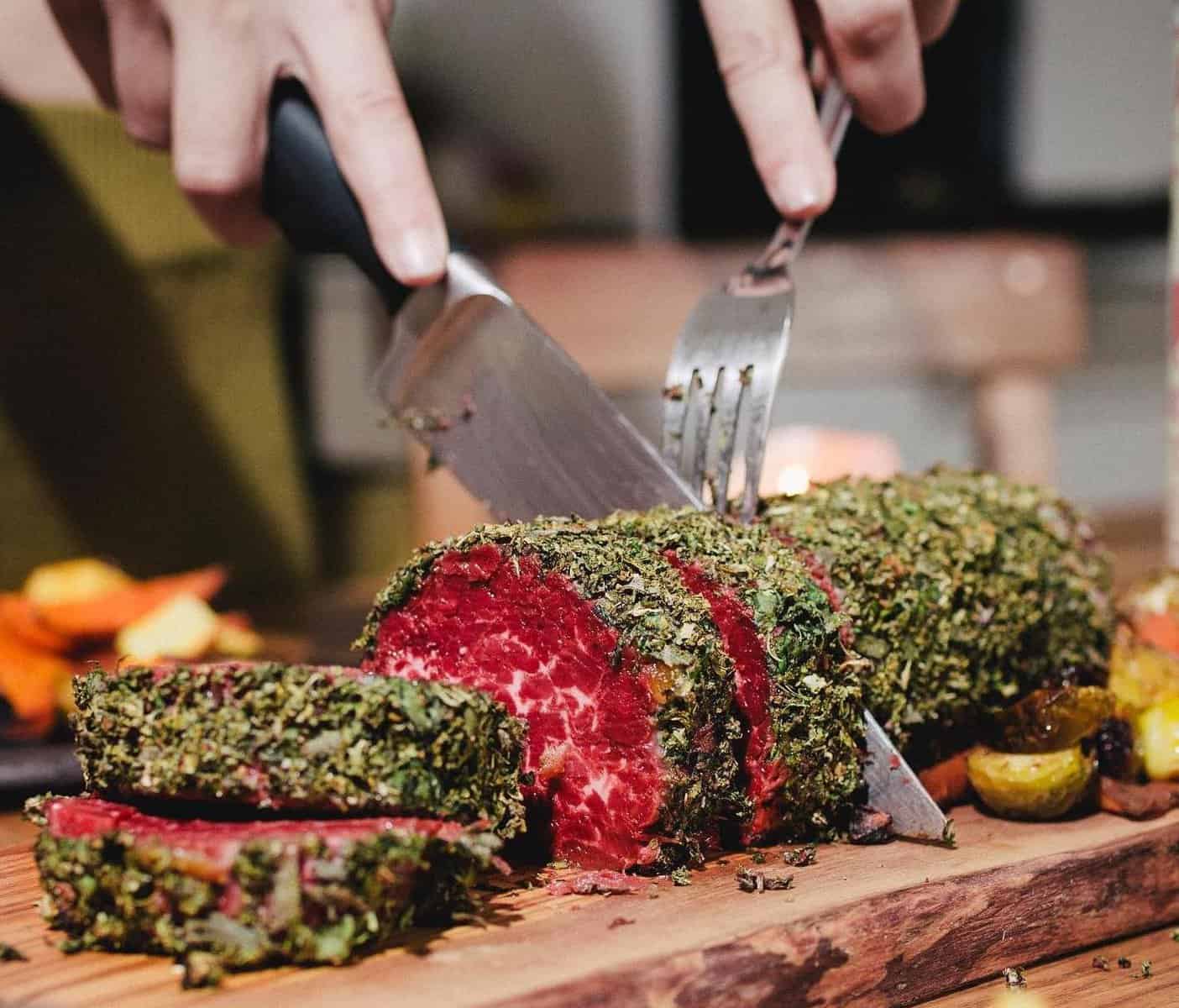 Our current portfolio is just the tip of the iceberg, though. It kinda hurts not to be able to talk about some other zingers in our portfolio, but I guess the lords of business demand suspense. We have some really exciting things cooking up!
How does your production process differ from other plant-based meat brands?
Can't disclose too much, but what I can say is that we don't 3D print or grow it in a lab, contrary to popular belief. Our process is pretty simple, not too different from cooking in a kitchen. A really big, well-equipped kitchen. There is a lot of talk about plant meats being too processed, and the word "chemicals" is thrown around quite vehemently, but that's a common misconception, most likely a result of successful propaganda.
"Our current portfolio is just the tip of the iceberg"
The truth is most of our food is processed. Pasteurization is processing, along with grinding, fermenting, or cooking of any sort. Clearly, we need to clarify the distinction between partially-processed, nutrient-dense foods (plant-based meats included) and ultra-processed, nutrient-poor foods, like chips and candies. We take nutrition very seriously.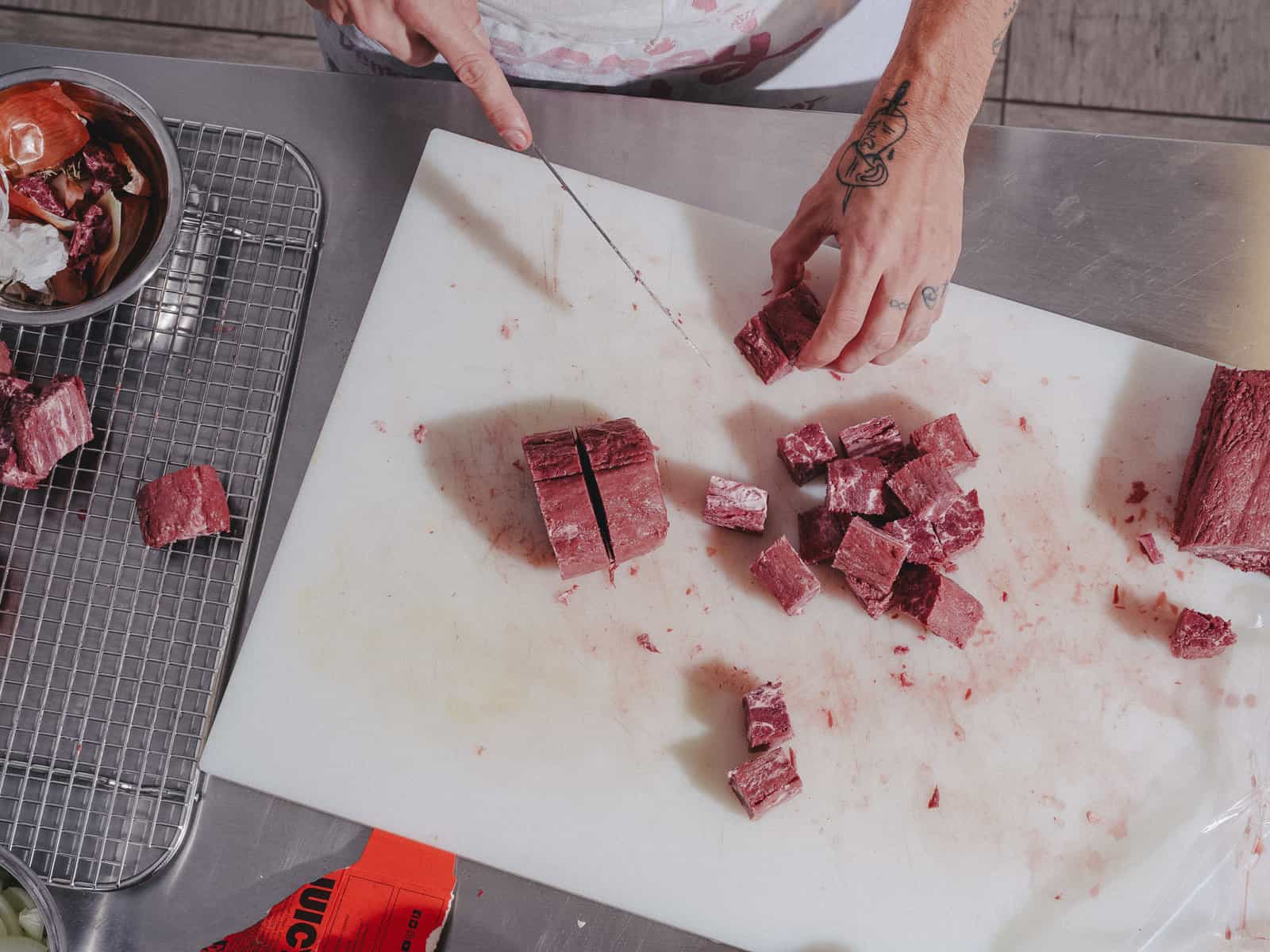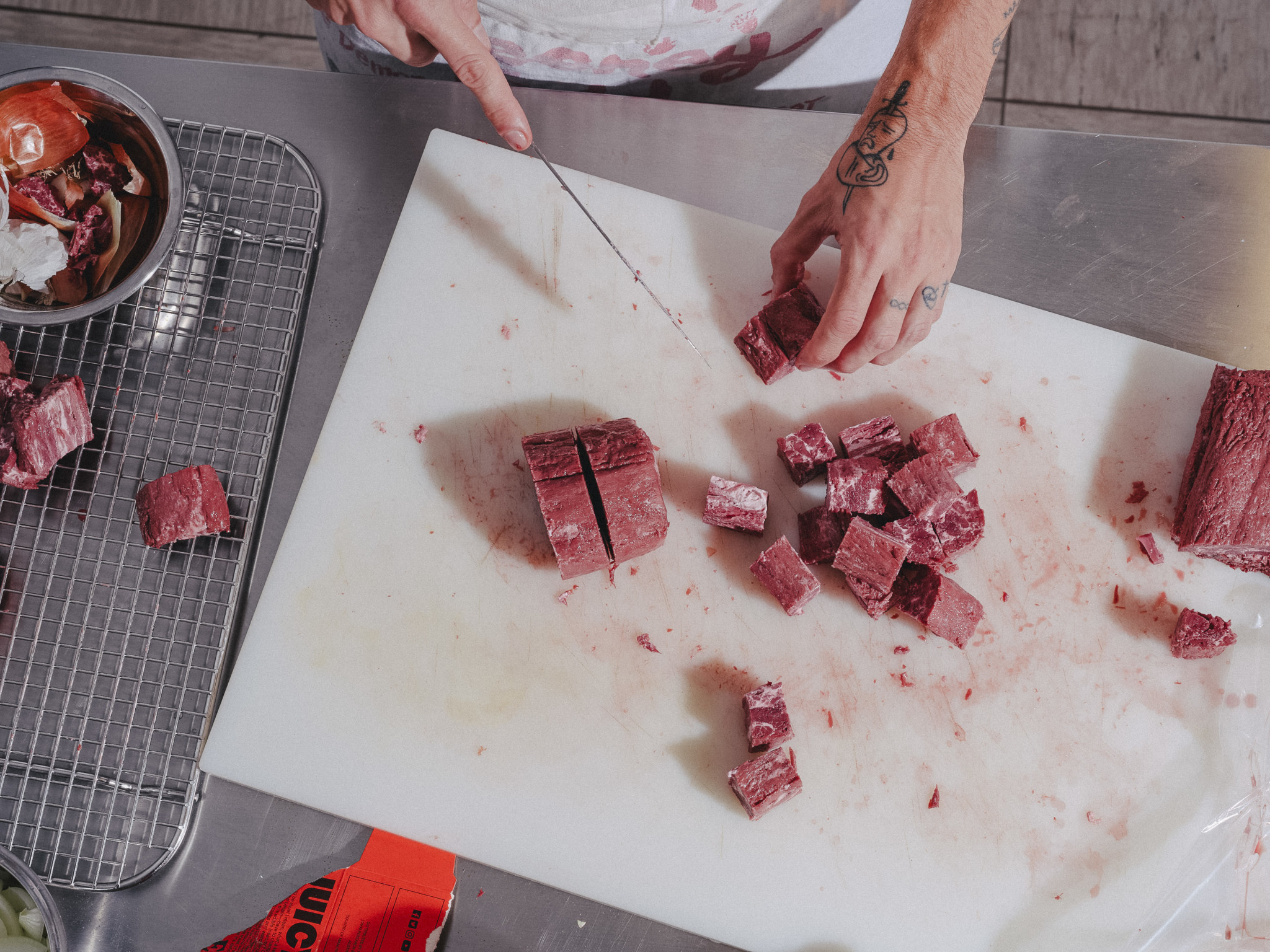 We are in the business of nourishing people, and we want folks to be able to eat our products with zero guilt. Our meats scored an 'A' Nutri Score due to their richness in healthy micro and macronutrients (including fibre, which is not in animal meat). We are trying to elevate meat from a "hedonistic indulgence" into something that can also be included in a healthy, wholesome diet.
Can you give us a review of your business year 2022?
There's a lot to say since 2022 was only our second year. The most stand-out successes were learning to produce a quality product at a scale that enables us to go to market, then going to market gradually, gathering feedback and iterating as we go, eventually becoming a revenue-making company towards the end of the year. There were a few hiccups, but I am immensely proud of the fact that we entered 2023 with a large percentage of repeat customers, a deeper understanding of the market, and, most importantly, a heightened sense of purpose. The category did have a little shake-up, but for us, it was a good year.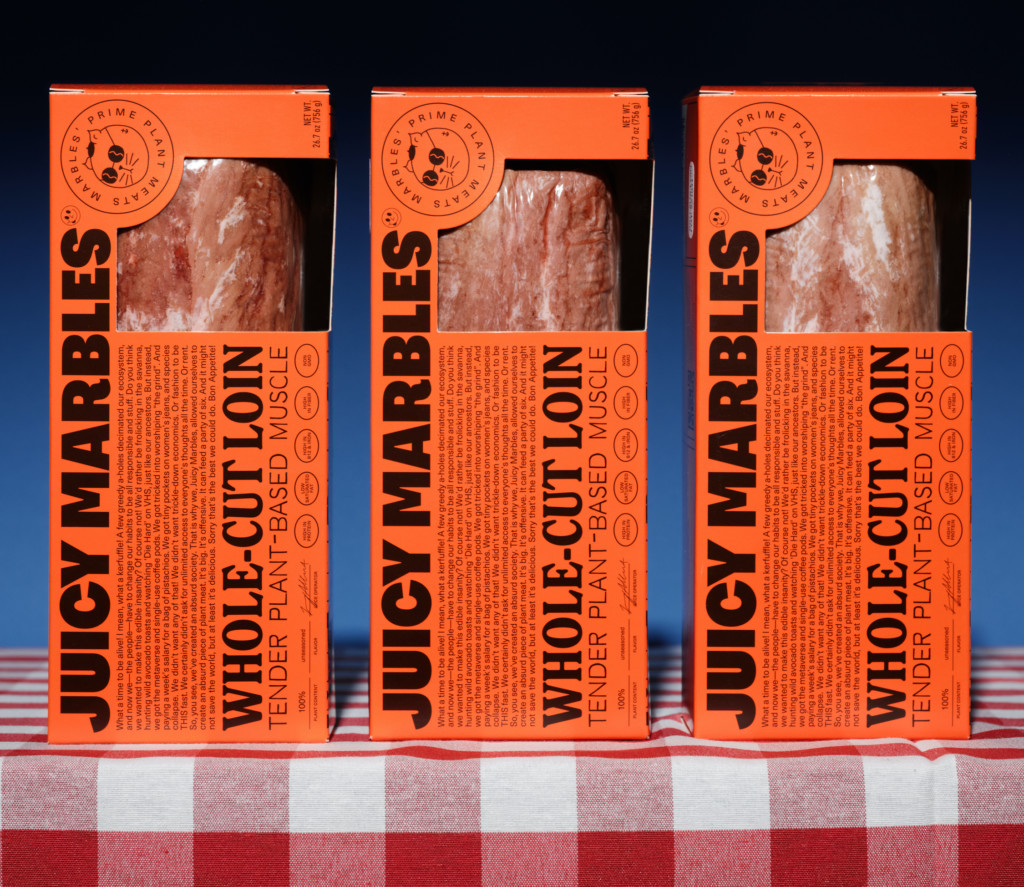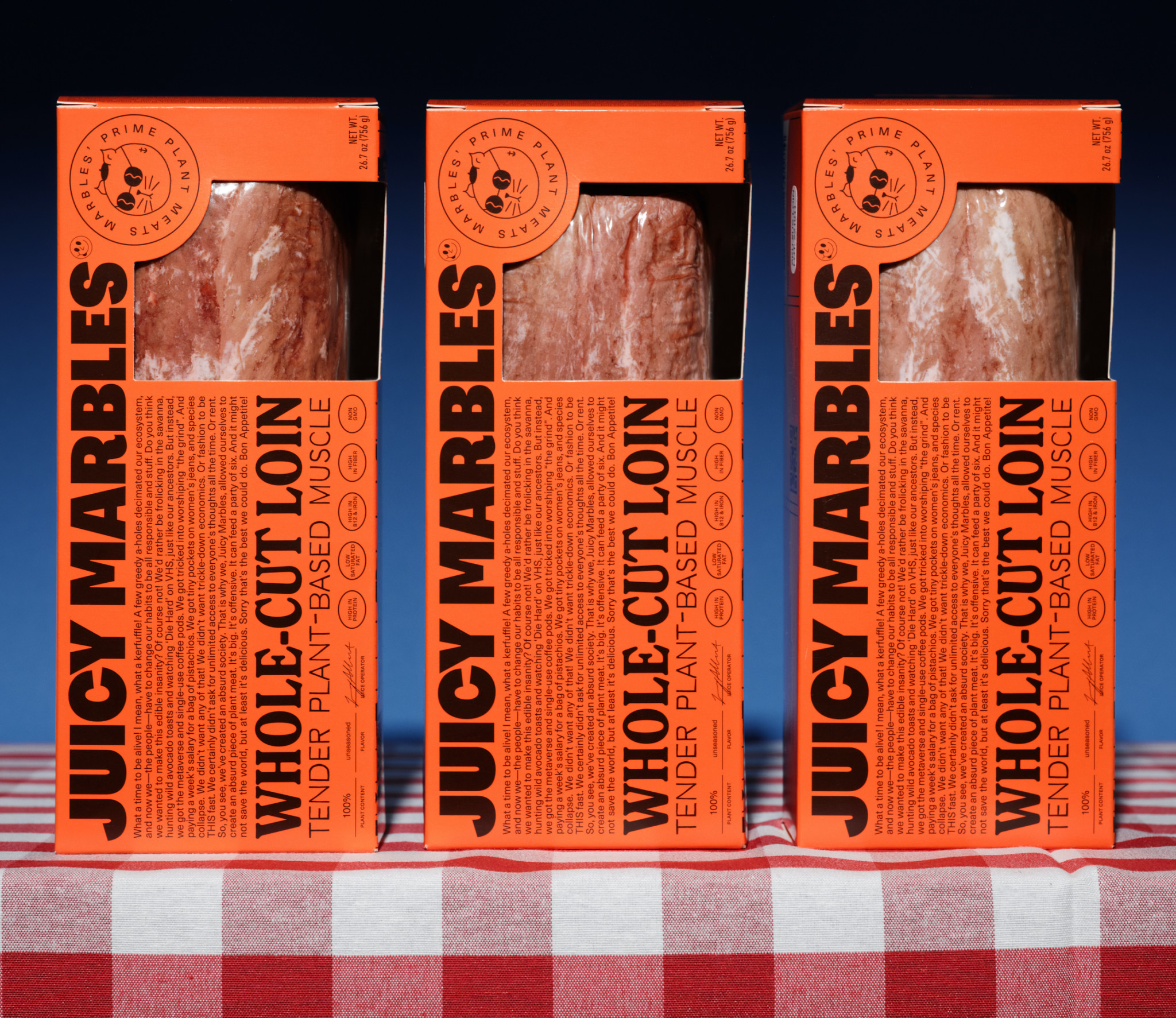 What role can the "whole cut" category play in the global plant-based meat market?
Let me start with the example of professional chefs. They feel the demand for plant-based meats is increasing as the number of flexitarians and vegans grows. But most of them can't include burgers, sausages, or nuggets in their menu without tarnishing the restaurant's concept or limiting their own creativity. Whole-cuts solve that problem. They create a similar cooking experience to meat in that the chef is only bound by their imagination rather than the ingredient. So I believe that with whole-cuts, we'll start seeing plant meats in many more restaurants and in recipes that were impossible until now.
"…with whole-cuts, we'll start seeing plant meats in many more restaurants"
The same goes for families and home chefs. Whole cuts are not merely "entertainment for taste buds" but a vessel of nutrition. That matters to people. When you are feeding your children, you have to balance health and yumminess with no compromise. Kids are ruthless in that regard. The feedback we are getting from our family customers only confirms the importance of versatility. But it matters in general. Couples, for example, can have a glass of Chianti much more effortlessly with a filet than with a chicken nugget.
If burgers kick-started the plant-based revolution, whole-cuts are going to carry it all the way through.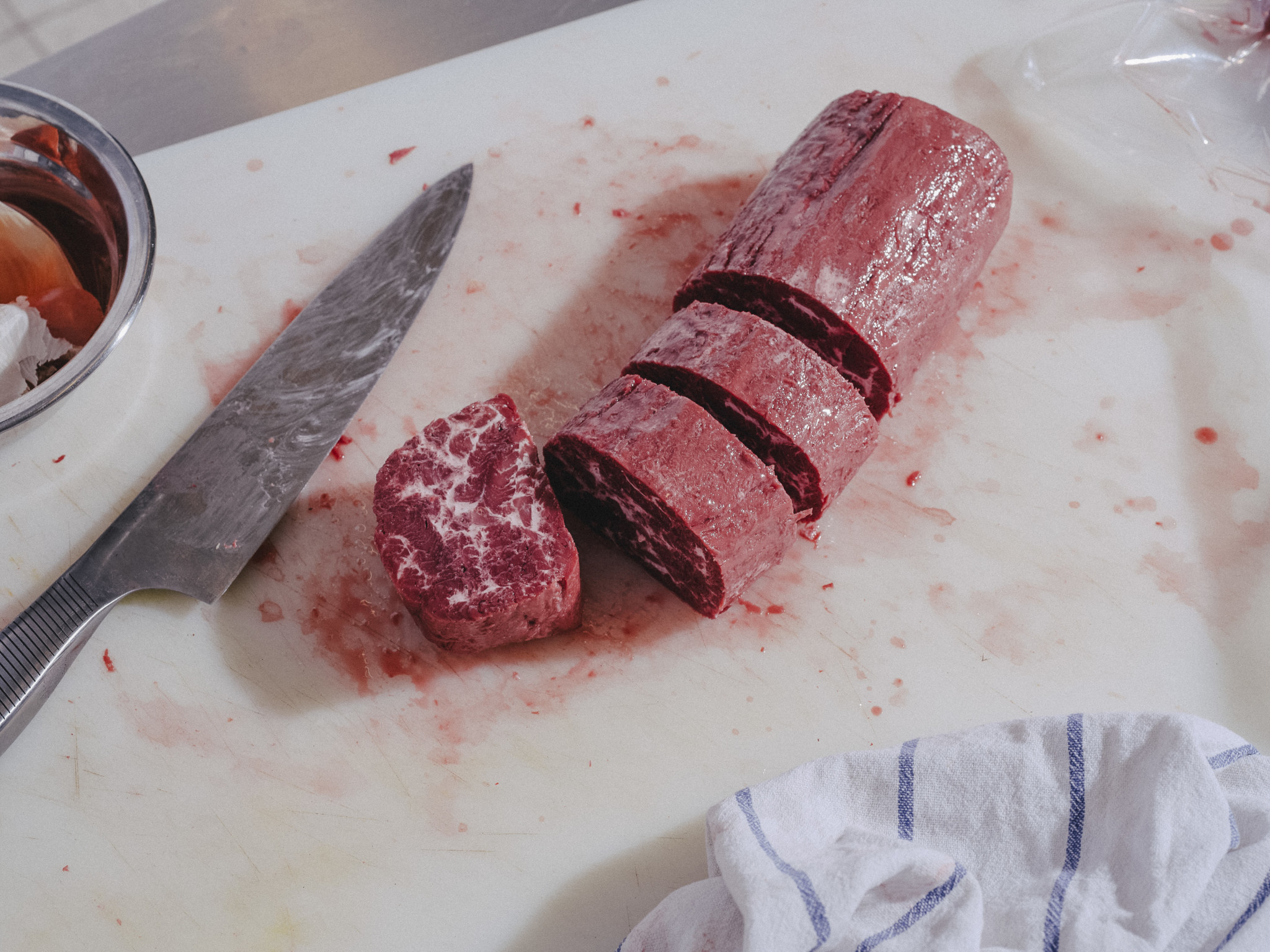 What are the environmental benefits of your products?
Very similar to most other plant-based meats, so I fear I have nothing new to add to that discussion. We've done some calculations using services like CarbonCloud and got an estimate that we are about 27x times more sustainable than beef. However, I question the precision of these calculations at such an early stage.
"If a food system's role is to feed people properly, it's doing a poor job"
I don't want us to get reckless with the numbers until our business matures. I must add—and without diminishing the importance of future environmental concerns—that it does often overshadow the fact that our reliance on animal protein is already causing a humanitarian crisis. If a food system's role is to feed people properly, it's doing a poor job. We use 80% of the food we grow for feeding livestock and get 17% of global calories in return.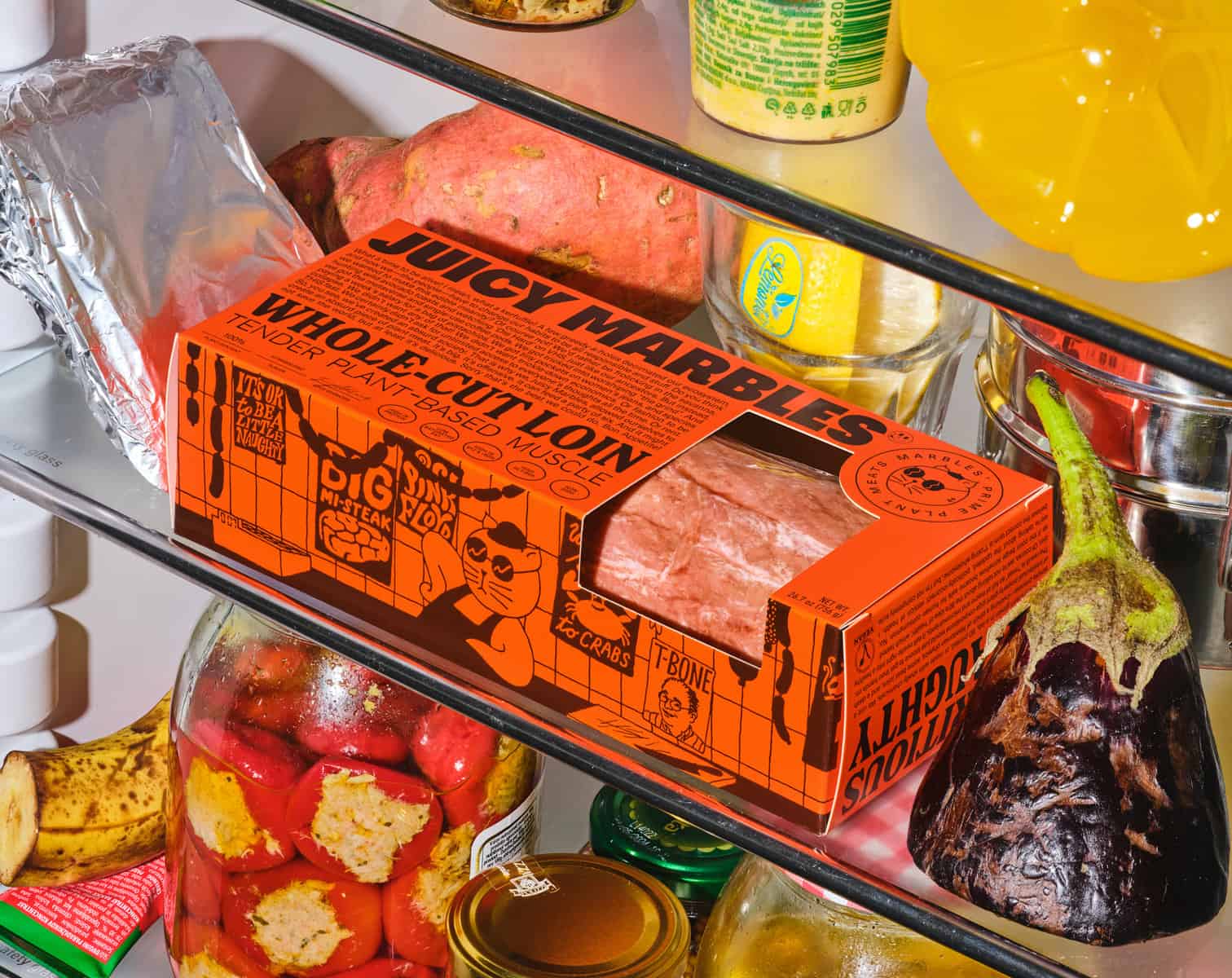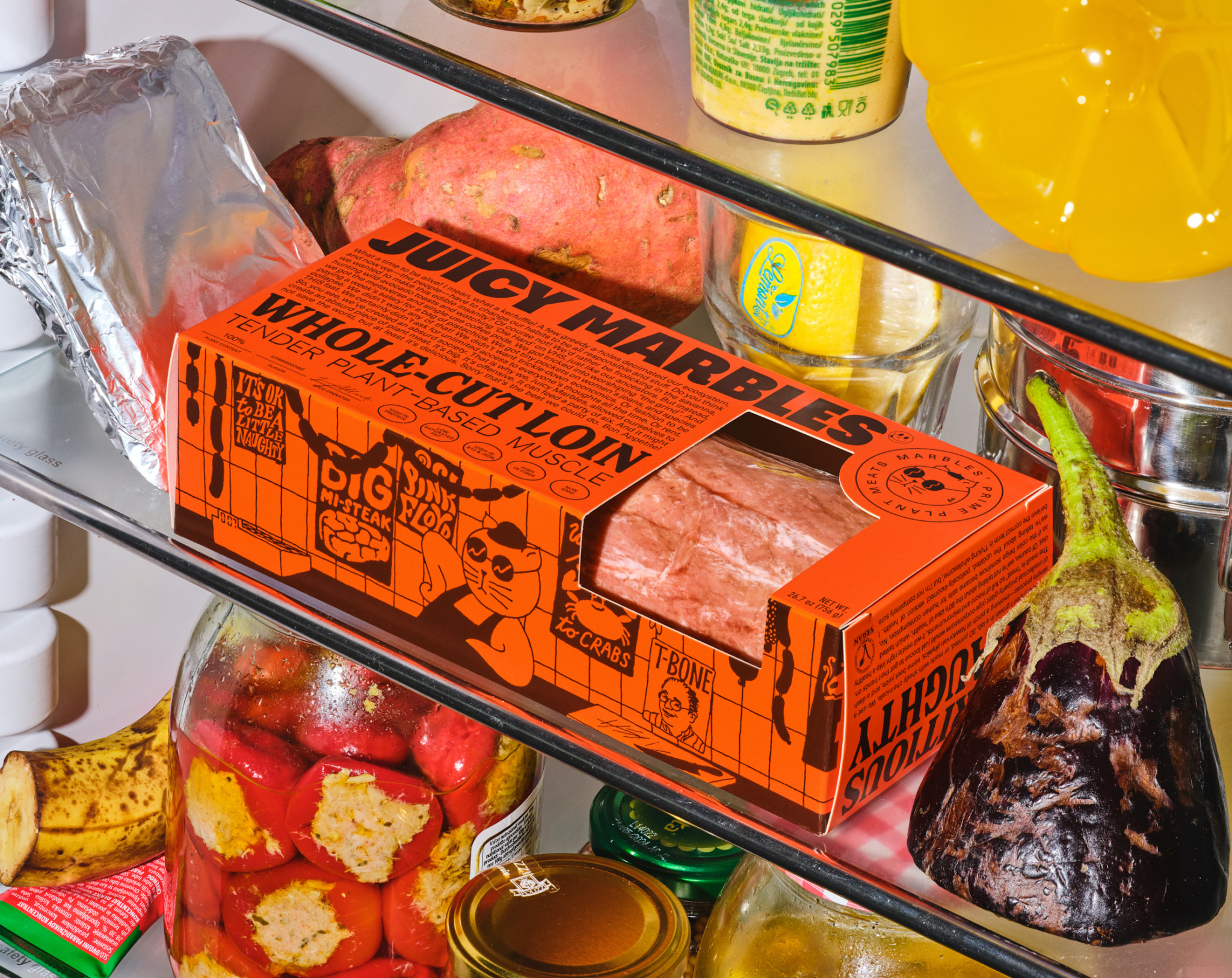 While 1.9 billion + people don't have food security. Beef alone provides just 2% of worldwide calories but uses up to 60% of our agricultural land. This is simply not feasible with us being on a trajectory to hit 10 billion people by 2050.
"Eating a more plant-based diet is not just an environmental flex, it's about food democracy as well"
We need to nourish humanity and take care of our home. Since we (humans) are notoriously bad at comprehending the problems of the future, it would benefit the movement as a whole to redirect some of our attention to the discussion on what is already happening.
Eating a more plant-based diet is not just an environmental flex, it's about food democracy as well.
---
Juicy Marbles' whole cuts are available to purchase at its online store, at selected Waitrose stores in the UK, as well as independent retailers such as Mighty Plants, and food service operators in the UK and USA.