Kale United is a Swedish ethical holding company with a vision to create a plant-based world. Driven by the ambition to evolve into a trusted stamp of approval for plant-based businesses and consumers, they are on a mission to help the best plant-based brands succeed in the mainstream while also driving  value for the stakeholders.
Yesterday, Kale United, a new and progressive enterprise in plant-based business, was launched in Sweden. Kale United founder Måns Ullerstam is an entrepreneur and experienced investor. As well as corporate roles heading US$100 million Swedish telco Rebtel, he also founded Neutral World, a carbon footprint comparison shopping site. Måns is a Climate Leader, trained by the former Vice President Al Gore, and is passionate about supporting and investing in the plant-based movement.
Here, vegconomist founder Peter Link interviewed Kale United founder, Måns Ullerstam.
Please explain to our readers your crowdinvesting concept
People who support our crowdfunding campaign become shareholders in Kale United, and take part in our growth. Kale United will follow the underlying growth of the whole plant-based sector, with an expected return more like a plant-based index. Each individual investor can sell their shares at anytime as long as they follow the shareholder agreement.
There will be more information about the share pricing and structure on FundedByMe – the Kale United campaign goes live 1st November, with a funding target of SEK 6 million (EUR 572,000). This is just the first step on a journey to build a new plant-based publicly traded stock.
As we grow our ecosystem, those that participate in the crowdfunding may also be invited to help us in the future decision-making process, for instance helping decide on which brands we could consider next, or even receiving samples of new products from member companies.
Who is the team behind Kale United?
This is a startup business so we are a modest team right now – I'm the founder and am an investor and entrepreneur by background, with experience spanning technology, telecoms, and carbon comparison.
I was keen to appoint an expert advisory board from the outset with strong experience in the vegan and plant-based sectors, and am delighted that Tobias Leenaert, co-founder of startup accelerator ProVeg International, and David Stenholtz, an oncologist, and founder and chairman of Doctor For The Future, are Kale United advisors.
Together with my own extensive network and that of other external partners – including investor networks GlassWall Syndicate and FAIRR – Kale United already has strong connections to a global plant-based business and investment community.
I'm looking forward to further growing the core Kale United team in the future, while operating a lean, sustainable structure.
Who can apply as members?
We welcome applications from across sectors – food, beauty, healthcare, publishing, fashion and more – but our policy is that all companies in the Kale United ecosystem must be plant-based and looking to improve the world.
This means we want to work with companies that are actively engaged in making the world a better place, for instance by producing vegan food, or sustainable plant-based clothing, or improving the health of humans. We like companies that have a high impact on the transition to a plant-based world.
We have an open application process – the form to apply is on our website. From that point, we carefully select member companies to join our ecosystem, and become stakeholders in selected brands, evaluating companies on how they live up to the 17 UN Sustainability Goals, among other criteria.
We follow guidelines of ethical, sustainable investments by avoiding industries involved in fossil fuels, weapons, animal agriculture, or those that use products derived from animals or cause deforestation and pollution, work with fossil fuels, weapons, alcohol, tobacco, drugs or gambling.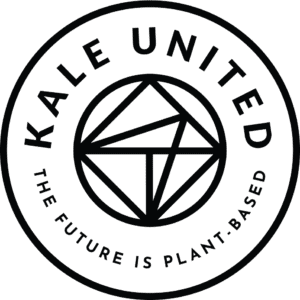 What is your personal relationship to the vegan / plant-based lifestyle?
I have been vegan since 2015, and it was a journey for me to reach this point. I think every vegan decides to become more plant-based due to one of three reasons, the environment, their personal health or the care for animals. For me, as a Climate Leader and part of The Climate Reality Project, the initial reasoning was to lower my carbon footprint and reduce the destruction of land and waste of water. But now, I think the other reasons are just as important. I think Philip Wollen summarised it well: "This is the Swiss Army Knife of the future – it solves our environmental, water, health problems and ends cruelty forever."
As an entrepreneur I started to think about products and services that were still missing in the world for people with a vegan lifestyle. Instead of launching a company with a single product I thought about the best way I could scale my 20 years experience as an entrepreneur and in investment. By forming Kale United, we are able to help many plant-based teams and ideas to flourish.
For me, the term 'vegan' could be interpreted as limited to food products, so I use the term 'plant-based' do indicate there is a wider scope to the kinds of companies and sectors that Kale United is interested in supporting.
In your opinion, how will vegan / plant-based lifestyle develop in the coming years?
There has been unprecedented global growth in demand for vegan and plant-based products in recent years, and I absolutely believe this momentum will continue. Recent high profile reports such as the IPCC Special Report on Global Warming have brought these issues into even sharper focus.
From increased awareness around human health and animal welfare issues, to the realities of climate change and how to feed the world' population in the future, there are many reasons to adopt a plant-based lifestyle. New concepts and businesses are launching every day, every week there are more vegan options in your local supermarkets, more recycled materials used in your packaging, increased focus on the ethics and sustainability of fast fashion and cruelty-free cosmetics.
A key part of this movement is that businesses like these almost always want to work with partners that share the same values and ethics – and this is where Kale United helps. Kale United represents the next wave of plant-based businesses, helping consolidate the global ecosystem, and working together with like-minded people to help the best ideas flourish.