KindLook deliver a beauty and cosmetics subscription box containing only vegan and cruelty-free products. The London based firm started with the aim of helping end animal exploitation, and a 5mission to "Bring compassionate brands to a greater audience and a greater audience to compassionate brands."
KindLook recognise that it can be difficult to find vegan and cruelty-free make-up and beauty products, so provide help by offering high quality vegan and cruelty-free beauty products by subscription, at a fraction of the retail cost. All of their products are vegan and cruelty-free, and they strive to find those which are also sustainably produced, recyclable, organic, supplied through fair trade, non-GMOs, and free from parabens. vegconomist spoke with Alex from KindLook about their company and vision.
What was the inspiration behind the launch of Kindlook?
Kindlook is run by a small team based in the UK. Co-founders Alex and Callum had worked in a variety of backgrounds and felt the need to move into a line of work that made a difference to the world. Having both been animal lovers, the cruelty-free industry was clearly the way to satisfy this. Their vision, KindLook, was to help cruelty-free and vegan beauty brands reach people who struggle to find these products by providing a monthly box containing five beauty products. The values of Kindlook are what drive the business, and the people within the business.
Do you see any current trends in the cosmetics industry?
The vegan movement has taken the industry by storm, with many larger companies creating a specific vegan and cruelty-free brand to meet this demand. Veganism worldwide is growing rapidly year on year, and this is being reflected in the beauty and cosmetics market. We think it's great as our company motto is: "It's time beauty got kind."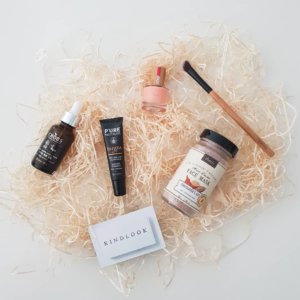 Where are your products currently available, and do you have plans to expand into other markets?
We currently ship internationally, however, most of our customers are UK and Europe based. We hope to make positive strides with focus on the Middle-East and the Americas soon.
Who is the target group of your company?
While we began focusing on women who wanted to discover cruelty-free and vegan beauty products specifically, we realised that many of our customers primarily come to us for the concept of receiving beauty products every month and were enticed secondly by the idea that beauty should be cruelty-free. Our brand has managed to convince people to make the move into cruelty-free and we think that's great!
What makes Kindlook unique, how do you stand your ground against your competitors?
We're up against the majority of the beauty industry, beating the drum for the removal of animal products and testing of cosmetics on animals. It's our ethics and values that place us in a different bracket, and our customers really connect with that stance.
What is your company's mission, what exactly does this mean and how do you intend to achieve it?
Ultimately it's our mission to make vegan and cruelty-free beauty products the norm. We aspire to help change the status quo, and help the beauty industry change. Steps are already being made, and that's fantastic, but when customers and the community are demanding more ethical products the industry should listen.
In your opinion, why should the beauty/cosmetics industry continue to rely on vegan products?
If it's possible to provide a product without the need to take life, or cause harm, then that is exactly what we should do.
What are your future plans as a company?
Right now we're looking at growth, being relatively new to the scene we still have a lot of ground to cover, and the team is working really hard to cover it. We're still agile enough to meet the market needs as they change and shift, and as we grow that is exactly what we'll do. We are already collaborating with many companies and brands, and we think it's very important that partnerships are continually made.