Last month, Charlotte and Rachel Stevens opened La Fauxmagerie, the UK's first plantbased cheesemonger, which was received with joy by London vegans but with criticism from Dairy UK, who said that the shop was "misleading" to consumers. The level of fear shown by the dairy industry is very telling, and the press coverage received in response to the criticism only led to the shop being even more popular in the UK's thriving plantbased scene.
We were very pleased to speak with Charlotte and Rachel about their exciting new venture, their delicious products, and their plans for the future.
Can you introduce your new business to our readers? What was the motivation behind your launch?
We are the UK's first plant-based cheesemonger. We offer a wide variety of all plant-based cheeses and accoutrements for the perfect plant-based cheeseboard.
Rachel is vegan and Charlotte is severely lactose intolerant. Both have spent years cycling through supermarket vegan cheeses with varying success, and later traipsing across London to pick up their favourite vegan cheeses from different markets. We realised we were missing a central location for all the best vegan cheeses on offer in the UK.
Can you describe the vegan scene in the UK right now? Was there a special reason behind the choice of location?
The vegan scene in the UK right now is a strong and growing one, although we think it's important to make the distinction between veganism and the general growth in the plant-based sector. Although many more people are becoming vegan each year, for most people the term vegan carries with it a sense of obligation and commitment that the average person may be a little hesitant to adopt. However, opting for a plant-based substitute 50% of the time where they would've previously chosen an animal-based product doesn't sound too scary to many. And in fact, as plant-based substitutes begin to approach their animal counterparts both in terms of flavour and price, many people are opting for these products not just due to ethical concerns but also due to taste and health benefits. That is our goal at La Fauxmagerie, to show people that there are legitimate alternatives to dairy that are delicious enough to co-exist on a cheeseboard with dairy products, or better yet make up the entire cheeseboard, without anyone feeling as though they're lacking or making sacrifices.
We chose Brixton because we love Brixton! We live in Balham only a few miles away but we came to Brixton often to explore and discover new independent brands and producers, or to have some delicious food and drinks or a good night out. Brixton is a fantastic hub for many different types of people and independent creators. Plus – South London, at the time, was severely lacking in vegan cheese offerings – unlike East London which is home to at least 3 of our key suppliers.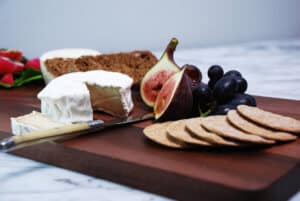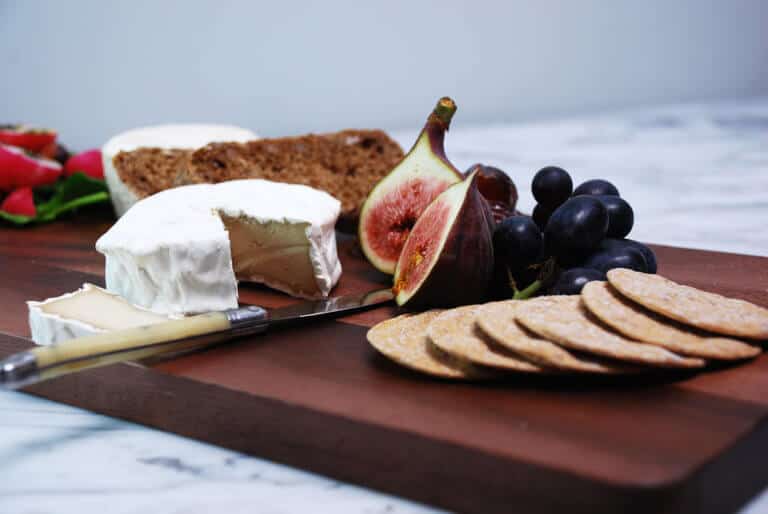 How has business been in your opening weeks, and what have been the bestsellers so far?
The reception has been fantastic and far beyond what we expected.
As for the bestsellers it's difficult to say at this stage because we've had some gaps in our supply as our artisanal producers struggle to keep up with the demand. Most of our suppliers are just catching up with production and scaling up internally, as are we. We are actively collaborating with our closest suppliers in ways that can help us all scale together. Of course, this is a great problem to have so we're not complaining! At this stage though the bestsellers so far have been (not necessarily in order) Kindaco Farmhouse, Kindaco Spirulina Blue, Iamnutok Minerthreat, Iamnutok Nerominded, Black Arts Vegan Smoke on the Water, and Mouse's Favourite CamBlue.
Which are your personal favourite brands of vegan cheese?
That's like asking what's your favourite food! It totally depends on the occasion and mood. For a cheeseboard with guests coming around who you're looking to impress (or convert) we love anything by I Am Nut OK, Kinda Co, or Cupid by Black Arts Vegan. We've also on-boarded a new supplier this week (Food by Sumear) whose products are very distinct due to their hard texture and authentic taste, which we again love for a cheeseboard. But then if you're cooking a cheesy saucy dish at home then the cashew cream by Naturally Vegan Food Company is amazing, and for extra cheesiness top the meal with their cheese balls and 'Italian Style' Parmesan and even a terrible cook like Charlotte can produce an absolutely delicious meal. There's also the cottage cheese by Yogan which is great with fruit or added on top of breakfast, or for making cheesecakes with which we did at an event a few weeks ago.
There are so many options and different occasions it's impossible to pick just one!
Do you see vegan cheese becoming more cost effective for the consumer?
Yes, this is a big concern for us. We want these products to become an everyday staple for most people in the same way dairy is but we also recognise that this won't be entirely possible for several reasons. Firstly, the core ingredients that our producers use are sourced in the most responsible way, many are organic and fairtrade and of course our producers and their staff are paid at least a living wage. The same cannot be said for the ingredients that go into dairy cheese, or for the animal and human producers of dairy products. There's also the fact that dairy is heavily subsidised by the government which makes it cheaper again for the consumer. So, it would be unrealistic for us to say that the average cashew or organic soy based 'cheddar' will eventually cost the same as the supermarket value-brand equivalent, simply because you don't get these kinds of prices without exploitation. However, we recognise that the prices for vegan alternatives could and should come down. We are actively discussing options with our key suppliers on how best we can collaborate in order to bring the cost of packaging, distribution, storage, and ingredients down so that we can pass these savings on to our consumers. That is actually our main goal for the next year, to ensure that everyone can enjoy our products as often as they'd like.
Who are your target consumer group?
Everyone! We are very proud to serve a very wide range of customers. Of course, our obvious target consumer would be vegans, but there's also those who are curious or open to plant-based alternatives. And let's not forget that around 40%-60% of the population (depending on ethnicity) can't actually digest dairy, and as more and more people suffer with digestive or skin disorders and become more conscious of their diet, this 'flexitarian' portion of society will grow over time. We've also had people come to us with 'Doctor's orders' to stay away from dairy products due to health issues such as high blood pressure or cancer, and also a few breast-feeding mother's whose new born babies have severe dairy allergies. Nothing makes us happier than seeing the face of someone who's previously existed on the fringe of food society light up as they sample some of our cheeses. To quote one breast-feeding mother 'I can finally cook dinner for all my children and have us all eat the same meal as a family'.
Do you have hopes for future expansion or franchises?
Our first goal is to perfect our current offering in our store! We've finally got into a bit of a regular order pattern with most of our suppliers and have taken on more staff to help us in the shop. We have some ideas for how we'd want to grow as a business but we want to ensure our suppliers grow with us. We've had over a thousand requests for mail-order so this seems like an obvious next step for us and for our potential customers, but we don't want to promise this until we know we can provide the absolute best quality of service. Watch this space over the next few months though as we are actively working on this…
In your opinion, why should the dairy industry continue to acknowledge veganism?
In a perfect world they would focus on the issues that are plaguing their industry – such as the abuse of animals, the ravaging of the environment, and the exploitation of meat and dairy farmers. But I suppose it's easier to bully and crush any potentially viable alternatives, and to keep media focus on the definition of the word 'cheese' rather than on the real issues the industry propagates.
Like any declining industry there's always an initial rush to distract and obfuscate, before eventually attempting to change direction and 'join the enemy' before further decline (think record companies going after consumers downloading music and refusing to give license to streaming services like Spotify, before eventually giving in and investing in music streaming platforms but not before bankrupting hundreds of consumers and streaming services). I wouldn't be surprised if the same lobbying groups who are raging about the use of words like 'cheese' and 'butter' will be campaigning for the right to use these words for their own plant-based alternatives in 10 years' time. It's a shame they've been so slow on the uptake given what phenomenal positive impact companies of this size and wealth could have had on the ever-growing plant-based industry.
What are your plans for 2019?
Scaling with our suppliers and our customers. Maybe a week off for some sleep in a few months' time…
Where do you see La Fauxmagerie in the next five years?
Everywhere.