Livia's – the UK's fastest growing free-from treat producer – quickly gained the respect of many respected investors including Jaap Korteweg and Michiel van Deursen upon launching this year. This week, after selling well over 7 million units, the sweets become available in multipacks in nearly 1,000 Tesco and Sainsbury's stores nationwide

Founder Olivia Wollenberg says her brand is on a mission to make better-for-you treats accessible to everyone and her products appeal to the mainstream: 73% of Livia's consumers aren't vegan, and 47% of these consumers in fact have no dietary requirements.
We spoke to Olivia to find out why!
What is your current line and which are the bestsellers?
We currently have 3 product ranges, Million Squares, Nugglets and Dunx. We are best known for Million Squares and Nugglets which have very deep distribution across the UK, and now Dunx and Dunx Dips are becoming increasingly popular, especially online through our own e-commerce platform.
Livia's has certainly taken off in the UK, in your opinion what has been behind this quick success?
We have always been very clear about our purpose and mission. We have always been about indulgence and always will be. People like to know what a brand stands for and that that ethos never changes. We have always been an authentic brand, founded by myself and I have always shared the ups and downs with everyone through social media. I involve and include our customers in every aspect of the business, and this is something really different.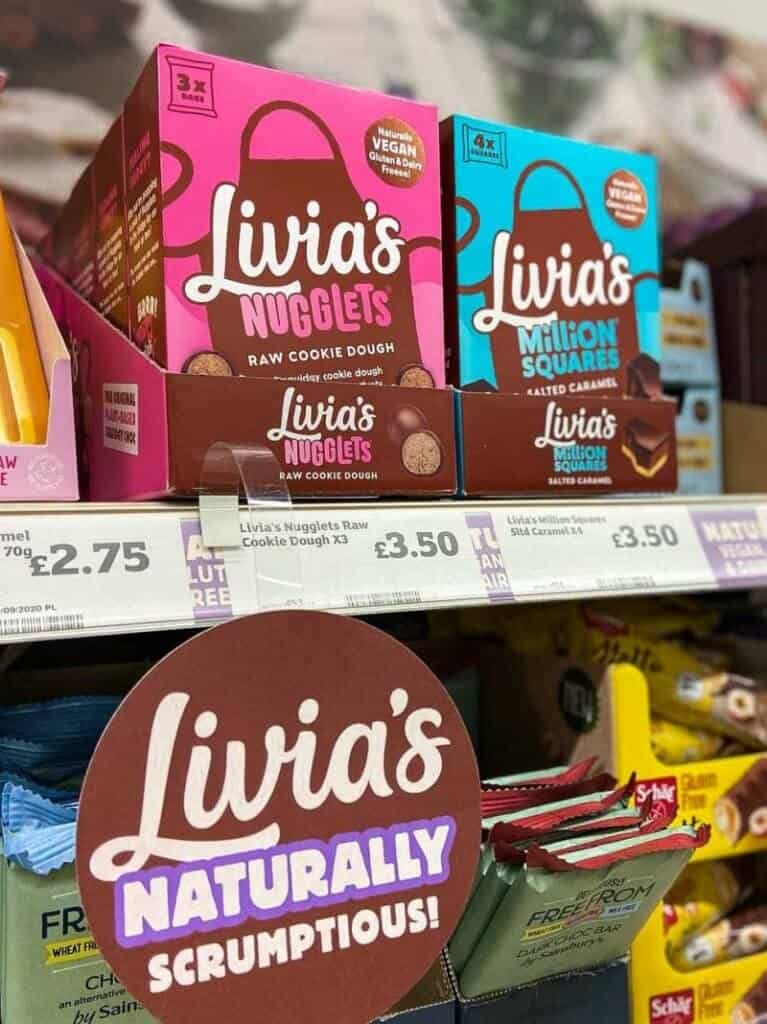 People like to have that level of involvement in a brand. Bigger, corporate brands aren't able to do this in the same way. Finally, I put a lot of our success down to the products themselves. They simply taste so good, even to those without allergies and intolerances. They always hit the sweet spot, and people know that they can rely on them for something delicious but always natural.
You have said that your customers are largely non-vegan, and many do not have dietary requirements, so why do you think these people are interested in your products?
As above, the products themselves speak volumes. They are unanimously delicious and can be enjoyed by everyone! Yes, they are gluten and dairy-free, vegan, and always natural, but they never compromise on taste. Taste always comes first for us.
The branding also makes our brand mainstream. We have added magic and innovation to the free-from aisles. People don't necessarily want a preachy brand where it is all about the plant-based and free from aspect. A lot of people still want the fun, magic you find with traditional confectionery and that is what our brand is always about. It is a bold, brave and fun brand allowing people to enjoy the best of both worlds.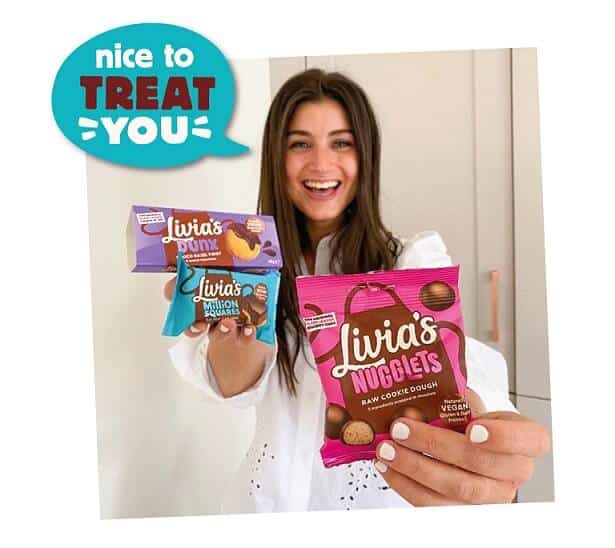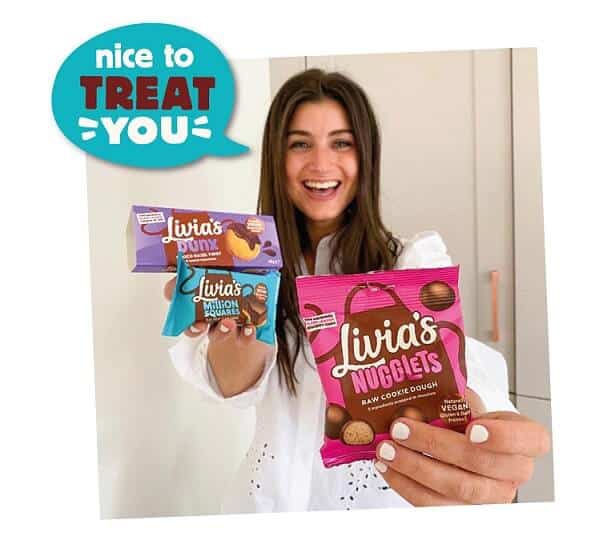 In August you launched on the crowdfunding platform Seedrs, and have smashed your target, can you tell us why you think that has been so successful, and what the finance will be used for?
Since day one I have always included our customers and followers on my journey of starting the business. People like to understand the story and the personal reasons behind a consumer brand like Livia's, and I have always been very willing to share it with them.
There were already thousands of people who felt close to the brand, and so when we gave the opportunity to get involved in a more meaningful way, they jumped at the chance. Crowdfunding for a brand like ours is the dream. You get your customers involved in a way which makes them even more committed, and they will forever be your brand ambassadors rooting for you in any way they can. I was incredibly excited about this opportunity and to be able to invite our customers to get involved in this way, and I think they very much shared the excitement.
We raised almost £2million and it will be used for growth in e-commerce, growing our sales team, marketing and in new product development.
You have many distribution partners in the UK including huge retailers like Tesco, Sainsbury's and Boots. How did you get these on board so quickly?
A lot of it came down to how much I focussed on our Instagram page @livias. I was focused on growing this from day one and I put a lot of time and energy into making it what it is today. Because it was a page that grew quickly and had lots of engagement, I ended up having quite a few buyers from the main retailers reaching out to me on my Instagram page asking for a meeting. It genuinely felt like a dream. I couldn't quite believe it when they reached out. When I then went to meet them and they tried the products, they loved them and very soon after agreed to a listing.
Are you still looking for distribution partners in the UK? What about abroad -do you have plans to distribute outside of the UK?
We have only just started! There is so much distribution to go after both in the UK and abroad. With the money we have raised from crowdfunding this summer we have hired a top-class sales team who will be growing our listings in existing supermarkets, winning new listings in the UK and starting to explore taking the brand overseas.
What are you currently working on? Any new developments or product launches that you can give us a sneak preview into?
We have some incredibly exciting news that we will be able to share with everyone in 2021! This includes some scrumptious new products that everyone is going to love!
Where do you see Livia's in the next five years, or what is your mission as a whole?
My mission is to show the world that free from and plant-based food does not have to be boring. I very much plan on making Livia's a mainstream household brand that is known and loved by people of all demographics. We will show the world that Livia's is unstoppable. We will continue to plough ahead of the market with new products and a brand that people can truly relate to.