Simeon Van der Molen is the founder of Moving Mountains, which launched in 2018 its signature "bleeding" burger which, as we reported last month, is now outselling beef burgers through UK wholesaler Brakes. This week Moving Mountains announced its debut into 14 establishments in the metropolitan area of Hong Kong.
By way of its Instagram account, the company made the following statement: "Hello Hong Kong! We are very excited to announce that you can now find our plant-based products in restaurants on either side of Victoria Harbour." Van Der Molen is also a vegan, an advocate of plant-based diets and a passionate supporter of environmental causes who is making a positive change in the world by growing his company, which he believes has the power to move mountains.
Please tell us about the biggest developments in Moving Mountains since we last spoke – you have been busy!
We have a lot of exciting news! The signature Moving Mountains® 'Bleeding' Burger is now finally available to home cooks for the first time ever through a partnership with Ocado.
Previously, consumers were only able to experience the Moving Mountains® 'Bleeding' Burger at restaurants. Seven million of the patties were sold in the last year in restaurants alone. Institutions like Hard Rock Cafe and Planet Hollywood are among the 4000 outlets serving the burger nationwide.
The 'Bleeding' Burger has the appearance of a regular beef patty. It can be cooked in a pan or BBQ straight out of the freezer – and it sizzles, smells and browns just like the real thing.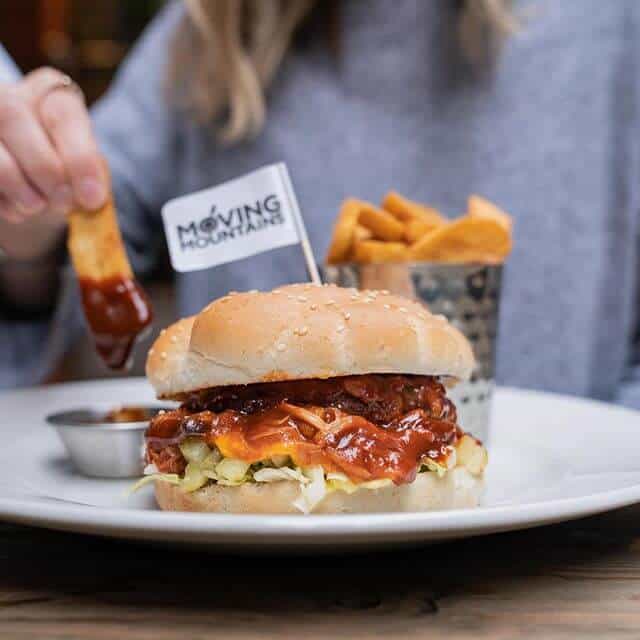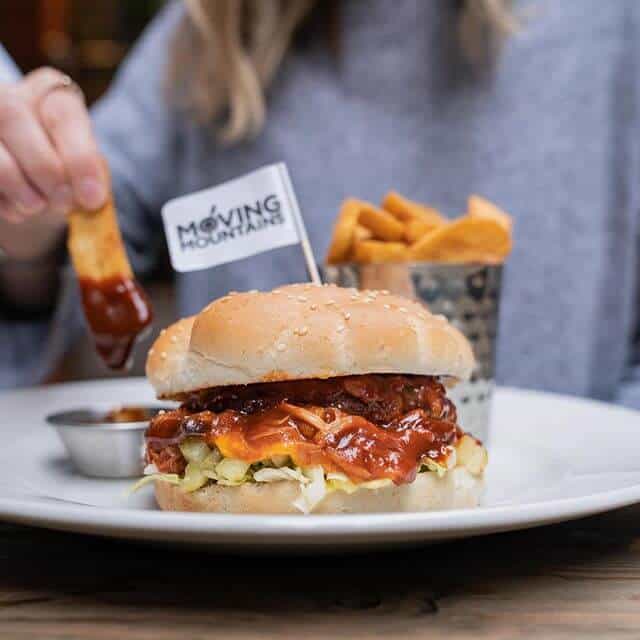 What is your updated vegan range and what is currently the top seller?
At Moving Mountains® we are completely committed to innovation. We are passionate about creating food that is sustainable but doesn't compromise on taste, providing a viable alternative for vegans, vegetarians and meat-eaters alike. To align with this, we have launched a new cook-at-home range which includes the 'Bleeding' Burger and brand-new products including Moving Mountains® Mince and Meatballs.
Moving Mountains® Mince is a perfect freezer filler for versatile home cooked meals. It is made with all-natural plant-based ingredients, such as oyster mushrooms, onion, coconut oil and pea protein and it is a delicious soy-free plant-based alternative. The Mince cooks in just ten minutes after defrosting, and provides the same meaty taste, texture and adaptability as beef mince.
The new Moving Mountains® Meatballs are made from 100 percent natural plant-based ingredients, including rice, oats, oyster mushrooms, coconut oil, pea protein and beetroot. The meatballs are seasoned with herbs and have a juicy, meaty taste. They can be baked straight from frozen in 20 minutes or pan-fried in just 10 minutes. They are the perfect addition to any dish, or can be enjoyed on their own as a snack.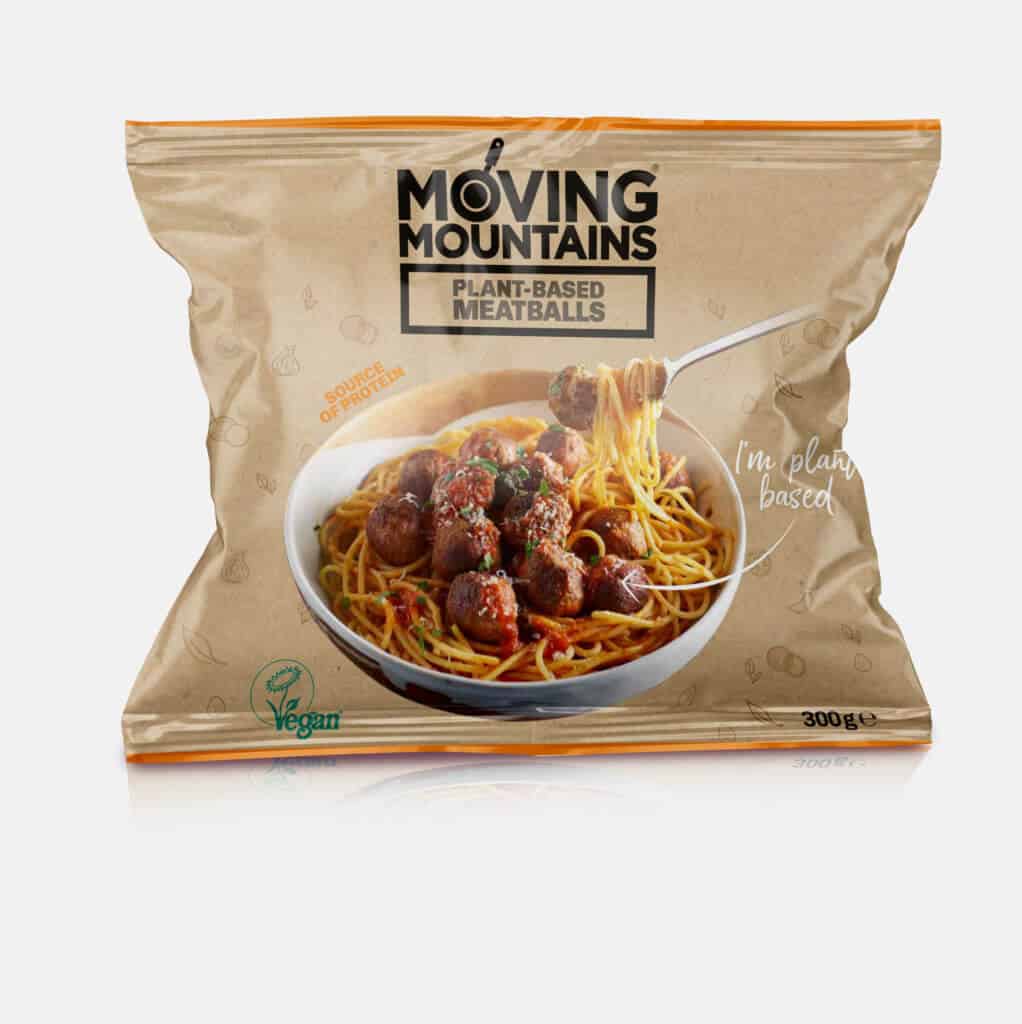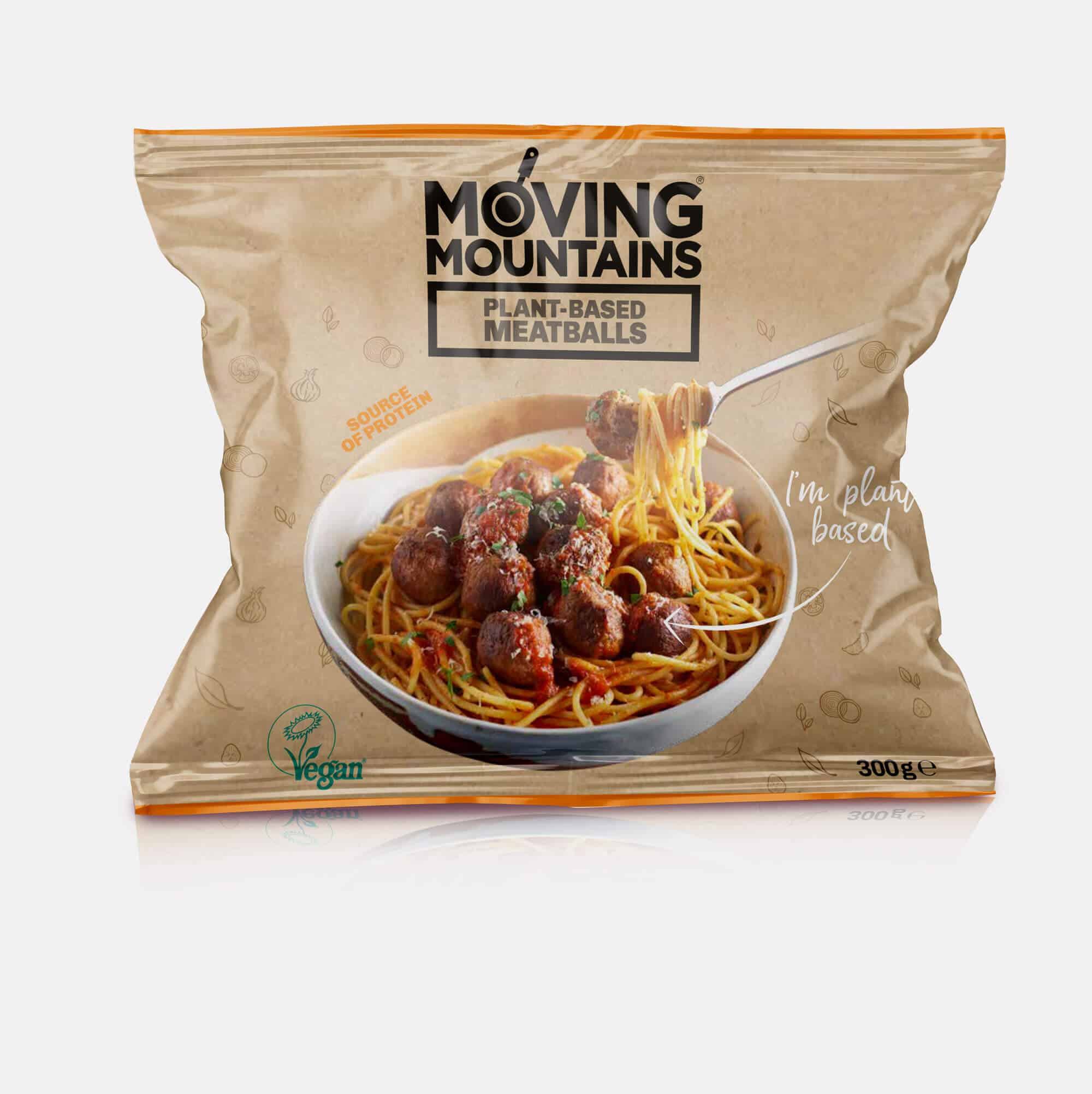 Currently our top seller is our Sausage Burger and we're excited to see the consumer response to our brand-new products.
In how many countries are the products available and do you have plans to expand to other markets?
Our products are available in approximately 25 countries worldwide, most of which are European countries, plus Australia. We are currently working on our Asia expansion and are available in food service locations across Hong Kong and are soon to be available in retail there.
Tell us about your ingredients base and if these are sustainable crops?
At Moving Mountains® we use high quality sustainable ingredients for health and for the planet.
Moving Mountains® plant-based meat generates less greenhouse gas emissions and requires less resources to make than animal meat. According to a 2020 Life Cycle Assessment to review the environmental impact of the Moving Mountains® 'bleeding' Burger, it uses 92% less greenhouse gas emissions and 70% less water when compared to the production of beef. The range also use less packaging than chilled food products, with zero plastic, contributing to the reduction of the UK's estimated 10 million tonnes of food waste, with the extended frozen shelf life.
We combine simple and natural ingredients with scientific processes to create our plant-based products to replicate animal meat in every way.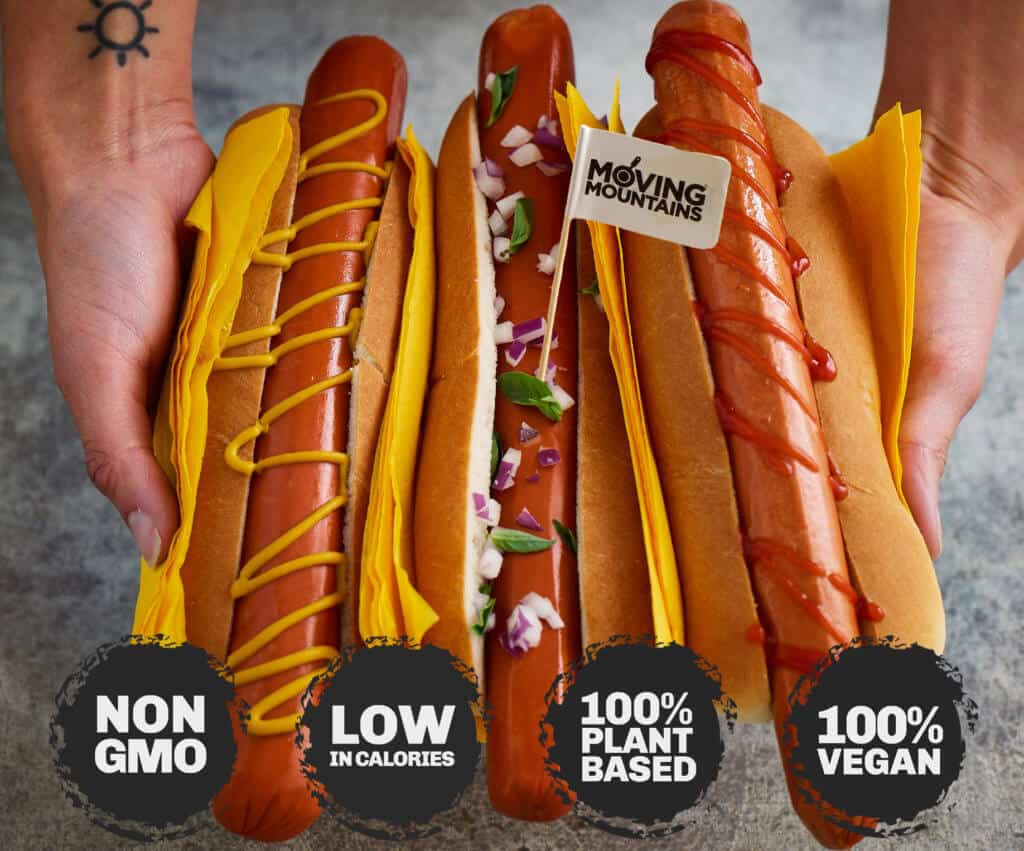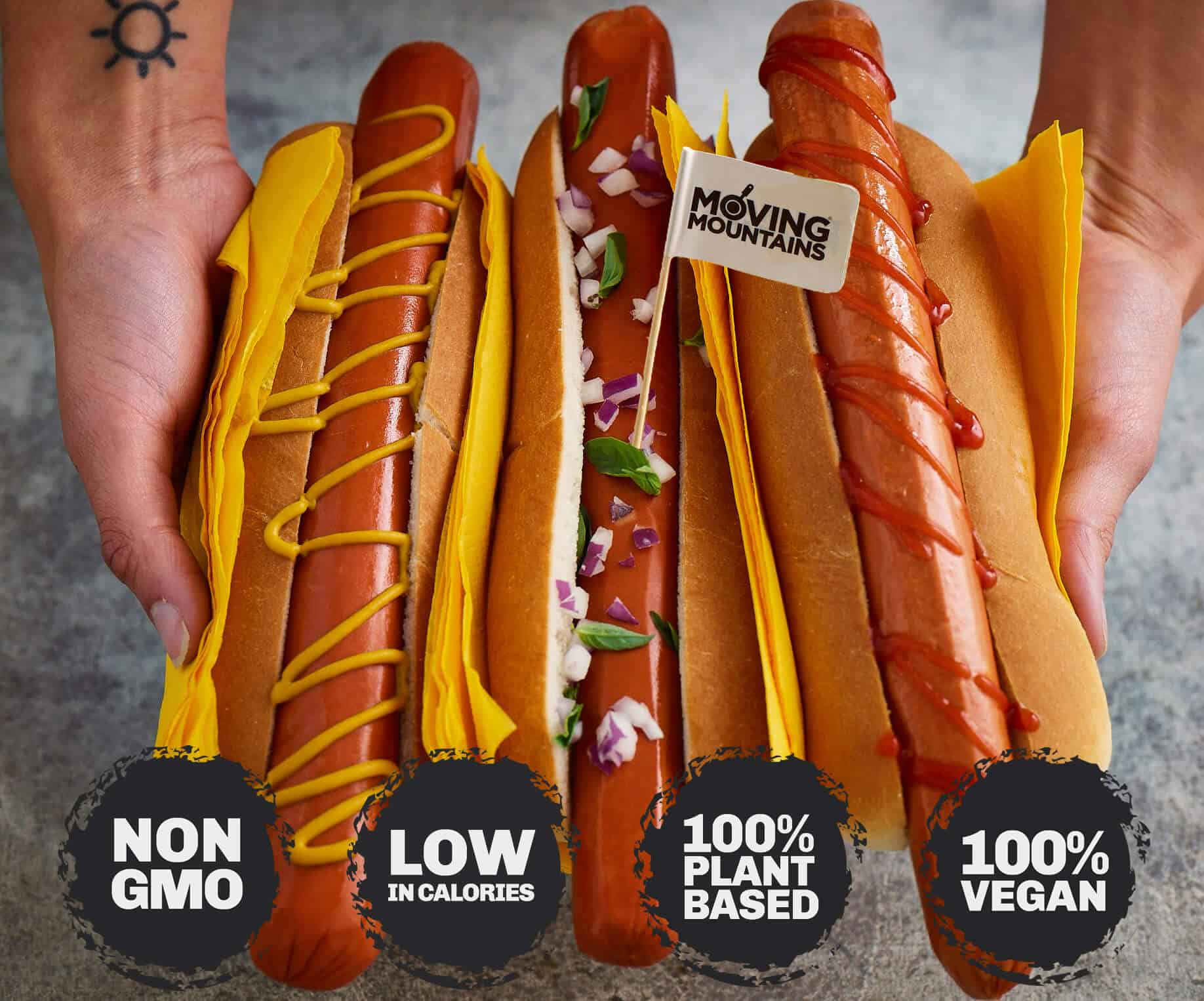 Here is an overview of the ingredients in the Moving Mountains® 'Bleeding' Burger to provide an overview – it has 18g of plant protein, is vegan-friendly and free-from antibiotics and hormones:
Oyster Mushrooms are the base, which maintains the succulent texture and differentiates the burger from US competitors. It provides health benefits including lowering cholesterol
Pea protein provides a source of protein
Wheat and soy proteins give a fibrous texture akin to the bite and depth of a traditional burger
Beetroot juice allows a juicy 'bleed' at the centre of the patty
Coconut oil provides a fatty, satisfying consistency
Oats help provide the firm structure of the patty and healthy soluble fibre
Vitamin B12, traditionally associated with red meats, has been added so that the Moving Mountains® burger can genuinely compete with a beef burger and provide more essential nutrients as the burger contains the RDA (Recommended Daily Allowance) of B12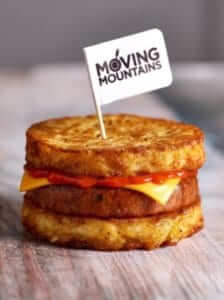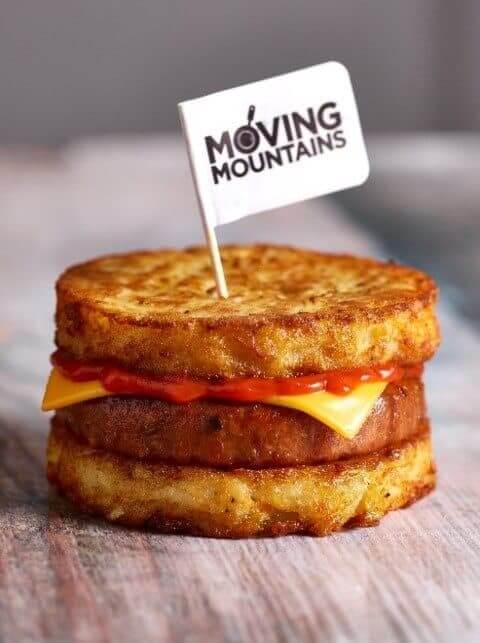 Tell us your personal experience with the growth of the plant-based market – what has surprised or excited you the most?
There is a plant-based revolution happening in the UK and demand for premium alternatives to meat has exploded. Consumers have continued to look for high-quality, nutritious and great-tasting food which is ­­free-from substitutes and tastes like traditional animal products. They are now more prepared than ever to replace their favourite meat with quality offerings that provide a more sustainable solution to mass farming, and we expect this trend to continue.
With 21% of meat-eating Brits considering themselves to be flexitarian, we expect to see a burgeoning trend of even the most committed carnivores replacing meat with a plant-based substitute. It has been really exciting to see the category evolve at such a pace with innovative and high-quality plant-based offerings that taste delicious and can be incorporated into daily life.
What is next for Moving Mountains?
We're constantly looking at innovation and how we can offer more products to consumers – watch this space!