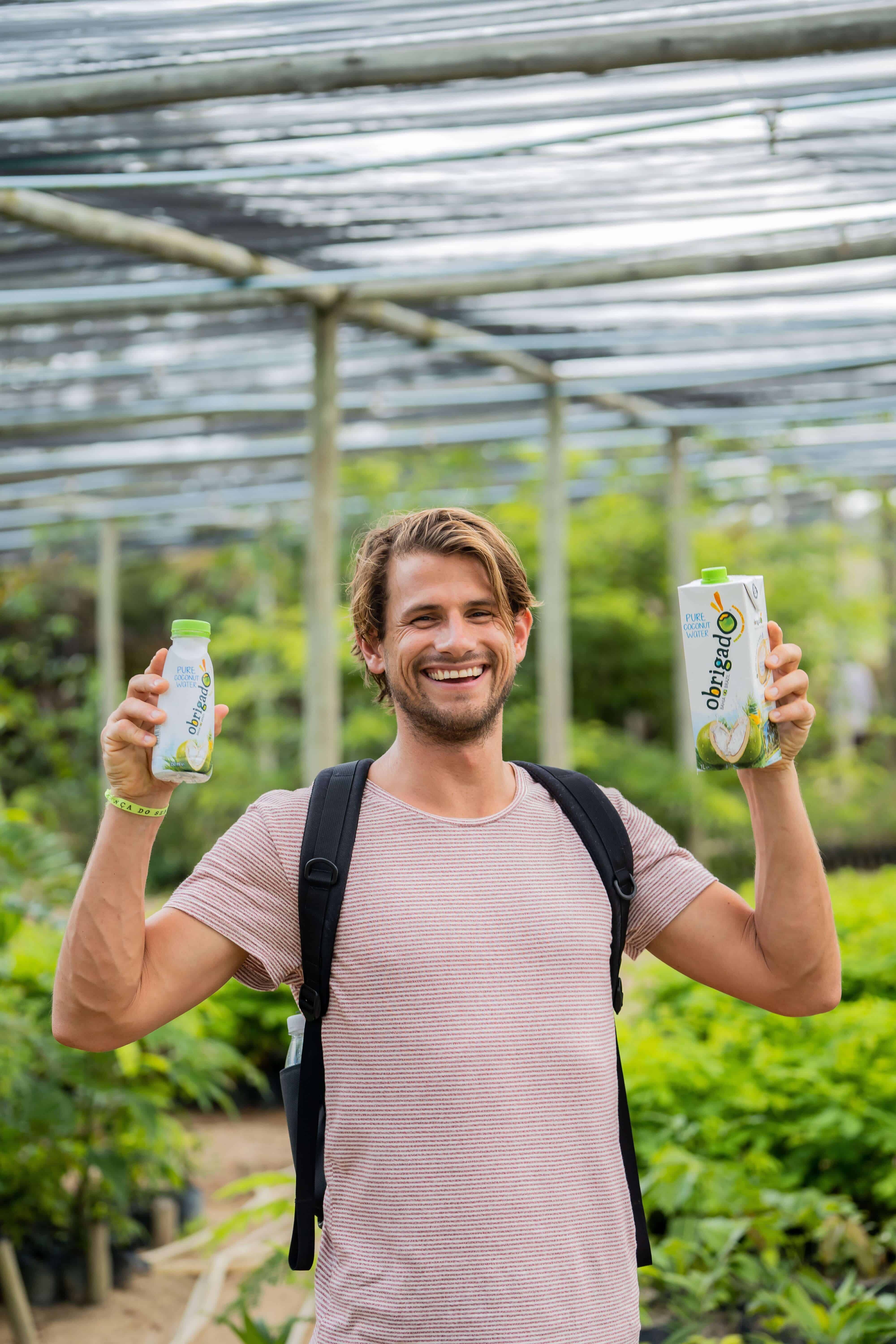 Obrigado harvests fresh, young green coconuts and bottles them without exposing them to light or air; a process which enables a shelf life of seven months without any addition or preservatives. All this happens on a sustainable farm in Bahia, Brazil with their own factory right next it.
Obrigado translates to "thank you" in Portuguese and is a nod to the brand's gratitude for nature's resources. We spoke to Steven Tol, Global Brand Manager Obrigado – Aurantiaca Europe BV, about why they are a B Corporation, their target group, marketing plans and new products in 2019.
You are a certified B Corporation. What is the concept behind it and why did you choose to undergo the certification process?
Certified B Corporations are businesses that meet the highest standards of verified social and environmental performance, public transparency, and legal accountability to balance profit and purpose. The B Corp community works toward reduced inequality, lower levels of poverty, a healthier environment, stronger communities, and the creation of more high quality jobs with dignity and purpose. Obrigado is in business to multiply goodness and by becoming a Certified B Corporation we joined companies like Patagonia and Innocent. This certification is an external proof of our convictions to use our business as a force of good.
What are the challenges of producing coconut water and selling it in retail thousands of kilometers away?
Obrigado Coconut Water is 100% pure. That means we add nothing and it is exactly the same as the water from the coconut. We want to give consumers the highest quality product possible. You can imagine it is a challenge to transport such a natural high quality product and make sure it tastes the same in Germany as it would on a Brazilian beach, minus the sand in between your toes of course. We believe we overcome this challenge by doing everything in the best way and also continuously look to reduce our impact on the environment.
Through which channels and in which countries do you currently sell your product?
Brazil, Peru, Argentina, Chili, USA, Canada, Germany, Belgium, Luxemburg, The Netherlands, The Caribbean and we have customers from China interested in our high quality coconut water. Depending on the country we sell through supermarkets, convenience stores, restaurants, ecommerce. Often, we work with local distributors and wholesalers with local knowledge
Do you currently run marketing campaigns or plan to do so in 2019?
We hope that Germany will fall in love with Obrigado and we plan to reach as many people as we can. But we believe Coconut Water is not for everybody and therefore our Marketing investments are focused on the target group. We are doing Digital Marketing campaigns and we have an amazing bunch of Obrigado ambassadors that are spreading the love. We partner with brands like lululemon Deutschland to support their community events. Last, but not least, we will be popping up in a few cities and at a few festivals to have people try a Obrigado Coconut Water.
How would you describe your target group?
Our Coconut Water drinkers are people that generally follow a healthy lifestyle and are interested in sports and exercise. They have traveled to some extent, or dream to do so. They are often urban professional between 25-40 years old and the group is skewed towards women.
Are there any plans to expand your product range in 2019?
We are introducing Obrigado Coco Drink, an amazing Coconut Milk beverage that can be an alternative to milk. Also, we are expanding with Obrigado Coconut Water with Mango Acerola. This is an amazing refreshing fruit drink with the benefits of coconut water and with a lot of vitamins and no added sugar.