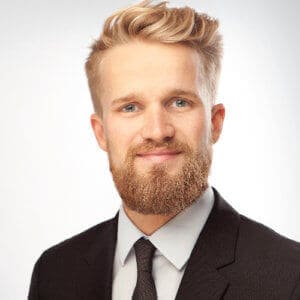 "Let food be thy medicine and let medicine be thy food" once postulated Hippocrates. His statement is more contemporary than ever, and inline with this philosophy, the Physicians Association for Nutrition (PAN), founded in 2018, puts nutrition in the limelight of medicine.
According to the experts, a plant-based, wholesome diet is the key in the fight against the most frequent causes of death of our time. We talked to Niklas Oppenrieder, Medical Director of PAN, about organisation, nutrition and common diseases.
PAN International is a fairly young organization. What do you stand for?
PAN International – the Physicians Association for Nutrition – stands for our goal to implement a fully-fledged plant-based diet, as derived from the latest scientific findings, much more intensively in the health system and society. In this way, the majority of chronic illnesses, the associated restrictions in quality of life, millions of premature deaths and the resulting costs could be significantly reduced.
We are a medical society with a medical focus – an international advisory board of physicians and nutrition physiologists is at our side.
PAN supports health experts in getting to know and using a fully-fledged, plant-based diet as an effective instrument for health. We address all specialist areas, because ultimately employees in every area of the health care system deal with patients who are affected by nutrition-related illnesses: whether nursing care for the elderly, physiotherapy, orthopaedics or cardiology.
What does science currently say about the major widespread diseases of our time?
The current state of scientific research clearly shows that the most common so-called widespread diseases are mainly caused by a few risk factors. Nutrition or malnutrition plays by far the most important role.
These diseases mainly include cardiovascular diseases (e.g. high blood pressure, coronary heart disease, heart attack, stroke), diabetes mellitus type 2, obesity and various cancers. Nutrition also has a major influence on other common diseases such as inflammatory and autoimmune diseases, musculoskeletal diseases, skin diseases and dementia. In my opinion, the potential of a healthy diet is even underestimated, despite the already clearly proven and comprehensive interrelationships: the actual extent of the reduction of diseases can only be assessed when larger parts of the population change their diet. Many of the illnesses mentioned can not only be prevented preventively by an appropriate dietary pattern, but can also be treated optimally if they exist – and thus frequently reversed. And all this without the side effects that many common medications entail.
What are the economic implications of diet-related widespread diseases?
Here, direct and indirect costs are to be specified in the classical sense. To get a rough idea: direct health care costs worldwide will rise from currently 9 trillion dollars per year to 24 trillion dollars per year by 2040. Harvard University and the World Economic Forum also forecast an increase in indirect costs caused by common diseases (cardiovascular diseases, cancer, diabetes, chronic respiratory diseases) and mental illnesses to a cumulative 47 trillion dollars worldwide by 2040. Depending on the region, non-communicable diseases, which are very often diet-dependent, cause between 60% (OECD) and 90% (USA) of these difficult-to-imagine costs.
The total cost of cardiovascular disease in the EU alone is €210 billion per year, or about one third of the EU's total education expenditure.
This is not surprising considering that 73% of all deaths worldwide and more than half of the Disability Adjusted Life Years are caused by non-communicable diseases. According to the latest Global Burden of Disease study, the biggest risk factor for these diseases is malnutrition, which ranks it ahead of the other major risk factors of tobacco consumption, physical inactivity and obesity.
Are there other areas besides direct health care that are affected?
Yes, in addition to the clearly quantifiable monetary costs, there are, in my opinion, two other socially relevant categories of costs: on the one hand, the costs of informal care of patients for example by relatives. On the other hand, it should also be kept in mind that in health care facilities themselves as well as in related specialist areas (e.g. medical technology, pharmaceutical research) a large part of the potential of many very well-trained and committed people is tied up by a problem that could be solved relatively easily within the framework of appropriate (health) policy measures. This of course has implications for other areas of the health system and society for which this potential is not available.
Do you see a duty on industry to offer healthier food?
To be honest, in a world of overflowing food supply, I see this as the primary task of the food industry. The minimum would be to adapt the recipes in order to significantly reduce the content of salt, sugar, saturated fatty acids and additives. In principle, however, the industry should ask itself how to create predominantly wholesome, vegetable products that are tasty and long-lasting. That would be an immense contribution to individual and public health.
However, since science unfortunately also shows that a large part of industry is not motivated in this way, we see politics as having a particular duty. Various models are needed here, such as restrictions on certain ingredients, restrictions or bans on advertising and tax models to guide consumer behaviour. These have already been researched in models and could be implemented very quickly. We see the most effective way of doing this in these health policy efforts to prevent relationships, and we are correspondingly committed to ensuring that the voice of the health care professions becomes much louder.
In which countries is PAN already present?
PAN is currently represented in Germany and the USA. Further branches in the Netherlands, Romania and the Czech Republic are about to be founded. Like all local PAN branches, these will each be founded as independent, non-profit medical organisations. Promising options are also opening up in Norway and South Africa. We see ourselves as a global organisation and see in this approach a great increase in the effectiveness of our activities – both for the international network and for each individual national branch. Therefore, we are pleased about the great interest of people in health care professions worldwide in founding further "PAN Branches".
What should the perfect partner look like who wants to start national PAN representations in other countries?
PAN representations are set up by people in different health professions. Often these initiatives already exist in the countries as a loose connection of interested people, sometimes we also network individuals who contact us. In addition to the existing focus on nutrition in medicine, potential partners should above all be able to identify themselves with the statutes of PAN, which guarantee an exclusively evidence-based work of the individual organisations. Existing medical or nutritional organisations with a similar focus can also join PAN in order to use the existing synergies and become more effective. As an individual you can of course also join us as a volunteer, member or sponsor*in. Information is available at www.pan-int.org or by e-mail at [email protected]