Pepe Biaggio emigrated from his home country, Argentina, at the age of 15. Since then he has travelled the world and ended up living in Spain, where he began working with Luke Saldanha to create the successful vegan ice cream company, Pink Albatross.
We had the pleasure of talking to Pepe and he told us his personal story and how he became part of the creation of the first exclusively vegan ice cream company without artificial ingredients in Spain.
Tell us a little about yourself and Pink Albatross, how the company was born and how you came up with the idea of creating vegan ice cream.
My eldest daughter has suffered from various food allergies since she was 6 months old: cow's milk protein, eggs and various fruits. We became what is now called a conscious consumer: who wants to know the ingredients, processes and origins of the products he or she buys. When we looked at the ingredients of those few products that we could all consume and were rich, we were frightened because few were recognisable and those with familiar ingredients were downright bad. This was noticeably more evident in the category of sweets where the absence of dairy, eggs, or gluten generally meant a very bad dessert or choosing a piece of fruit.
It was at this point that I met Luke, my partner, who had been a vegan for some time and was having the same difficulties, albeit for different reasons. He was living in New York and watched the ice cream shelf and other vegan products grow, although they still sinned in terms of taste and texture.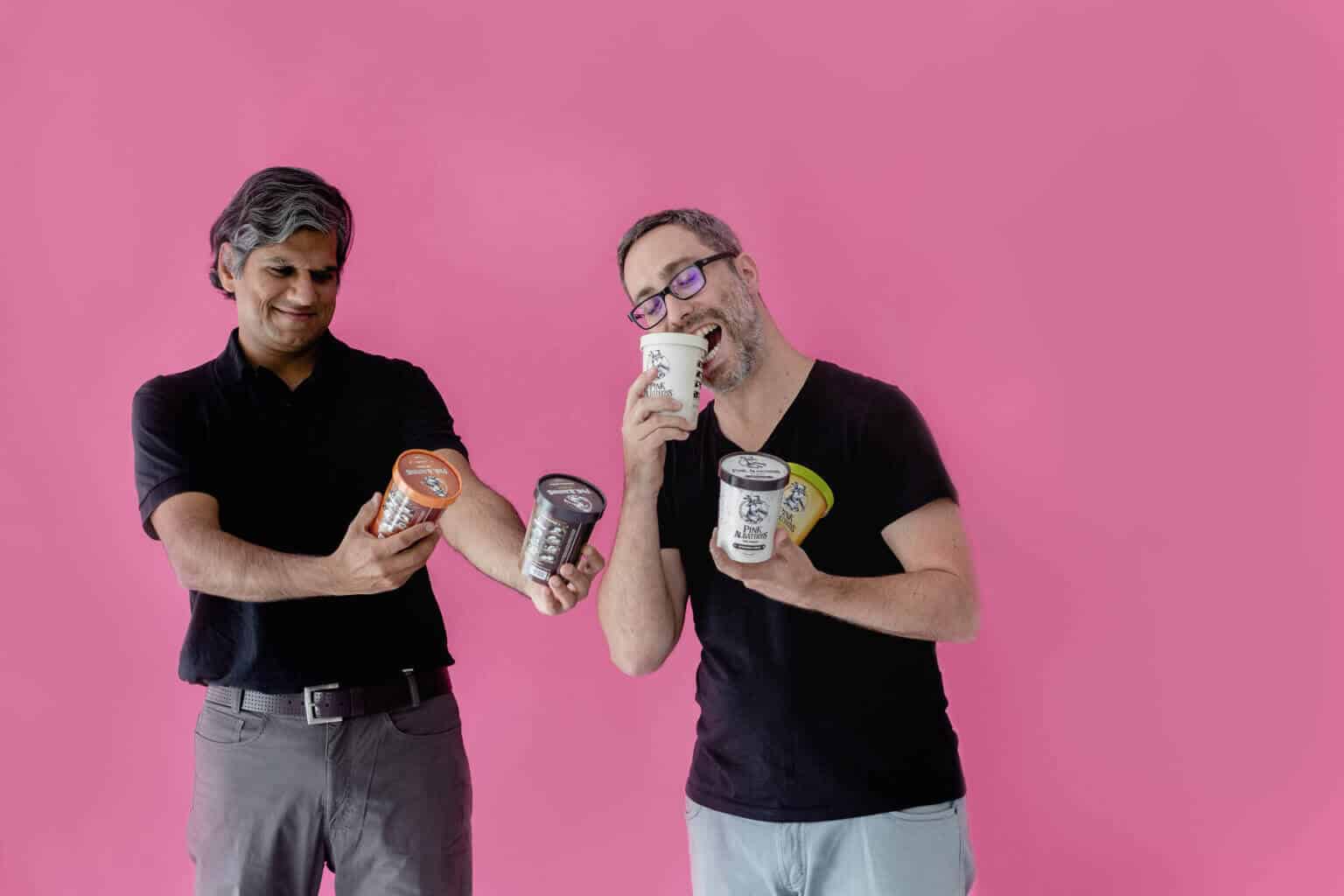 With this premise in mind, we set about investigating the market and informing and training ourselves about ice cream. We made a first test in Madrid with about 30 consumers (friends of friends!) with a blind tasting and with some specialized shops that were very kind to give us their 'feedback'. The response was quite good, despite being a 0.1 version of the formula we currently have, and we decided then to go deeper. Luke left his job in NY and moved to Madrid; we decided to invest together and launched our first flavours in June 2019.
What makes Pink Albatross different from the competition?
We always like to say that Pink Albatross has 3 basic pillars. First is that the taste and texture have to be sublime. Our consumers don't want to take a piece of ice and they don't want to be indifferent to a taste. They want to enjoy it and close their eyes with every spoonful.
Second, we want to make an ice cream with recognisable ingredients. This is perhaps the most important barrier we had to overcome when looking for the optimum recipe for our ice cream and it is linked to this clean label. It is not complicated to make an ice cream with certain ingredients of dubious origin that replace sugars, provide textures, support freezing points. But if you only use ingredients that have been extracted with heat, fermentation or pressure everything becomes much more complicated. Because of our ingredient philosophy, we do not use maltodextrins, dextroses, inulins, lecithins, or E's (and they are all quite typical ingredients in ice cream).
Thirdly, we wanted a different image that would promote the desire to explore, that would attract attention and that would be attractive. We want to connect with people who are active, curious, seeking to change and improve constantly. That's why the image of the Albatross, besides which both Luke and I identify with it as two guys who have migrated for a large part of our lives.
How has the general public received your products?
The reception from consumers has been fabulous and from the shops that have bet on us as well. Some of the shops that have started this season told me that some customers tried the ice cream for the first time and a week later took 4 or 5 tubs home because they loved it. The restaurants have also given us fabulous feedback and all this gives us the strength to continue developing new flavours that we hope to launch in the coming months and to continue exploring more options so that we can get our products to more people and continue promoting change with this new form of indulgence that is Pink Albatross.
What's in store for the future of Pink Albatross? Are you planning to expand your range of vegan products?
We hope it will be brilliant! Pink Albatross is a 100% plant-based company and we cannot conceive of creating products that do not follow our philosophy explained in point two.
As I mentioned in the previous question, we are finishing testing 7 new flavours of which there are three that we hope will reach the consumer in the tub format as we currently have. We are also finishing adapting some recipes to launch new formats for next year.
We are currently planning to expand the brand to several other countries for the next season and also to try to get closer to the people by improving our distribution in Spain. We are already a team of five people with a desire to progress this new form of indulgence with recognisable flavors and ingredients that is Pink Albatross.