Aleh Manchulianstau, food scientist and co-founder of Planetarians, is tackling the challenge of feeding the planet's rapidly expanding population through a process he refers to as "upcycling de-fatted seeds." His secret ingredient is sunflower oilcake; he believes that repurposing this by-product into human food can provide consumers with a cheap, clean, sustainable source of plant-based protein, and add value to supplier profits.
Planetarians have a unique product which offers a solution to some of the many sustainability issues we currently face. De-fatted seeds are traditionally fed to cattle, however they actually have more protein (35%) by weight than can be obtained from beef (26%). De-fatted seeds are the dry matter remaining after oil extraction from crops grown for their oil, such as sunflower, canola, cotton seeds, etc. Aleh says that this is a highly sustainable product, as on average, 20 pounds of defatted seeds are created for every gallon of extracted oil. We spoke to him about his vision.
First of all, please can you introduce your brand and say how you got started?
We're a team of food and culinary scientists and engineers. Previously we formulated and sold more than 1 million servings of nutritionally complete meals. Sourcing ingredients for our new product line we stumbled upon de-fatted seeds. De-fatted seeds are the dry matter that's left after oil extraction from crops grown for their oil, such as sunflower, canola, cotton seeds, etc.
But, animal agriculture cannot feed the world. It already occupies 80% farmland, providing only 20% calories. If you go to any business school – you will be advised to do the opposite. In addition to the growing population, healthy choices and concerns about climate change drive prices for plant-based proteins.
Please explain de-fatted seeds and their benefits.
De-fatted seeds are the dry matter that's left after oil extraction. On average, 40% of the sunflower seed turns into the de-fatted seed. Sunflower possesses many properties that make it an appealing alternative protein source from both a marketing and formulation perspective, including its low cost, absence of major allergens, low antitrypsin inhibitors, and its status as vegan and "clean" label friendly.
Unlike expensive isolated proteins ($4-8/lb), Planetarians developed a cost-effective method of manufacturing sunflower protein preparations that appeal senses at the price of all-purpose flour $0.5/lb. Our ingredients are allergen-free, and Non-GMO, unlike soy-based proteins, are five times cheaper than pea protein and a good source of fibre.
Your company seems to be focused on sustainability – can you say a little to this, why this is an imperative issue to address and what impact could products like yours have on the problem at hand?
Many people know that 40% of our food is wasted, but nobody mentions that before animal products even reach consumers' plates, animal agriculture has already lost 90% of the calories used as inputs to produce them…
From the initial 100% of the calories in the de-fatted seeds, humans get only 17% of that number of calories if we feed de-fatted seeds to poultry and then consume poultry. We get 9% of that total if we feed defatted seeds to pigs and then consume pork, and 3% of that total when we feed de-fatted seeds to cows, and then consume the beef.
Repurposing de-fatted sunflower seeds from animal to human consumption has the potential of feeding the growing population while simultaneously reducing the impact on the planet.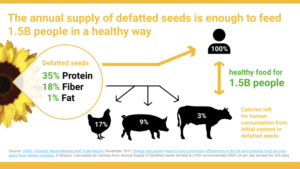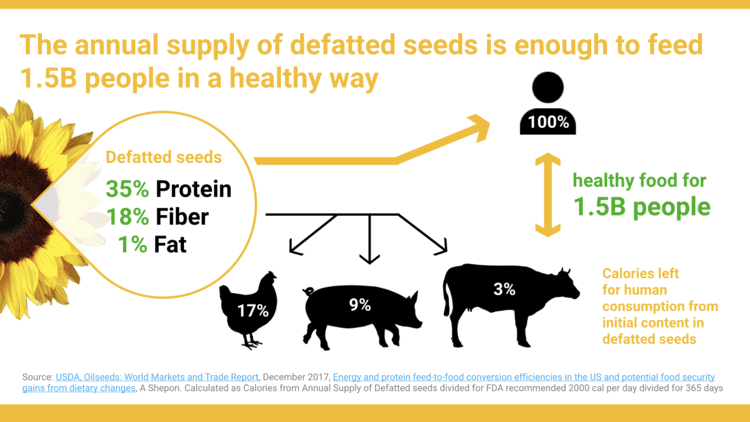 How much interest is currently shown in your product by retail chains?
We got requests for samples from many retailers (WholeFoods, Safeway, Hy-vee, just to name a few), but as we mentioned already, we're a ingredient tech company. Brands selling products in the mentioned chains are our primary clients. I cannot disclose the names at this moment, but you may check Twitter for some public endorsements from executives of large multinational corporations.
Which sales channels do you currently use for marketing, and why?
Mostly trade shows and industry media. We showcased our ingredients at Food Waste Summit at Harvard, Fancy Food Show in New York and IFT 2018 in Chicago this summer. We presented opportunities to right a wrong in agriculture at the Ag Innovation Showcase in St. Louis, and in industry media such as Food Navigator and National Sunflower Association magazine. I would be glad to meet some of your readers at the Circular Economy event during Verge in Oakland, Naturally Boulder annual event or SupplySide West in Las Vegas this fall.
What is your company mission or what are you striving for? 
Our goal: 100% sunflower cake into food production by 2040.
Everybody deserves quality nutrition. Bioinformatics allowed us to identify the new sources of protein along with traditional meat. Health benefits, concerns about the growing population and climate change set plant-based proteins on rapid growth. Fortification of the conventional products with protein such as bars, cookie, pasta, etc. offers a new variety of energy sources for customers. Once the customers get access to affordable protein from bread-like products, the necessity for animal products will be significantly reduced.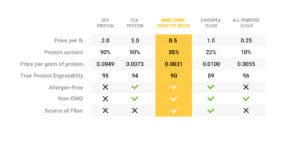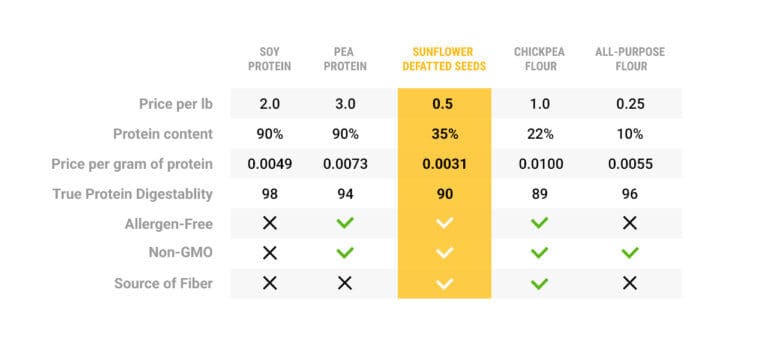 How do you view the future of plant-based ingredients such as yours?
Plant-based proteins will become the primary energy source for the forthcoming generations. In my opinion, animal products will become niche products for pleasure.
Do you have any new products in development?
At present we are focusing on sunflower products. We invite all researchers to collaborate on other oily crops such as rape/canola, cotton seed, palm kernel meal, copra meal, etc. If you're a food company thinking of using sustainable ingredients –  let's talk – we may want to support you.
Where do you see yourselves in five years as a company?
In five years we see ourselves as a world platform for upcycled ingredients from oily crops. Successful farmers, different ingredients, free recipes, a trusted brand, and for sure – with many happy customers, who obtain access to affordable protein.