Porter & Nash, a vegan sauce company based in Ireland, was founded by chefs Gavin Cassidy and Eoin Lennon who have over 50 years combined experience in catering including training at 2 Star Michelin level. The brand specialises in plant-based sauces and gravies containing the superfood kombu seaweed offering a unique umami flavour.
The startup launched with initial investment of €55,000 and was approved for EI competitive start funding; Gavin and Eoin told vegconomist that this interesting brand is now actively seeking funding and is open to investors.
Please introduce your brand and the motivation behind creating it.
Porter & Nash have created a range of plant-based meat alternative sauces designed by professional chefs enhanced with Irish seaweed. Our sauces are suitable for all cuisines including vegan diets, made with roasted root vegetables and Irish kombu kelp that have no fat, low sugar and salt. The recipe for each sauce is gluten-free.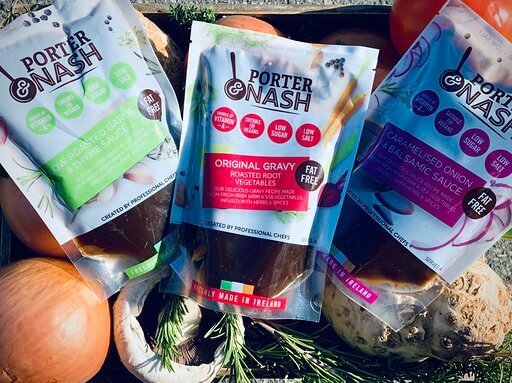 Eoin and I met when we returned to college after 50 years of combined experience in the catering industry, included in that experience is Eoin spending 10 years in 1 & 2 Michelin star restaurants. We went back to college to upgrade our culinary qualifications in TU Dublin Tallaght Campus. Our motivation for creating these products came about while we were studying a module of New Product development, during our research we found that veganism and plant-based cooking was increasing globally and consumers were reducing their meat consumption.
We realised a gap in the market for plant-based sauces so we set ourselves a challenge to create a product that has all the attributes of a meat sauce but plant-based. We achieved this and set about researching the scalability of our products and after months of R&D, we launched through the SuperValu food academy.
What is your current portfolio and which is your best seller?
Our portfolio of sauces consists of: Original Gravy – roasted root vegetables with Irish Kombu kelp; Slow Roasted Garlic and Thyme Sauce – roasted root vegetables with Irish Kombu kelp, infused with garlic and thyme; and Caramelised Onion and Balsamic Sauce – roasted root vegetables with Irish Kombu kelp Infused with caramelised onion and balsamic vinegar.
All of our products are doing well, though our Slow Roasted Garlic and Thyme is slightly ahead on sales.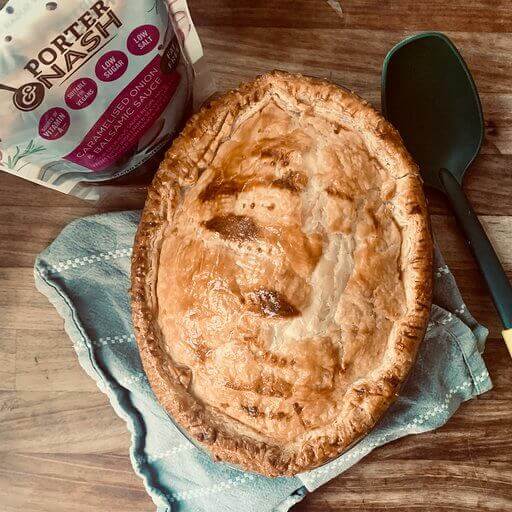 You use Kombu seaweed as an ingredient; please tell us how that discovery came about and why you like it?
Seaweed is more nutrient-dense than most land vegetables, it is a sustainable food crop and it brings that Umami flavour which, through research and development, we discovered can offer a meatlike taste like. Seaweed has been used in Irish cuisine for centuries but over the past number of years it had lost its appeal in cooking. We use Irish Kombu Kelp from the West coast of Ireland in our sauce range for the Umami flavour it gives our products.
Are the founders Vegan – If not, why vegan sauces?
Both Eoin and I are not fully vegan, we would class ourselves as flexitarians.
Through researching, we found most plant-based products and recipes can lack moisture and sometimes flavour so we created these sauces to elevate these products and recipes to be more appealing to the consumer. Our sauce range can be used as a cooking sauce, binding sauce and of course a finishing sauce.
Irish eating habits are changing, healthier choices and diets are at the forefront of this change and plant-based products are increasingly taking a larger share of retail shelves so our plant-based sauce range fits into this change.
Where can people find your products, which retail outlets etc?
We are currently on sale in Irish retail shops, SuperValu is our biggest stockist at present. In June 2020 we will be stocked in Irish Aldi stores nationwide, we are also stocked in a number of independent Artisan stores in Dublin and Wicklow.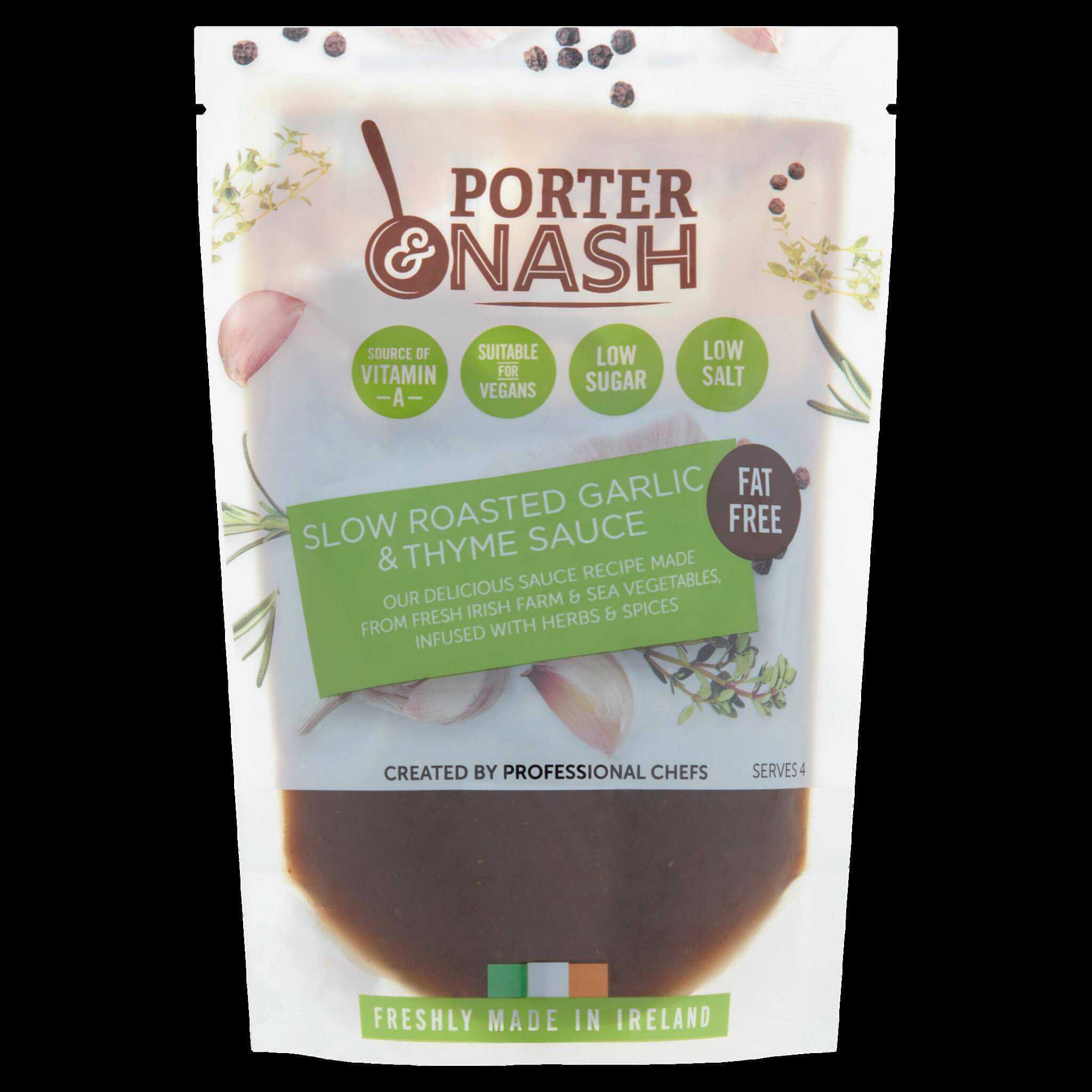 Do you have plans to expand distribution further than Ireland
Yes, as part of our distribution strategy and financial plan we will be seeking distribution companies in the UK and mainland Europe and hopefully we will be selling across the pond in the USA in the not so distant future.
Do you have any products in development?
As professional chefs we are always creating and researching the possibility of more products and Porter & Nash are not limited to just the sauce market. We have plans to expand in other sections of the retail food industry and foodservice. We are currently in R&D with another four sauce flavours, stocks, marinades and we have other products that are at an early stage in research and development.
In your opinion, why should the food industry continue to acknowledge veganism?
Veganism is a lifestyle and a consumer choice which is growing globally so it would be remiss for any part of the food industry not to acknowledge this section. Global warming and over-reliance on meat consumption has changed the perception of plant-based diets. Flexitarian diets are increasing worldwide and the reduction of the consumption of meat products is growing. Research has shown that "tasting like meat" is the top enticing factor for 26% of non-/infrequent eaters of vegetarian/meat-free foods.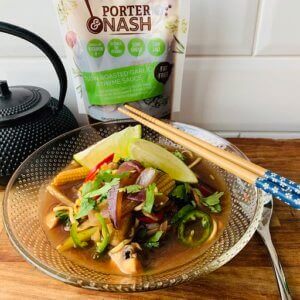 What are your plans for the rest of 2020 and beyond?
We have a road map in place which we are excited about that involves the expansion of our product range and retail outlets. The COVID 19 world pandemic is changing the way we live our lives and 2020 will be a challenge for everyone especially the restaurant and hotel industry. With more and more people experimenting when cooking at home we believe that our products will help the home cook to make nutritious, healthy and delicious meals. We are actively seeking investment to raise equity to expand into the global market and bring Porter & Nash products international.