Serotonina is a producer of artizan "cheeze" from Wroclaw, Poland, who use the finest, natural plant ingredients and combine with artistic craftpersonship to create uniquely distinctive flavours and aromas.
Serotonina says that "there has been a huge gap in the market for vegan equivalents of first-rate traditional cheeses," and so in response have created a large range of luxury cheezes including gorgonzola, feta, aged cheddars, cashew based options, and even a kimchi cheese.
Which product do you want to bring to the market?
We are an artisanal manufacture, producing vegan equivalents of first-rate traditional cheeses. We create them using the finest, natural ingredients, such as cashews, coconut oil or soybeans. Majority of our products is made in the process of fermentation and aging, they also contain pro-health bacterial cultures. We love diversity, which is why we offer a whole range of cheese types – from soft and spreadable, through aged ones, to cheeses with a noble, camemberti mould.
In addition to increasing the availability of our existing products, we'd like to bring to the market a vegan cheese with the blue, roqueforti mould, which is an object of desire for many people on a plant-based diet.
What is the USP of your product?
We believe that food should be healthy and tasty as well as beautiful and gladdening. That is why our cheezes are made with artistic flair and have their own personality. We create distinctive flavours by reaching for sophisticated combinations of spices and superfoods. The exquisite appearance of each piece is meaningful, because we want customers to feel not only the overpowering taste of umami, but also a true euphoria and delight when consuming our products – as in contact with a work of art of the highest quality.
Among our cheeses, there's the Italian paramour "Gorgon" – a substitute for gorgonzolla, Balkan lady "Fetina" – an equivalent of Greek feta, Italian celebrity "Mimozza" – our vegan mozzarella. We have the aged vampiria called "Fangoria" – a cheese with black garlic. We have the "Kimcheeze" – a charismatic revolutionary based on the traditional Korean pickle, kimchi. Not to mention the absolute hit "Escobar Royale", a French king with the real mould – our vegan camembert, adored by many customers.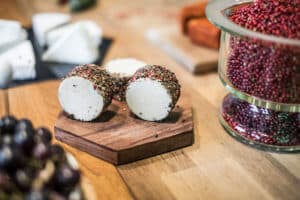 Is your product already available and where can the customers buy it? If not what is the plan, where do you want to sell it and to whom? (B2B, B2C…)
Our cheeses are already pretty popular in Poland and abroad. They are available mainly in stores offering health food and vegan products. You will also find them in vegan restaurants in Berlin and Antwerp. We successfully sell them at the largest vegan festivals and events in Europe, as well as through our online store (www.serotonina.shop).
However, we would like to increase the availability of our products so that they can be purchased in most of the EU countries, which is why we are working on expanding our distribution network. We are also considering introducing selected cheeses to retail chains.
Are you still looking for investors and if so, which ones do you look for? (Only plant-based, mostly plant-based, organic, mission-driven, any..)
We are looking for an investor, thanks to which we'll be able to increase our production capacity and enter new markets, but also to realize our dream of producing real vegan blue cheese. It would be great to establish cooperation with a mission-driven investor, interested in a wider social impact and contribution to the vegan revolution. We are already conducting preliminary discussions with potential partners.
Which background do you have as founders? Which skills and knowledge make you an expert in what you do?
Each of the founders has a different professional experience from the time before "Serotonina" was formed. From working in international corporations, through running own company, to working in NGOs. Most important thing, however, is that we now have over two years of experience in producing plant-based cheeses, perfecting their recipes and searching for new flavours. That's a considerable capital that we have built while constantly learning and working on improving production processes.