The popular German alternative cheese brand Simply V turned five years old in May this year. According to its own information, the brand has achieved a market share of almost 80 percent in plant-based cheese alternatives in this period, making it the undisputed category leader.
We wanted to know more about the developments in the company over the past five years and talked to Caroline Zimmer, Managing Director of E.V.A. GmbH, the company behind the Simply V brand.
What were the biggest challenges at the start?
The biggest challenge certainly was the product itself. We started out with the aim of making cheese alternatives that don't differ from cheese in any way, neither in consistency nor in use. Also, we wanted to keep the list of ingredients short. And above all, they should taste really good. Simply V should taste far better than any cheese alternative that has been on the market to date. That is why we first experimented with various basic ingredients to find the "right" ingredients or the "right" recipe for our high standards. We finally were satisfied with recipes where we worked with almonds, among other things.
Another challenge was the technology needed to produce Simply V. We worked out our first product, the Simply V Streichgenuss, in the kitchen of our product developer. When we were finally satisfied with the recipe, we had to make sure that it could also be machine-made on a large scale. We succeeded in doing this because we developed a new manufacturing process.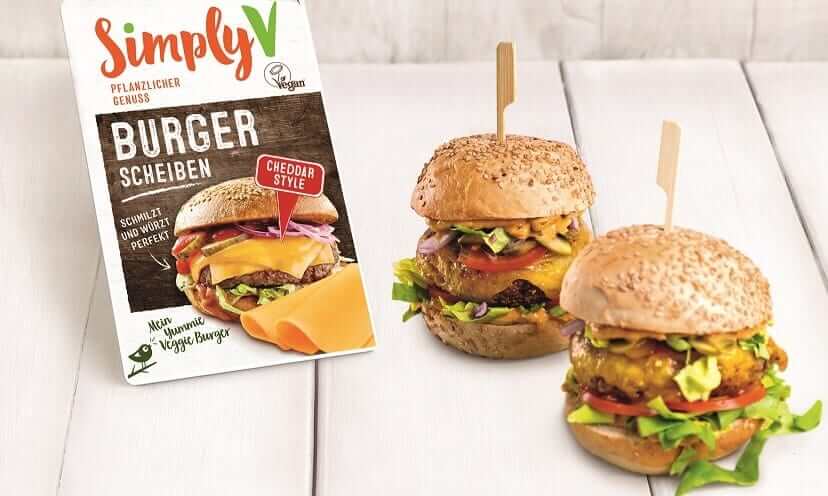 Distribution also was a challenge. We didn't make Simply V just for vegans, but for the steadily growing number of flexitarians who want to eat more plant-based foods. To reach them, the products had to be on the refrigerated shelves of "normal" grocery stores. This was a very ambitious project because you have to keep in mind that five years ago it was by no means a given to find a shelf with vegan and vegetarian products in a supermarket. When we launched Simply V in 2015, the world was different. Today, the vegan lifestyle has become a matter of course, and plant-based nutrition is an inexorably growing trend.
How did the company develop and how big is it currently?
We started with a handful of employees five years ago, in a plant whose premises we didn't use completely at the time. But that changed very quickly. It seemed that the market had been waiting for Simply V, so we have grown rapidly, in terms of sales as well as the number of employees. Our plant in Oberreute has long since reached its limits. That is why we now have a second location in Hergatz. And a handful of employees have now grown to around 100.
You could also say that Simply V brought the market for cheese alternatives to real life. We gave decisive impulses with all of our products. Distribution efforts were also of particular importance. We were the first to make cheese alternatives suitable for everyday use and thus attractive for classic food retailers and thus get them out of their niche existence. We have made our vegan products accessible to everyone and significantly increased the reach of buyers.
What were the biggest milestones in these five years?
Every launch of a Simply V product was and is a milestone, starting with the introduction of the Streichgenuss in 2015, the introduction of the Genießerscheiben in 2016, the Reibegenuss in 2017 and the Pastagenuss in 2018 to the introduction of the Frischegenus in 2019. Every year we launched a new product, and we put all our heart and soul into every product. But that alone is by no means enough. In order to meet our high aspiration to be the best, we always had to invest in completely new production lines for dosing, cutting and packaging for each product. It was all worth it, because we get the feedback from consumers: Simply V products are always the best in their category.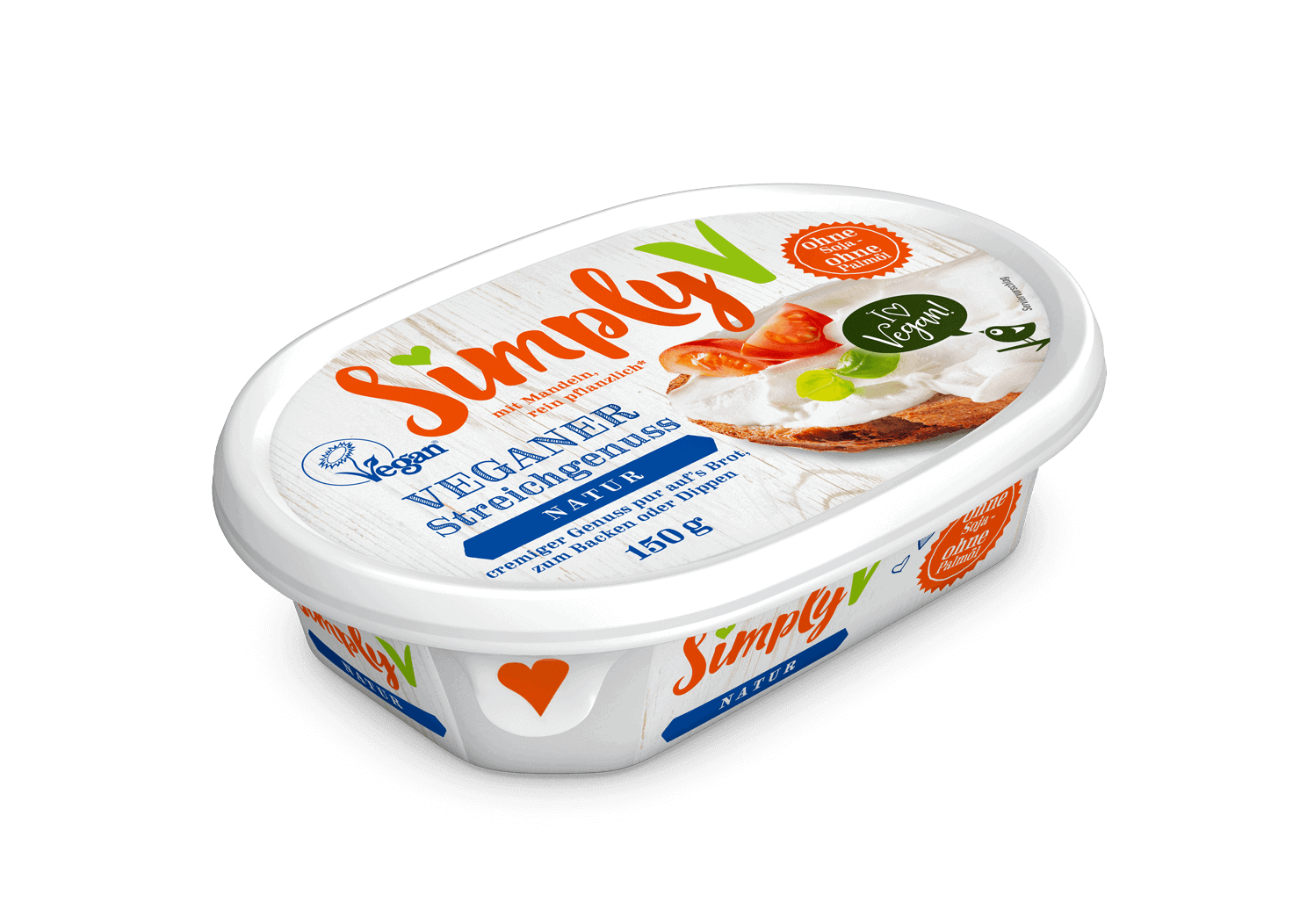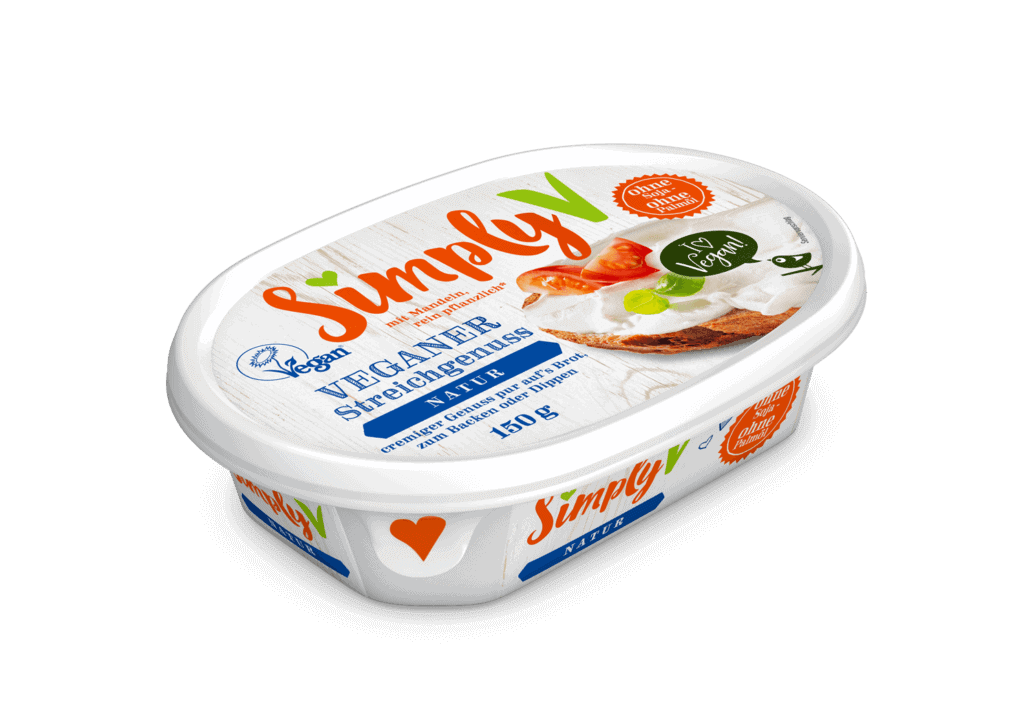 The national listings of Simply V products in the food trade were another milestone with which we have contributed to making vegetable cheese alternatives accessible to everyone. The retail sector also made a significant contribution to this, as retailers recognized the potential of our products and enabled these national listings.
Demand from abroad is also one of the milestones. Simply V products have been available in Austria and Switzerland almost from the beginning, and international distribution is currently being set up in various countries, in the Netherlands and other Benelux countries, as well as in Scandinavia and Great Britain. Even in Romania we have significant sales during Lent.
We like to count the many awards for companies and products among the milestones, because they express recognition and confirmation, from consumers as well as from the professional world. Over the years, Simply V products have won the Vegan Innovation Award, the Superior Taste Award and the Vegan Food Award, to name just a few. As a company, we were awarded the German Excellence Award. Behind all this are hard work, the commitment of the entire team and an unwavering will to make vegan in wow possible for everyone.
70% market share, will it stay that comfortable? Or do you expect more competition?
We are by far the market leader in our segment, and that's what we want to remain. We became that because our products taste really good and can be used just like cheese. After all, Simply V is backed by real cheese experts and cheese technologists who bring all their expertise to the brand.
However, more and more companies are recognizing the potential of plant-based foods in general and cheese alternatives in particular and are bringing corresponding products onto the market. But since eating habits have changed and more and more people are turning to plant-based foods, the target group is growing at the same time. We expect more competition, but also a larger number of buyers. And it is an incentive for us to offer these consumers exactly the products that are at the top of their popularity scale. Because that is also an essential factor of the success of Simply V: when developing our products, we consistently focus on the types of cheese that are particularly popular with consumers and which therefore miss them the most when they want to eat more plant-based.
In short: we are well positioned, are closely monitoring the market and are bringing further innovations to the refrigerated shelves at the usual high speed.
How will the cheese alternative market develop?
The market will continue to grow because more and more people are eating plant-based foods for a variety of reasons. The fact that milk and cheese as a milk product are viewed more and more critically, from an ecological point of view as well as for animal welfare reasons, certainly also plays a role. This plays into the hands of both the cheese alternatives and the plant-based diet as a whole. We can no longer simply continue as before, as the earth can no longer cope with when it comes to food production, and this ist something more and more people realize.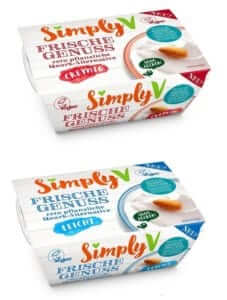 What innovations from Simply V can we look forward to in the near future?
We are currently working on a completely new form of our Genießerscheiben, with which we are leaving the segment of mere cheese alternatives and opening up a completely independent category. We are planning the national introduction of these new Genießerscheiben, which will then also be presented in a new design. This once again underpins our leadership in innovation.
We have worked with various ingredients and brought them into a "bread topping-friendly" form with own culinary characteristics. With these new Genießerscheiben we finally bring the cheese alternatives out of their alternative corner. We are offering a trend product for a new, more plant-based type of diet that is becoming more and more popular. And that's why everyone should have Simply V in the fridge and I bet that will be the case with the introduction of our new Genießerscheiben.
We also have a number of other pipeline developments that consumers can look forward to.