Squeaky Bean is a producer of a range of vegan meats, creating delicious vegan lunchtime options for UK consumers. This rising brand also recently collaborated on a home delivery box service providing a range of products to people in lockdown who may be having trouble locating their plantbased favourite brands amid the crisis.
The Squeaky Bean Plant-based Box contains products from Vivera, Mummy Meagz, Minor Figures and Vadasz and can be delivered to your doorstep through the Foodchain app.
We spoke with Squeaky Bean Brand Manager Sarah Augustine about this exciting new brand which is already seeing great success in its category.
Please introduce your brand and tell us the motivation behind your launch.
Squeaky Bean is plant-based, tasty and convenient!
The brand exists to challenge the stereotypes often associated with veganism, such as vegan food is boring or too time-consuming to prepare. We know that the reality doesn't have to be like that, so our mission is to deliver plant-based food that's really tasty and really easy for people to incorporate into their busy lives, with a brand that exciting, approachable and doesn't look like anything that already exists in plant-based!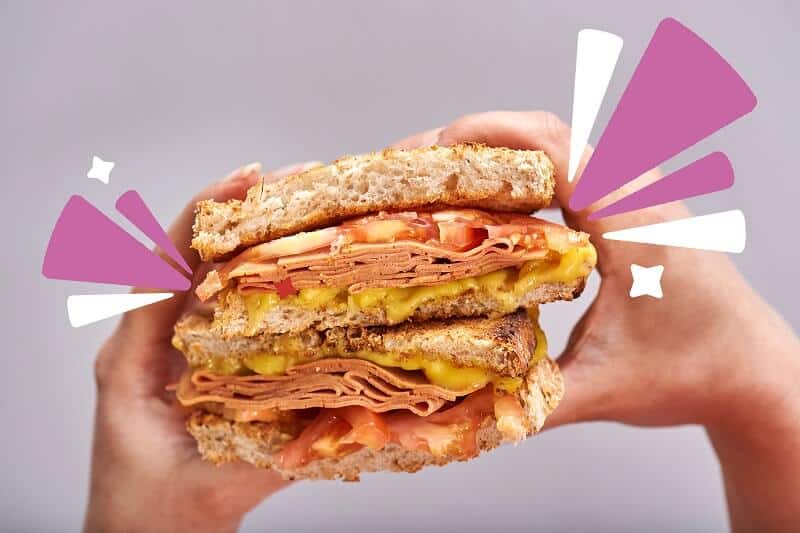 Just think of Squeaky Bean as your sidekick in the kitchen.
What is your current portfolio?
To make plant-based eating easy we split our Squeaky Bean products into two areas: Ready to Eat and Quick to Heat.
Our Ready to Eat range includes our Marinated Chicken Style Pieces in Tikka and Smokey BBQ flavours, and our Sandwich Slices in Pastrami, Ham and Chicken Kebab Style flavours.
Our Quick to Heat range features Squeaky Bean Crispy Nuggets, Tasty Fishless Fingers, Saucy Satay Kiev and our Sweet Pancakes and Fluffy American Style Pancakes.
Which products are your bestsellers and why?
Squeaky Bean Ready to Eat Marinated Chicken Style Pieces in Kick of Tikka flavour is our top selling line, and ready to eat is a key area of development for us. There aren't many options on the market for plant-based ready to eat meat replacements like our chicken style pieces or sandwich slices, but the demand is really high. Consumers are looking for quick, tasty options for on the go lunches and easy snacks. Just think how many people love a sandwich or salad at lunch – vegans want this too, and they want it to be easily obtainable.
The Squeaky pieces are our flagship products and we have even built a factory dedicated to their production because we believe there is such a strong market for this type of product.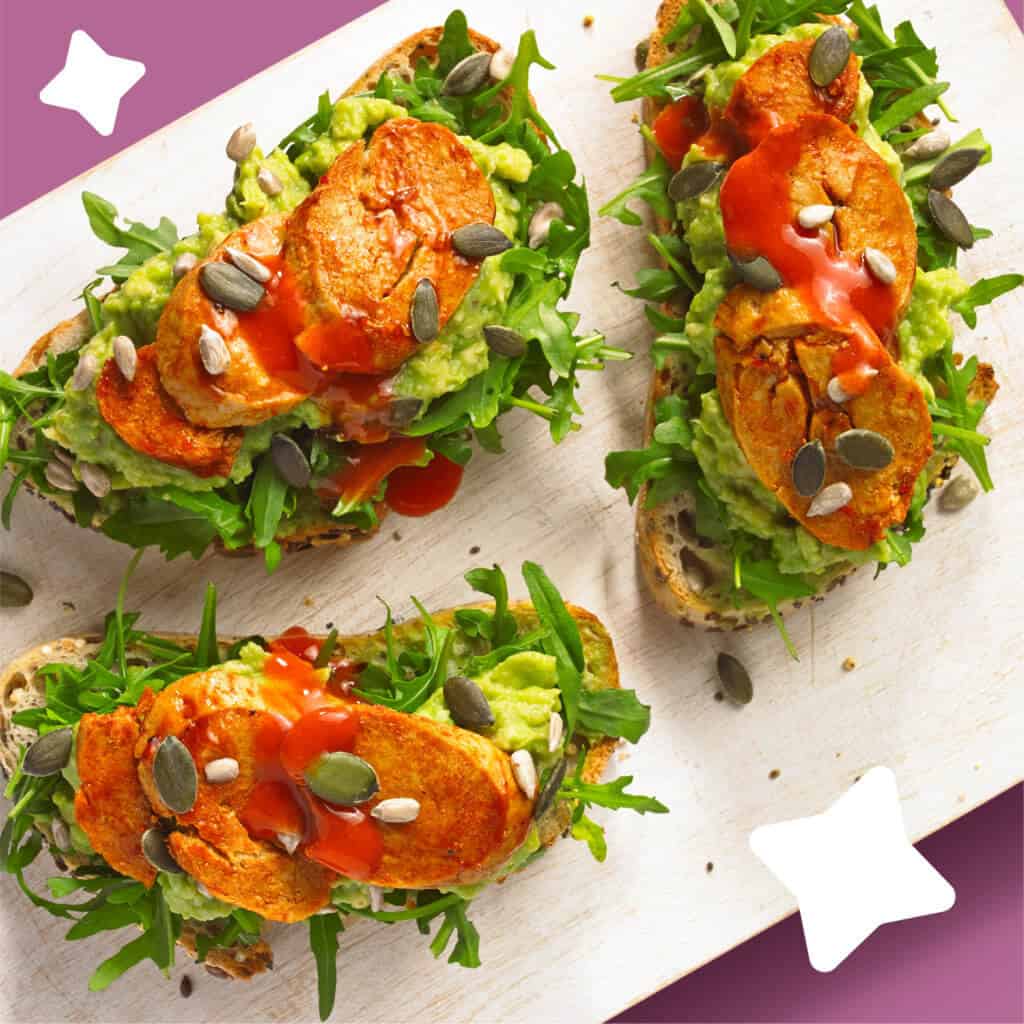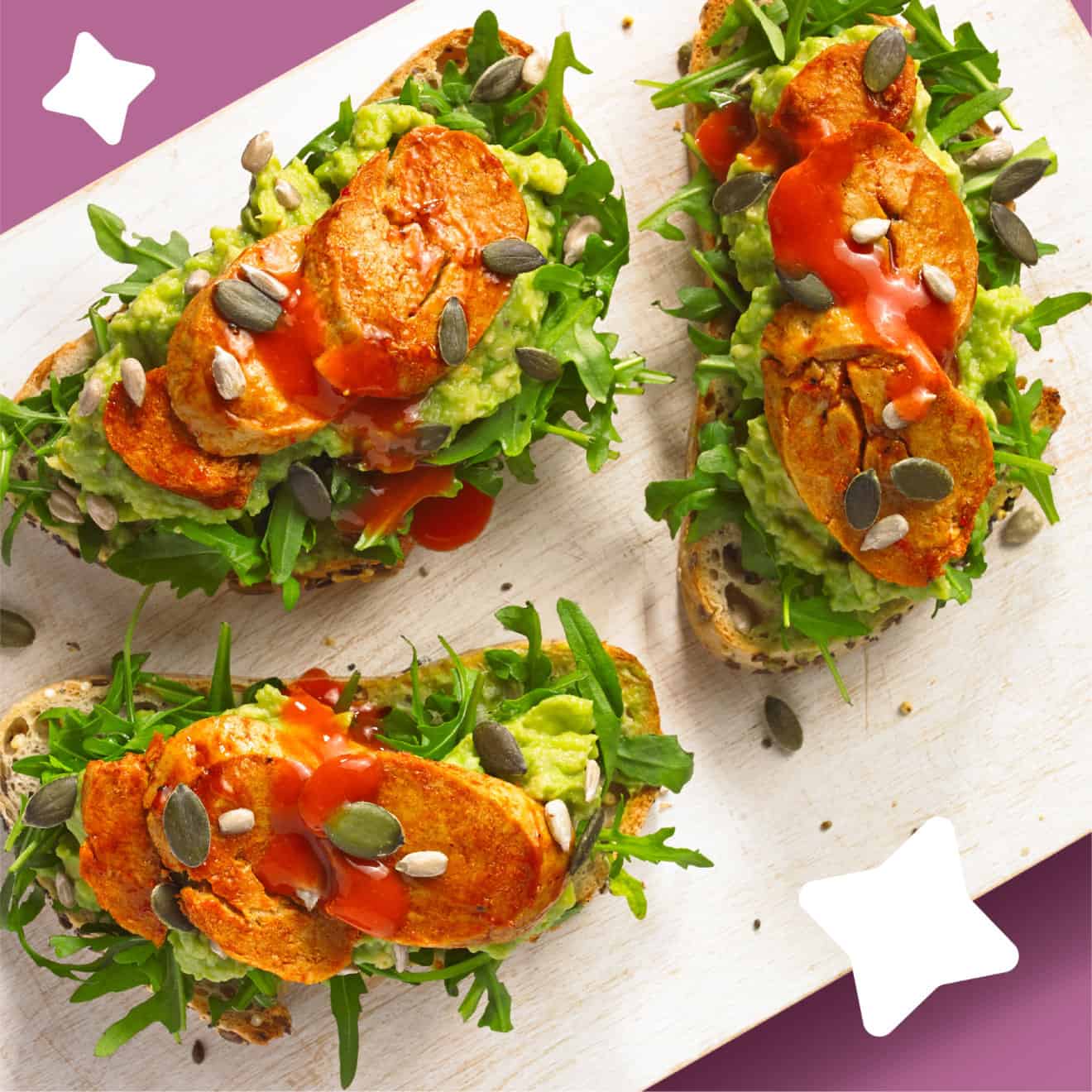 YoY value growth of 22% for meat-free Ready-to-Eat lines shows the function is outstripping its meal-centre counterpart, which is growing at 14% but currently dominates the shelves (Kantar WPO 52 w/e April 2020).
Having said this, when Pancake Day swings around the sales of our plant-based pancakes get a real boost. Our sweet pancakes saw an uplift of 280% for Pancake Day 2019 vs the average weekly sales since launch. It's clear that consumers following a plant-based diet don't want to miss out on the food they normally crave during seasonal events – searches for vegan pancakes during January 2020 on Waitrose.com were up a staggering 1,385% compared to January 2019.
This also tied in with the launch of our ready to eat pancakes into Waitrose stores and online at the beginning of the year, and is an example we're really proud of as many people might think that being vegan means they need to forgo sweet treats like pancakes. Not anymore – Squeaky has your back!
What are the biggest challenges for a new company in this food sector?
In 2018, the UK saw the most plant-based launches out of any other country in Europe, with one in six food products launched that year in the UK described as vegan or free-from animal ingredients. It is brilliant that we are leading the way in vegan product innovation, but it does mean the environment is very competitive and space for new products is really sought after.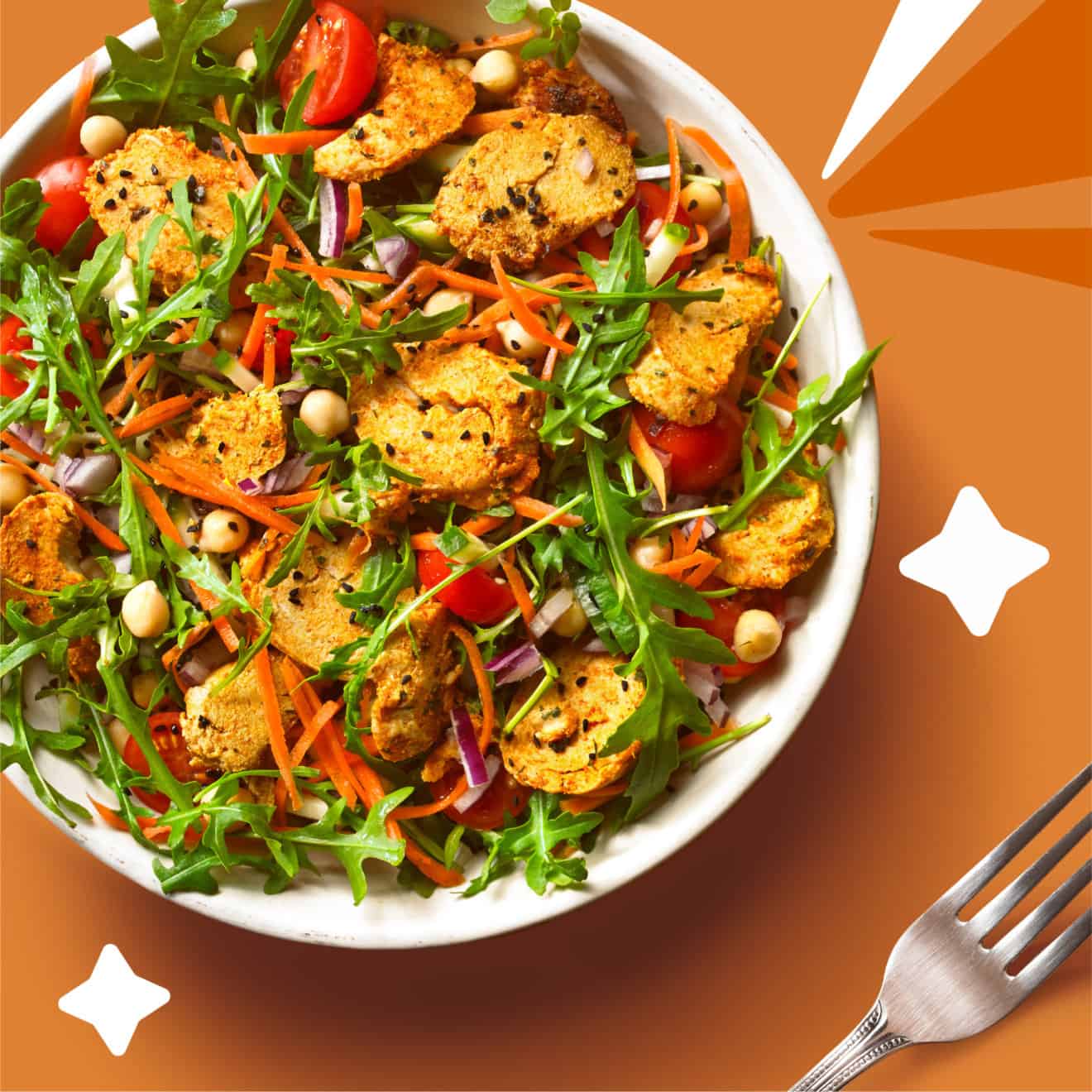 Retailers are also keen to prioritise space for their own-label ranges, which are growing fast, meaning we really need to justify the presence of the brand. This drives us to bring out the personality of the brand and explore new channels of marketing previously uninhabited by food brands. We've recently partnered with TikTok influencer James Brooks, and since launching our TikTok account in late December 2019 we've had almost 4.5million views across the channel. The under 25 demographic of the channel marries well with the Squeaky appeal.
Squeaky attracts more than twice the proportion of 18-24 year olds than the average in the Ready-to-eat function as well as the wider meat-free market.
What have been the most exciting or interesting aspects of launching a new company in this food sector?
The feedback from consumers. I've never known such positive and intense reactions or comments to product launches. What's really interesting is that these comments often include phrases like 'I've missed X so much' or 'Now I can have X'. For us that's really important because we don't want people to miss out on the food they crave, it's part of busting those stereotypes and making plant-based more widely available.
I've spent time chatting to consumers in their homes, exploring what their experiences with veganism have been. What's very interesting is that whilst there are many more products available than ten years ago there is still a social stigma around vegan diets being tasteless, limiting and hard work. We believe we can break this down, that's why our brand doesn't look like you might expect a vegan brand to look. We aren't telling people they have to go vegan, we want them to see the products for what they are – tasty!
What is your USP, how do your products differ or improve upon existing vegan meats?
What's key for us is delivering taste and texture. In our Squeaky Marinated chicken style pieces we use pea protein to achieve the most realistic chicken-like texture. It's important for us to explore using different proteins so we can find the one that delivers the best result as well as being a sustainable raw material.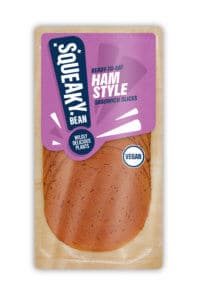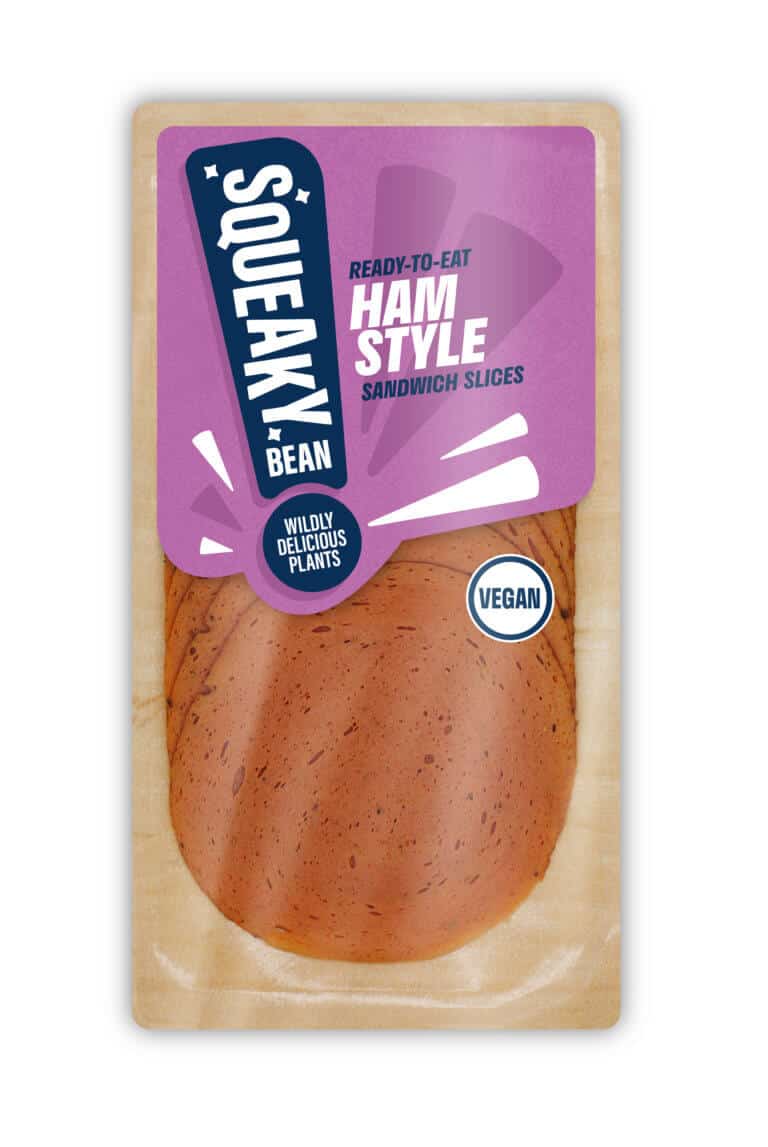 It is also really important to make sure that product 'performs' just like its non-vegan equivalent so people don't have to break their cooking habits. For example, our ready-to-eat Squeaky pieces are great to feast on straight out of the pack (one customer told us she ate them straight out of the pack while sitting in the bath!) but we also encourage customers to use them as an ingredient. They're perfect in sandwiches, salads, and wraps, but they can also be thrown into a quick stir fry or stuffed into an oozing toastie.
Animal meats have been historically more cost-effective when compared with plant-based options, how will you compete with this?
We believe in making high quality, great-tasting products and pricing as accessibly as we can. There will be room in an expanding plant-based category for a variety of quality and price tiers, just as there has been in meat. When we develop these products we try to mirror the non-vegan equivalent in terms of pack weight and size so that consumers can maintain their shopping patterns and eating habits. For example, Squeaky Marinated Chicken Style Pieces are 160g/per pack, roughly the equivalent of chicken in the cooked poultry category.
We are very excited about a new offer we're working on with a major UK retailer, which is due to launch next month and will position some of our meat-free products alongside meat-based alternatives. Watch this space!
Where can we find your products and do you have plans to expand to additional markets?
Currently you can find Squeaky nationwide in the UK in Asda, Sainsbury's, Waitrose and Ocado, but we are working on some exciting new retail launches for the summer.
We've always got our eye on overseas opportunities too. We're working with international branding and design agency, Jones Knowles Richie, so that when we launch Squeaky into international markets we know the brand has the right look and feel to succeed.
What are you currently working on – are there any innovations in development you can tell us about?
We're extremely proud of our flagship ready to eat Squeaky Pieces. Expanding this range will be a key focus for our product development in 2020.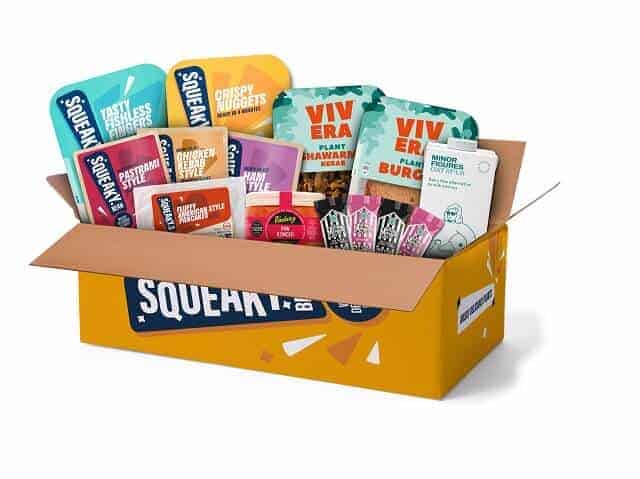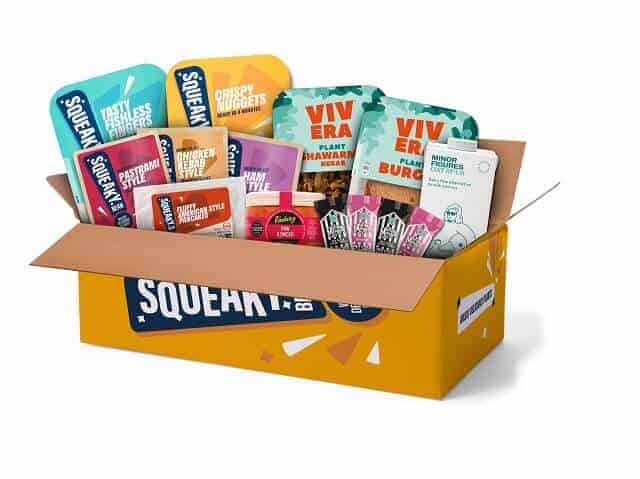 Please tell us all about the new delivery box initiative?
Like many chilled brands, selling direct to consumer has always been something we've wanted to do, and we get asked about it by consumers all the time. But there are many barriers to overcome when your business is set up for direct to retail. However, given the impact of coronavirus and the shift we've seen in people's shopping habits, the plan that was far away has now been expedited.
So, we're making our first steps into direct to consumer by partnering with the app, Foodchain, a business established to connect suppliers with restaurants in London. Now anyone inside the M25 and Hertfordshire can download the app and order pre-made plant-based boxes filled with their favourite Squeaky Bean items and a handful of other great plant-based brands delivered direct to their door.
Consumers who would like to order the Squeaky Bean Plant Based Box can download the Foodchain app in the App store or Google Play, create an account under COVID-19 Home Deliveries, and then add items to their cart and checkout with a credit card.
What are your plans for the rest of 2020 and beyond?
This is our year to make Squeaky very well-known as a leader in plant-based foods. We've got some really exciting launches happening this summer and large increases in distributions, so it will be much easier for consumers to access our products.