Sweet Earth are a US based manufacturer of plant-based products, with a great range of delicious breakfast, lunch and ready-meals which have been very successful with consumers across North America and territories. In recent years they have gained a plethora of awards for their brand of frozen foods, and in particular have a very popular range of burritos which are appealing to both herbivores and omnivores.  Sweet Earth say that their aim is to create a "Bridge for consumers who are new to plant-based diets."
In September last year the news that Sweet Earth were acquired by Nestlé, just five years after launching their brand, was widely publicised in the business press and vegan media. We spoke with a representative of Sweet Earth about their current and future plans.
What is your current vegan range?
We have a number of vegan options at Sweet Earth, the newest being our Veggie Lover's pizza, which uses a delicious cauliflower herb sauce in lieu of cheese. Other options include our Kyoto Stir Fry artisan bowl, Moroccan empanada, Harmless Ham breakfast meat, Curry Tiger burrito and more!
You can find all our vegan options on our product page.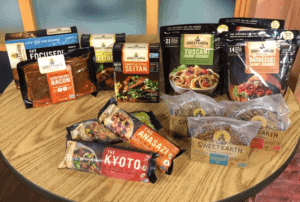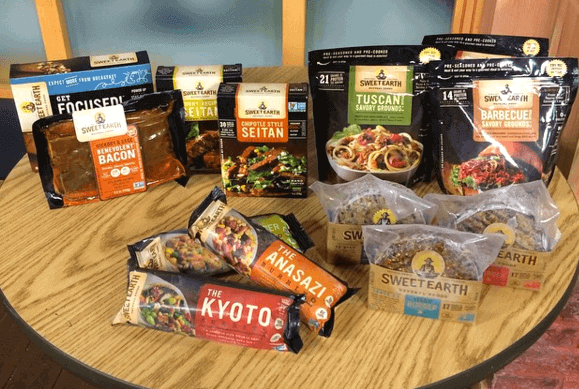 Do you have any products launching in the coming months?
We have many ideas in the works, though none of them are ready to be announced quite yet. Stay tuned!
What is the (unique) proposition of your products?
At Sweet Earth, we focus on nourishing lives by making smart food choices that honor and sustain the land, cultivate a curious mind and palate, and sustain a healthy body. We want to change the systems behind our food and treat the planet the way it should be treated. We see the potential for plant-based foods to make a major impact on how America and the world eats. We have an online Eco-Clock that helps our consumers see first-hand how their vegetarian and vegan diets are helping make the world a better place.
Additionally, we want to make the frozen food aisle a healthier place nationwide. Freezing food is a great way to ensure nutrients in ingredients remain fresh and nourishing, which is often misunderstood.
Finally, our products are ideal for our consumers who are new to plant-based eating. Whether you are an omnivore or vegan, finding flavor forward, nutrient-dense food isn't always easy, and we believe that our food provides shoppers with great options.
Where are you distributed right now?
Our products are sold in more than 12,000 retailers across the United States, including Whole Foods, Target, Kroger, Walmart, Meijer and more. With this wide variety of mainstream distributors, we are hoping to be a bridge for consumers who are new to plant-based diets. You can find our nearest location to you here.
What are your export plans?
While we don't currently sell our products outside of the U.S., our mission is to make the plant-based food movement mainstream around the world. We are keeping our eyes on the horizon, and hope to sell internationally one day.
What kind of partner or sales channels are you looking for?
It is no secret that eating unhealthy foods in college is a common trend, therefore we would love to partner with dining halls at universities across the United States to provide students with healthy and delicious meal options. Additionally, as more and more young people are going vegan and vegetarian, this is great opportunity for universities to provide more dietary options to students. We are also exploring direct-to-consumer options like Amazon Fresh and cook-at-home meal boxes.
Whom shall potential partners contact?
Potential partners can contact us at [email protected], and someone from our team will follow up!
At which events/fairs can people meet you in the next months?
Sweet Earth has been chosen to provide the vegan BBQ sandwich of choice at Burning Man at the end of August.
For more information you can follow Sweet Earth on their Facebook page here.