In the past decade, the plant-based milk market has expanded far beyond the domain of soymilk to encompass countless new varieties, flavors and formats, which has helped transform the segment into a multi-billion dollar global industry. Despite this massive success, critics have long accused milk alternatives of being nutritionally inferior to dairy milk, and indeed, most non-dairy products currently do not meet the United States Department of Agriculture (USDA's) nutrition standards for liquid milk substitutes.
According to Tally Foods, a new US startup making milk from chickpeas, this nutrition gap constitutes a huge problem, because one-third of all dairy milk is consumed by children, who are also the most likely to suffer from food allergies. Seeing a significant lack of allergen-friendly, plant-based milks designed to meet children's nutrition needs, Tally Foods launched its groundbreaking chickpea milk to US customers in 2023.
vegconomist spoke with co-founders Jon Gabayzadeh and Kyle Watts to learn more about the powers of the chickpea and the potential of Tally's milk alternatives to transform childhood nutrition.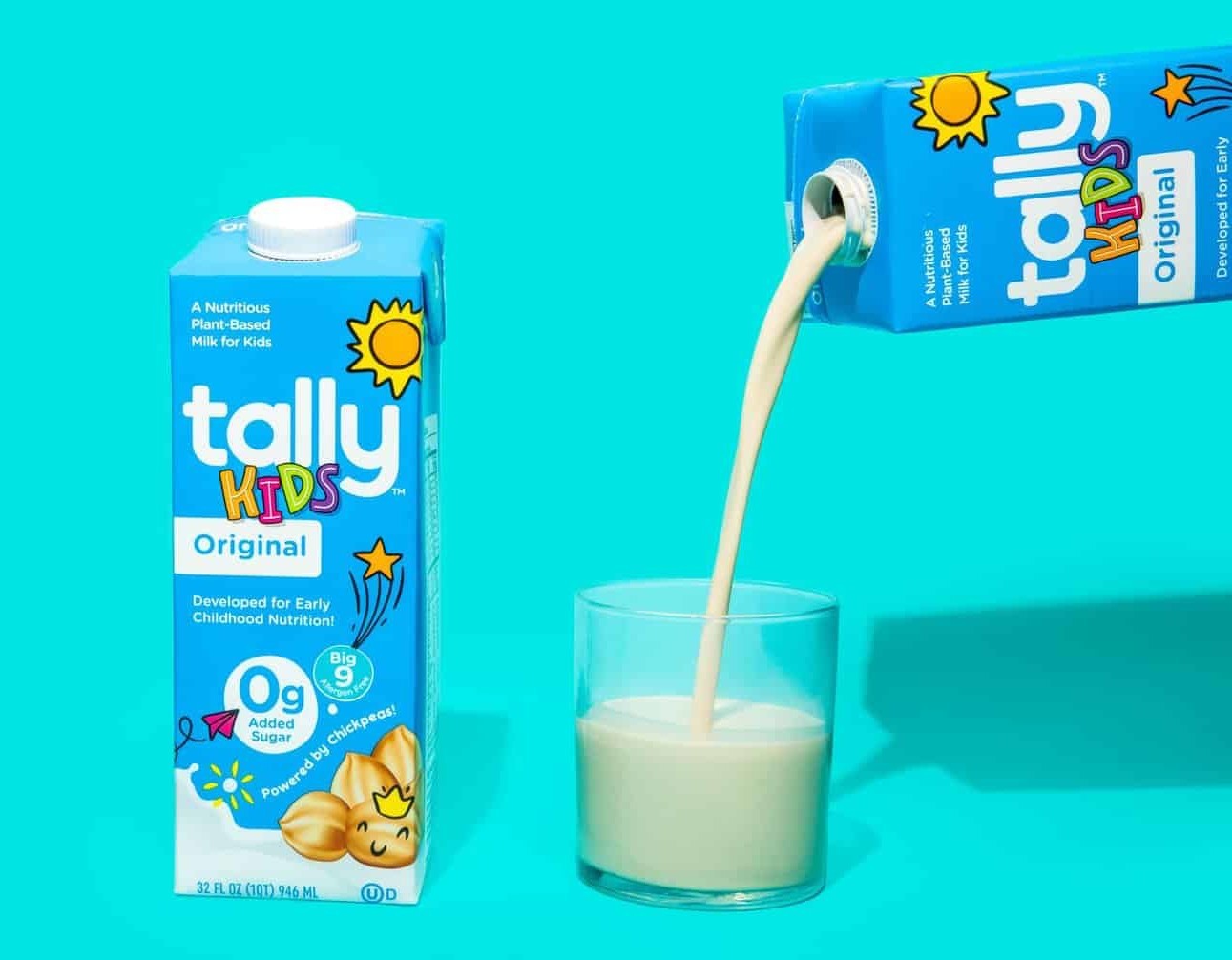 What inspired the launch of Tally Foods?
Jon and I are both industry veterans, and we just happened to be seated (luckily!) next to one another at an industry event dinner. We sparked up a conversation about the soaring company valuations, at the time quite absurdly high, of the various food tech companies. Jon was in the plant-based egg sector, and I was heavily involved with plant-based milks. I mentioned to him that the most popular plant-based milks such as almond and oat, have very, very little nutrition and, in fact, it was only soy milk that was a USDA-approved milk substitute allowed to be served to children in K-12 schools.
"Kids consume over 1/3 of all dairy milk annually while having the highest propensity for food allergies"
Jon stopped me there and excitedly told me there was actually one other plant protein source that was more nutritious than even soy, the chickpea, but no one was using it as yet for milk. He explained that he was using lupin bean for his eggless egg products, but through experimentation to get to the lupin bean, he had found excellent results with the chickpea. I jotted this down in the notes on my phone and promised myself to look into the chickpea later to see if he was right.
Fast forward, and I found not only was Jon right about the chickpea's superior nutritional value, but the chickpea was also a massively popular snack, according to Google Search Trends — similar to almonds and oats before their rise in plant-based milk.
I quit my job and we got busy putting together a working hypothesis for nutritious chickpea milk – who is the ideal audience? KIDS! I learned that kids consume over 1/3 of all dairy milk annually while having the highest propensity for food allergies. Popular dairy alternatives are nutritionally deficient, and those that are nutritious, such as soy, are a Big 9 Allergen. As Jon initially had explained at dinner, bringing the chickpea into a plant-based milk format only made sense. We found the taste exceptional, the texture creamy, and overall the chickpea to be highly functional in nutritional benefits.
"Popular dairy alternatives are nutritionally deficient, and those that are nutritious, such as soy, are a Big 9 Allergen"
The chickpea is also a well-known snack, a trending ingredient, and it's a friendly ingredient, too, especially for children. Specifically, for children with food allergies, the chickpea is the best-tasting protein source that is Big 9 Allergen-Free. We brought in nutritional biochemist Dr. Susan Marie Fluegel, Ph.D. to fortify Tally KIDS with 8g protein, 21 vitamins and minerals, 60mg Choline, 440mg Omega-3, Fiber, and a full B-vitamin complex specified at levels appropriate for children aged 1-3.
And Tally KIDS chickpea milk substitute was born and brought to market.
Where does the name "Tally" come from?
Our brand "Tally" comes from our determination to create the most nutritious plant-based milk on the planet. We tally up the nutrition to cow's milk, then we add more: 21 vitamins and minerals, choline, omega-3, fiber and a full B-vitamin package for early childhood nutrition.
Compared to other plant-based milk ingredients like oats, almonds and soy, how do chickpeas compare in taste and nutrition?
Almond and oat [milk] are bereft of nutrition. They both contain very little protein, and oats have a high glycemic index (they turn to sugar in your bloodstream immediately). Soy has 8g of protein but is a Big 9 Allergen — not suitable for millions of children. Chickpeas are high in protein and fiber, have a low glycemic index, are a complete protein (contain all 9 amino acids) and are not a Big 9 Allergen.
For taste, chickpeas win with a great taste – rich and creamy, nutty and toasted flavors. They are a much-loved snack on their own, just like oats and almonds. Due to the inherently great taste of the chickpea, we do not need to use added sugars in our chickpea milk formula.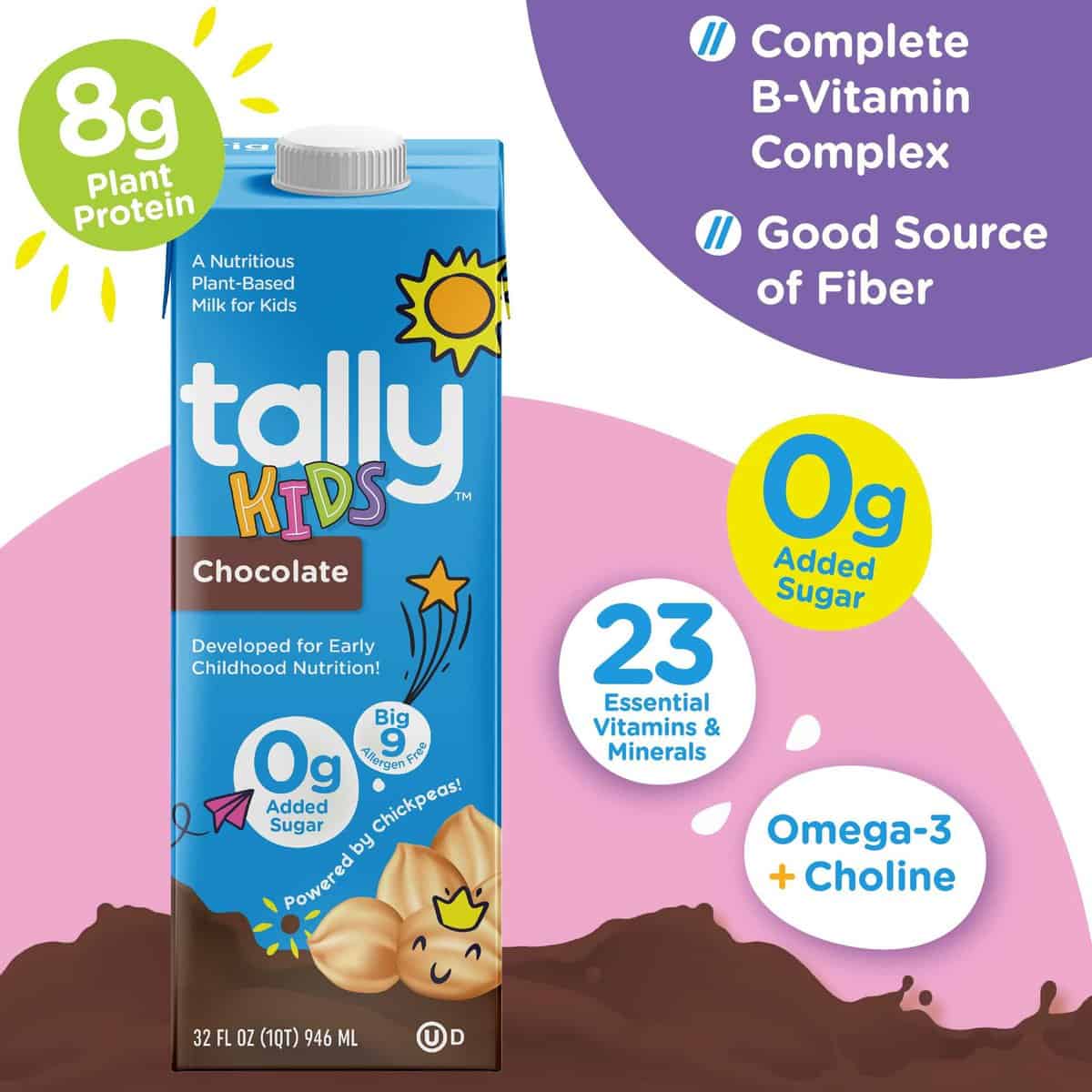 Where are Tally Foods products currently sold?
The Tally Foods website www.drinktally.com, Amazon, Lassen's Markets (June) and others via UNFI and KeHE distributors beginning in June.
Are there any future product innovations in the pipeline?
Tally Chickpea Milk (adult), nutritious ice cream for kids, and coffee creamers. Chickpeas cream and froth very nicely and have a whiter appearance than soy or oat – perfect for lattes.

Is there anything else people should know about your brand?
Today plant-based milks are 99% focused on adults, and they miss the larger market of serving children, who are the deepest consumers of dairy and have the highest propensity for food allergies. Kids are the ones who actually need a nutritious plant-based milk substitute.
Look into USDA Milk Substitutes and the recent legislation and press around the term "plant-based milk". Ninety-nine percent of plant-based milk brands do not have the nutrition to be a USDA Milk Substitute. We far exceed these standards and believe the future of plant-based milk is providing high nutritional value and serving kids a true milk substitute that is, in fact, more nutritious than dairy milk.