Ireland-based Thanks Plants was founded in 2020, with the aim of offering clean-label meat alternatives made from recognisable whole food ingredients.
The concept proved hugely popular with Irish consumers, and Thanks Plants' products — made predominantly from seitan, legumes, and vegetables — are now available at SuperValu and Fresh stores in Dublin, along with some independent retailers. Aldi Ireland also stocked a selection of the meat alternatives for six months this year, and Thanks Plants' Festive Roast was available at Planet Organic stores in London last Christmas.
The brand is now on a mission to expand beyond Ireland, entering countries with a high demand for healthy plant-based options. We spoke to founder Aisling Cullen to find out more about Thanks Plants and future plans for the brand.
Can you tell us about the inspiration and journey behind the creation of Thanks Plants? What motivated you to start a business creating wholesome vegan alternatives to animal meat?
Thanks Plants all started when I tried to get my husband to reduce his meat intake. I'm a vegan and he isn't, so I was bringing home lots of meat alternatives and getting him to try them.
He would turn to the back of the packs and see the list of ingredients – methylcellulose, sodium alginate, red iron oxide… stuff he didn't understand. He refused to eat them because of these ingredients and he said I wasn't allowed to give them to our kids either. So I set out on a mission to create meat alternatives that had really lovely ingredients like cannellini beans, pearl barley, vegetables and herbs. He absolutely loved them and it started to build from there.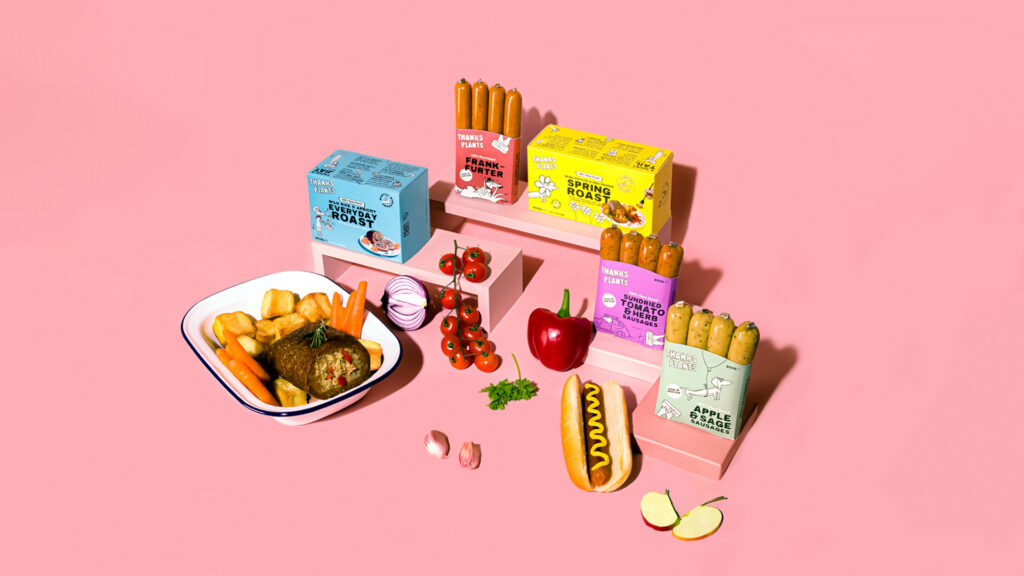 Thanks Plants places a strong emphasis on using whole food ingredients in its products. Could you share more about the philosophy behind this choice and the benefits it brings to your customers?
First and foremost, our customers love that they understand the ingredients on the back of pack. You don't need a science degree to understand them and the ingredients are really wholesome. Families feel comfortable giving our products to their kids. Our customers also love the protein in the products. There is 17g of protein per sausage and we get a lot of fitness influencers posting about this.
What goes into the process of developing new vegan protein alternatives, and how do you decide on the flavours and ingredients?
At first, I developed a range of sausages in flavours that I really wanted for myself. I experimented at home and came up with three different flavours that were really tasty but used for different occasions; Apple & Sage for a breakfast/brunch sausage, Sundried Tomato & Herb sausages which I chopped up for a pasta or stir fry dish, and Frankfurters which I thought were great for BBQs or as a snack.
Now that we are established, we have much more of an analytical approach to our NPD — what's the gap in the market, what is going to have a good rate of sale etc. For ingredients, we are now looking at new alternative proteins like fava bean protein and natural flavourings. We still strive to keep the ingredient deck as transparent as possible, and look forward to making more improvements to our current range for 2024.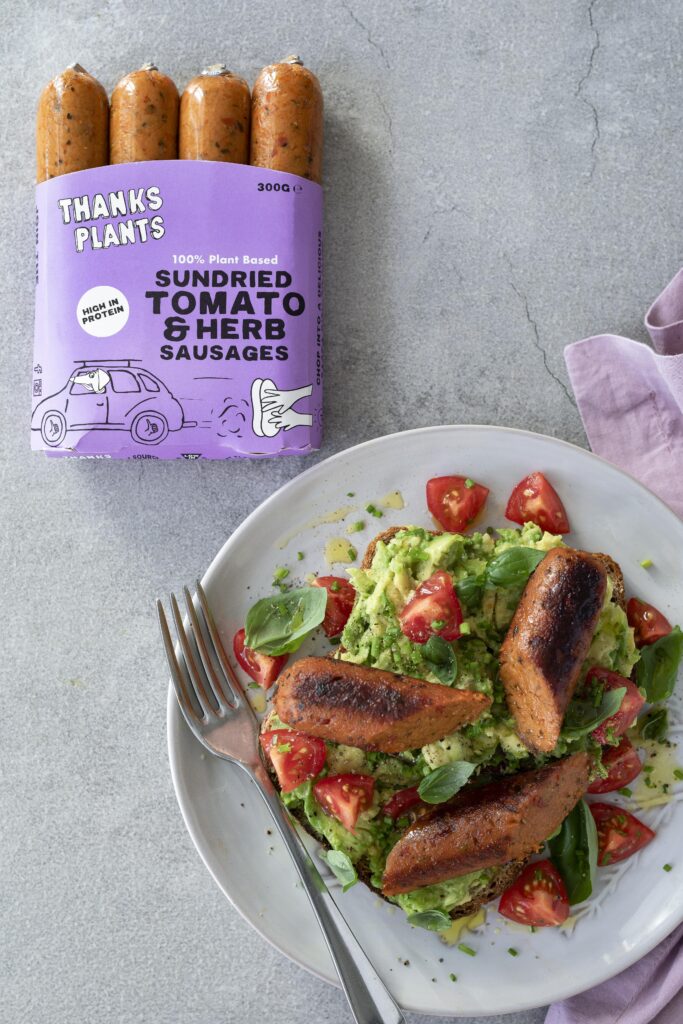 How do Thanks Plants products stand out in terms of transparency and the use of ingredients that customers can easily understand?
We try as much as possible to have a short list of ingredients that are well-understood by our customers. I haven't come from a food science background so I don't really understand what some emulsifiers or enhancers do myself, so I don't expect our customers to know either. It can be hard to achieve this sometimes because, for example, we use ingredients like very high-quality Dijon mustard, but that mustard has potassium metabisulphites in it which doesn't look great on the back of pack. 2024 is going to be all about sourcing ingredients with fewer allergens to create an even cleaner deck.
Could you elaborate on the support you receive from government agencies in Ireland, and how it has contributed to the growth of Thanks Plants? Are there any particular grants or mentorships that have been particularly valuable to your business?
The government here is really supportive of new businesses, especially food businesses. We can get match-funding to help start up our business, so for example, if I buy some equipment for €4000, I will get €2000 back from the Local Enterprise Office. Enterprise Ireland is one of the most active investors in the world, and has put €350,000 into our business. They also support our key hires, so we can afford to bring experienced people to our team. I also took part in the Food Works programme which assigns us mentors to help in various aspects of our business, including export, marketing, production and business skills.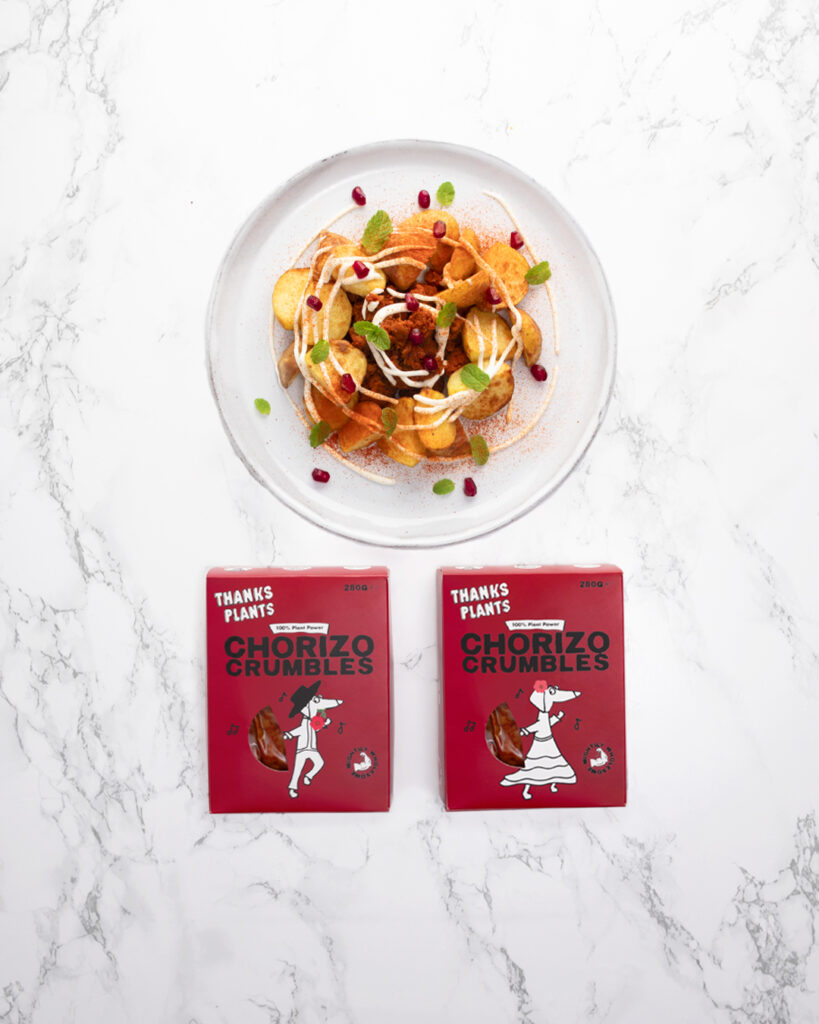 How do you envision expanding your product line to cater to different markets, and what has been the key to your international success?
We have only really dipped our toes into certain markets, and this is mainly at Christmas time with our roast products. We have sent our Festive Roast to the UK, Iceland, Spain, and France this year. We get a lot of help from another government organisation called Bord Bia (the Irish Food Board) regarding exports. They have offices set up all over the world that can help with data, market studies and introductions.
Your company caters to both vegans and flexitarians. Can you talk about how you balance the needs of these two customer groups, and what you believe makes Thanks Plants products appealing to both?
I think the core values of what Thanks Plants is about appeal to both vegans and flexitarians — wholesome ingredients, clean label and high in protein. The needs of both groups are very similar — both want great-tasting food that is good for them.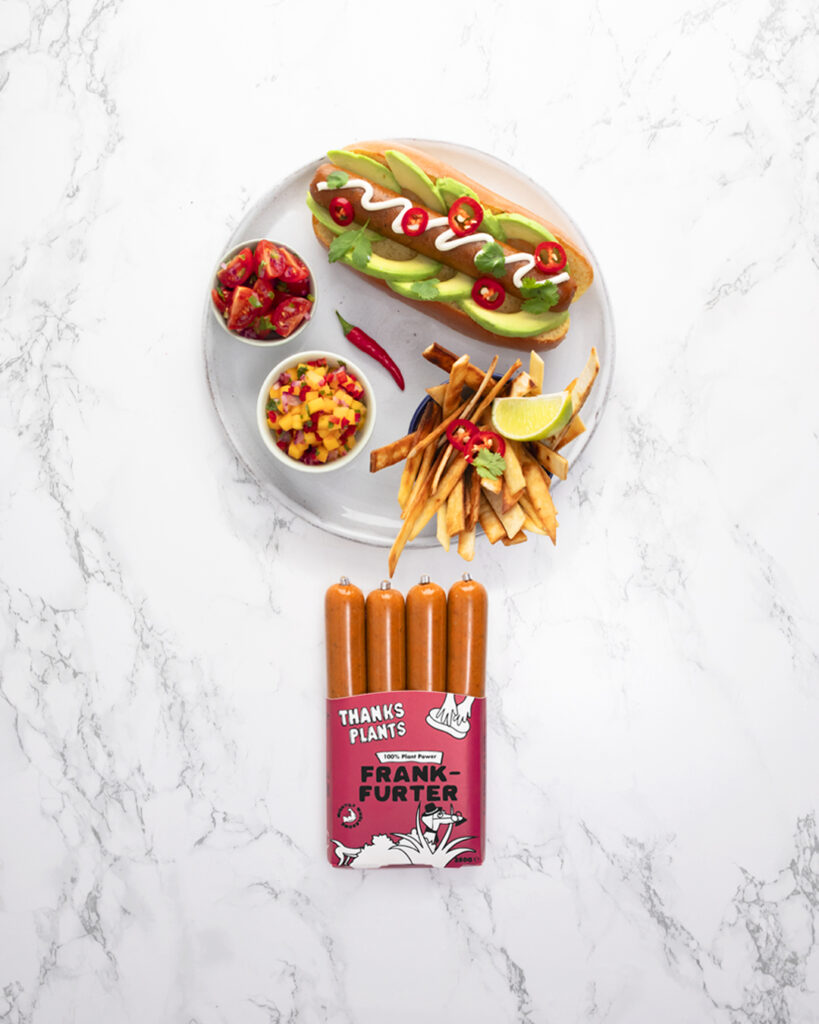 Can you describe your current product portfolio? Which are the biggest sellers and why, in your opinion?
Our biggest seller is the Frankfurters. I think everyone loves a hot dog, and the processed meat version is really unhealthy, and many people understand this.
"We were in two minds about bringing out a burger […] but it is now one of our bestsellers"
Both of our roast products do really well over the Christmas period — the Festive Roast and the Everyday Roast. And our NoMoooo Burger has great traction. We were in two minds about bringing out a burger as there are so many vegan options out there, but it is now one of our bestsellers. I particularly love the ingredient list of this product — black beans, pearl barley, fresh carrots, shiitake mushrooms, beetroot, and lots of other good stuff.
Are there any innovations in the pipeline that you can tell us about?
We are looking to launch a range of products in March 2024. We haven't signed off on the production yet, but hopefully we should be able to announce the products after Christmas.
What is your long-term vision for Thanks Plants? What are your goals for the future, and where would you like to be in the next few years?
I'd love for Thanks Plants to be known Europe-wide for great ingredients, clean-label products, and delivering products that are tasty and nutritious. The UK is really hard to crack as there are so many good vegan products out there, but I still think we have a point of difference compared to other brands in the UK. I often get messages from people in the UK who have checked us out and want to get our products. We'd also like to be in the Netherlands and Germany. Both of these countries are really open to meat alternatives and have really large markets compared to Ireland, so it would be great to build our brand over there.