When it comes to bold, eye-catching branding, Hamburg-based Raging Pig Co is right there in your face. Along with its cocky tagline, "The pig-less bacon that even your dad will love," Raging Pig is impossible to ignore. And who can resist the idea of "mouthwatering pigless bacon"?
On a mission to eliminate pigs from the food system, Raging Pig was co-founded by Constantin Klass and Dr. Arne Ewerbeck, who set out in 2021 on "an exciting journey to merge the power of bacon, foodtech, and pop culture to drive the positive change our world needed yesterday".
We spoke with Dr Arne who told us about the importance of branding and messaging, two recent NPDs, and some "secret" products set to follow. Also, the world's largest pig sanctuary…?
What is the story behind Raging Pig?
The Raging Pig Company is a food tech start-up from Hamburg, Germany, founded in 2022. The team develops and distributes pork alternative products – currently a plant-based bacon and sausage alternative, on a mission to remove 1.5 billion pigs from our global food system.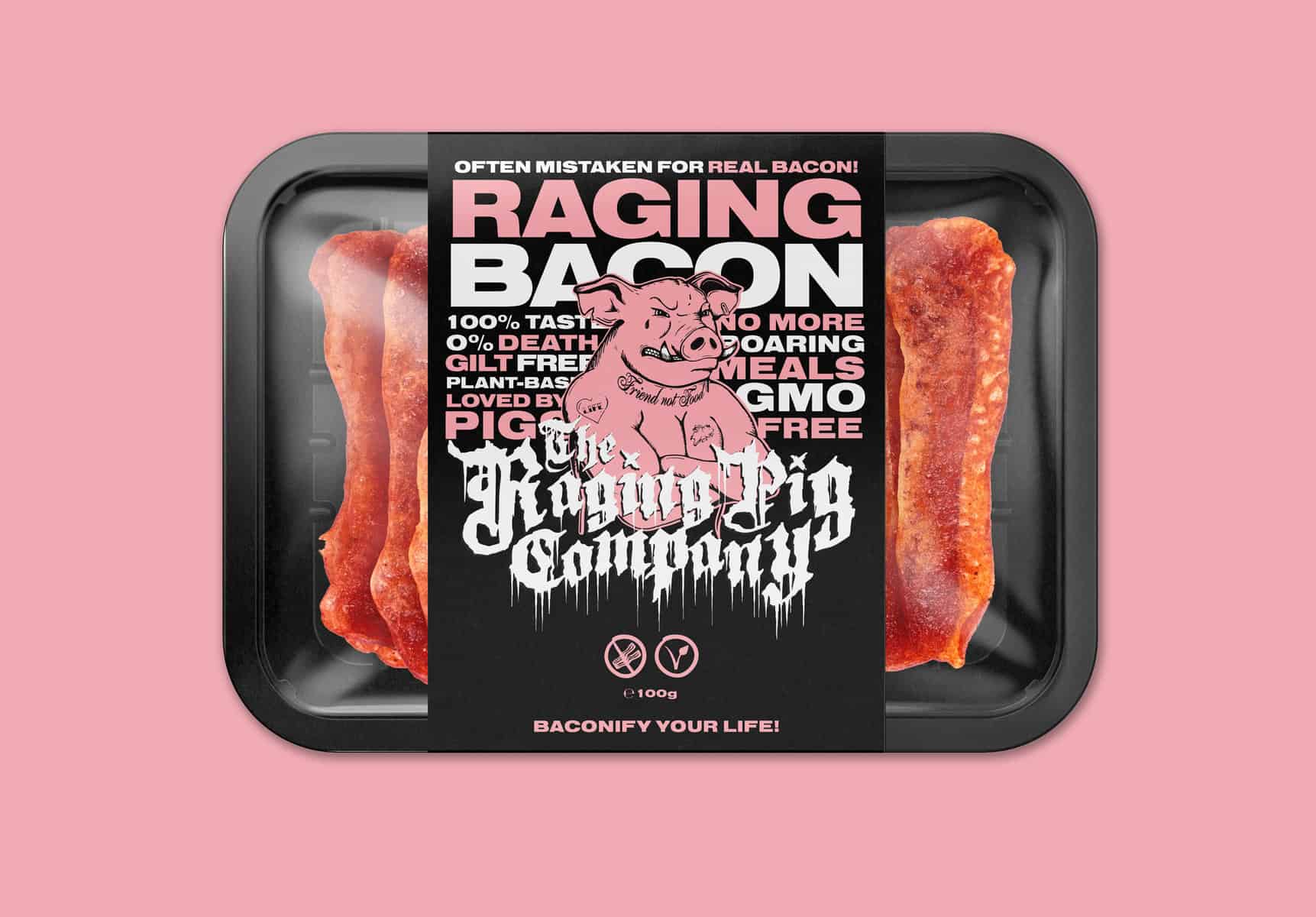 The idea behind Raging Pig is to combine the best of two worlds: providing amazing pork alternatives that live up to the end-consumer's high expectations, while at the same time building a contemporary, fun, and relatable brand.
"…we're eager to help drive the change our planet needed yesterday"
We believe that innovative technologies and products are very much needed and inescapable, but they are only part of the solution. In the end, it's all about people and their driving forces to try new things and, hopefully, upgrade their habits. Apart from taste, texture and all that, we strongly believe in the power of brands, an ingredient that hasn't been as upgraded within the food sector as in, for example, the fashion industry. With those two parts, we're eager to help drive the change our planet needed yesterday.
In essence: we're aiming to make foodtech too cool to not care about.
On top of that, we believe that the very much-needed change in our current food system to a more sustainable and climate-friendly way is way too important to not be loud about it! That's exactly what we are showcasing with our products and brand. In order to scale up, we're currently raising our seed round. if you want to be part of the Raging Pig revolution, feel free to reach out!
Tell us about your "bacon of the future" – what is its USP, how is it made, and what feedback have you received?
Our Raging Bacon is a plant-based bacon developed to live up to the end consumer's expectations of bacon, both taste and texture-wise. Not only does it look, cook, and taste like the bacon of the past; it gets truly crispy and crunchy and offers just as much versatility.
We are using sidestreams from the alt protein industry in combination with a proprietary fat encapsulation process to create our unique crispiness and authentic look of the product. In order to do that, we created an innovative production process. At the same time, it reduces CO2 emissions by more than 90% compared to the pork version (and saves thousands and thousands of super smart, life-loving pigs as we go).
At present, we've sold more than 100,000 Raging Bacon slices last year alone, with overwhelming feedback from end consumers spanning from dedicated vegans to hardcore meat lovers as well as leading chefs.
In what retail / foodservice channels and in which markets are you currently available? Any plans to expand into further channels / markets?
We launched our Raging Bacon last year with 15 selected partner restaurants in Hamburg, Germany, showing the product in the hottest restaurants in the city. Furthermore, we highlighted that the product is as versatile as pork bacon, showing that it works with burgers, bagels, pizzas, or as breakfast bacon. We received amazing feedback from customers and, equally important, from the involved chefs. In all restaurants, our product has been a regular item on the menu since the first day and is still up-to-date!
After that initial proof of concept and successfully scaling our production, we are now scaling throughout Germany with restaurants, gastronomy chains, and food service partners.
Next to the expansion in Germany, we are planning a market entry in Sweden and the Netherlands in the upcoming weeks, as well as further expansion to other European markets like Austria and Denmark.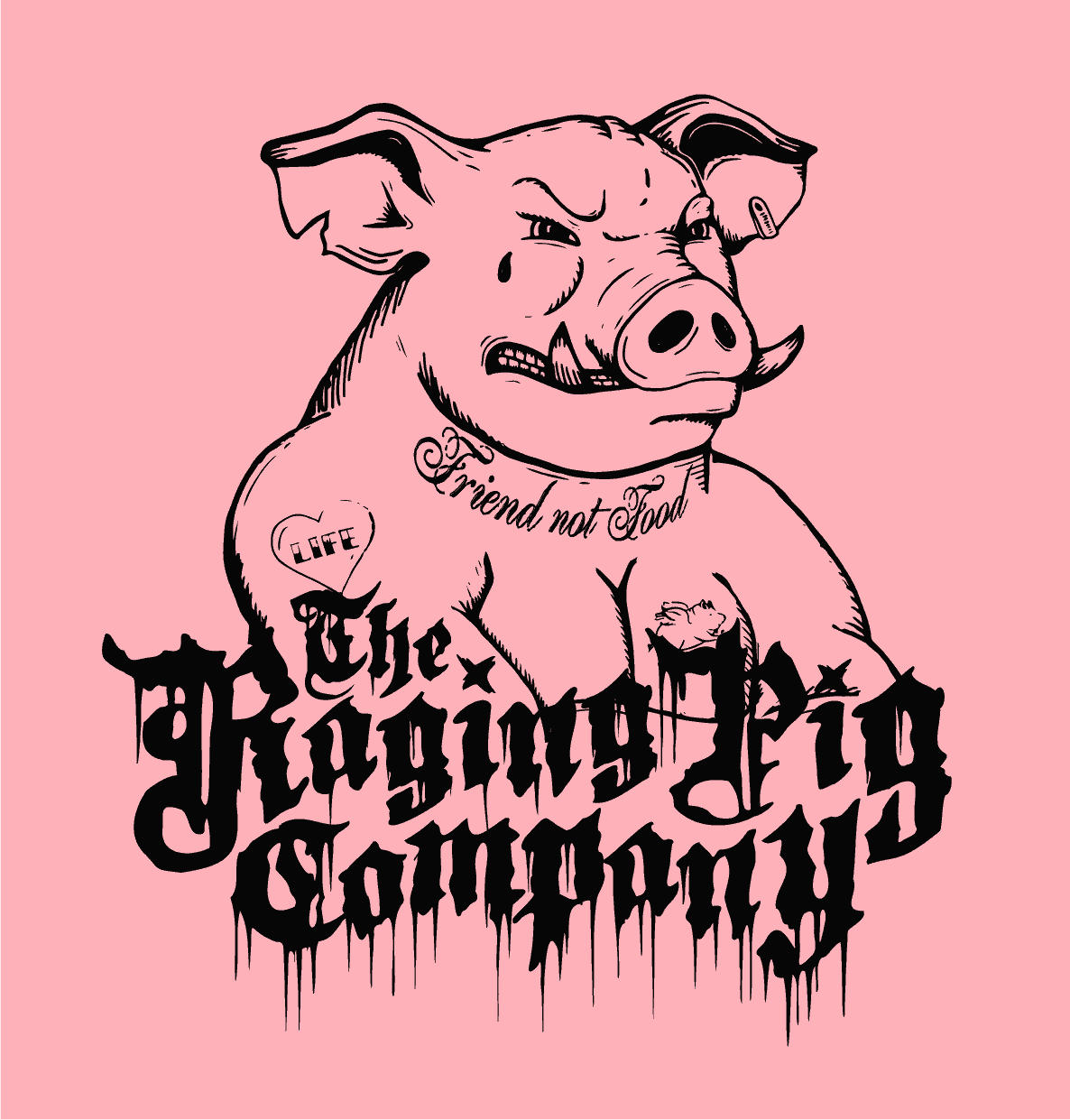 Most recently, you partnered with the German burger chain Vincent Vegan – how did the partnership come about and what does it mean for Raging Pig?
Vincent Vegan has been one of our national launching partners here in Germany. As the biggest plant-based burger chain in Germany we felt it was a perfect partner. Since its headquarter is located in Hamburg as well, it was quite easy to get in touch (and to find a partnership once they had the opportunity to try our bacon).
Finding a great plant-based bacon has been an ongoing search for them, but finding a suitable product that was both available and reliable was not easy. Hence, we solved the "million dollar question" at the perfect time and are very happy to be part of their great menus!
Following the recent upgrade of your production line, how does this support your growth mission and what are your expansion plans moving forward?
After successfully scaling our production with our innovative production process and own production line, we are now able to scale up and sell through Germany and other European countries in the upcoming months.
Owning our machines and creating each production step as we intended, gives us the ability to create plant-based bacon not available on the market yet. At the same time, we are constantly working on our products and looking for new opportunities, such as mycelium, plant-based fat alternatives, and more. Furthermore, our production process allows for other pork alternatives which we are currently developing.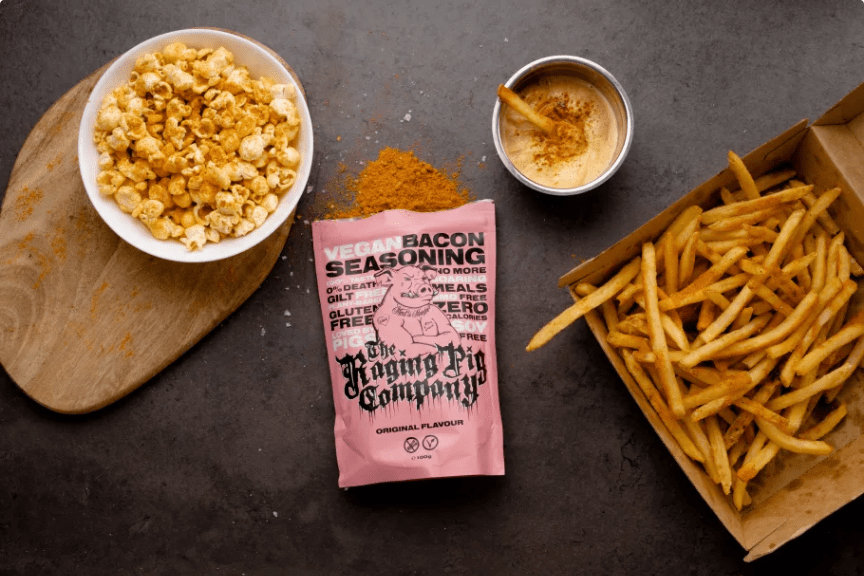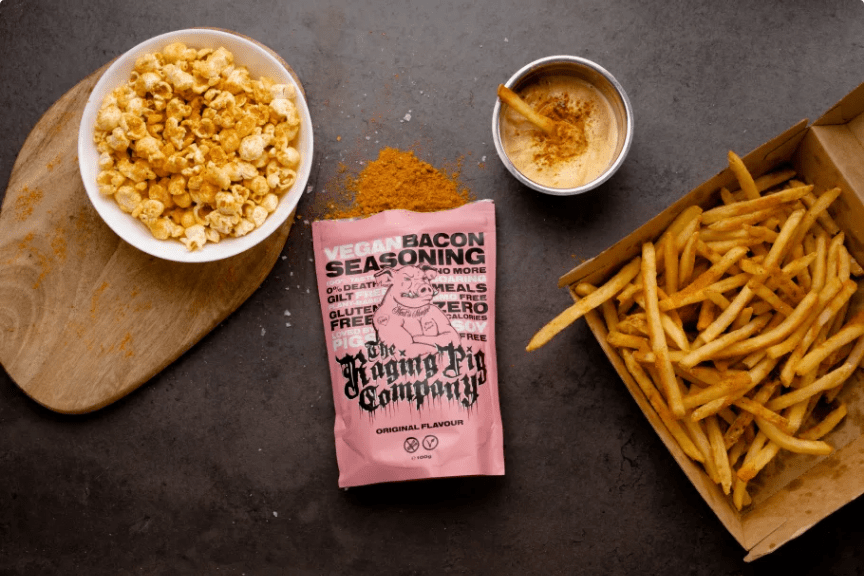 While focusing on restaurants, gastronomy chains, and food service partners for the upcoming months, we are already taking the first steps to prepare the entry into retail in 2024. For that, we will be releasing some new products later this year as well.
Tell us about your product pipeline / upcoming innovations!
Just a few weeks ago, we released two new products:
Raging Bacon Bits: small plant-based bacon bits, perfect for use in Carbonara, Quiche Lorraine, Tarte Flambee, Pizza, loaded fries, and many more. Similar to the Raging Bacon they get truly crispy, have a strong smokey flavor and give you the typical "bacon experience".
Raging Sausage: we are very happy to have cracked the typical German Bratwurst as a plant-based alternative! Perfect for your everyday BBQ, sausage in a bun, or the German national dish Currywurst. Contains mushrooms which are part of the secret to finally get a nice and chewy cracking bit.
Next to those two, we will be releasing new sausage variants in the upcoming months, so make sure to be on the lookout for that.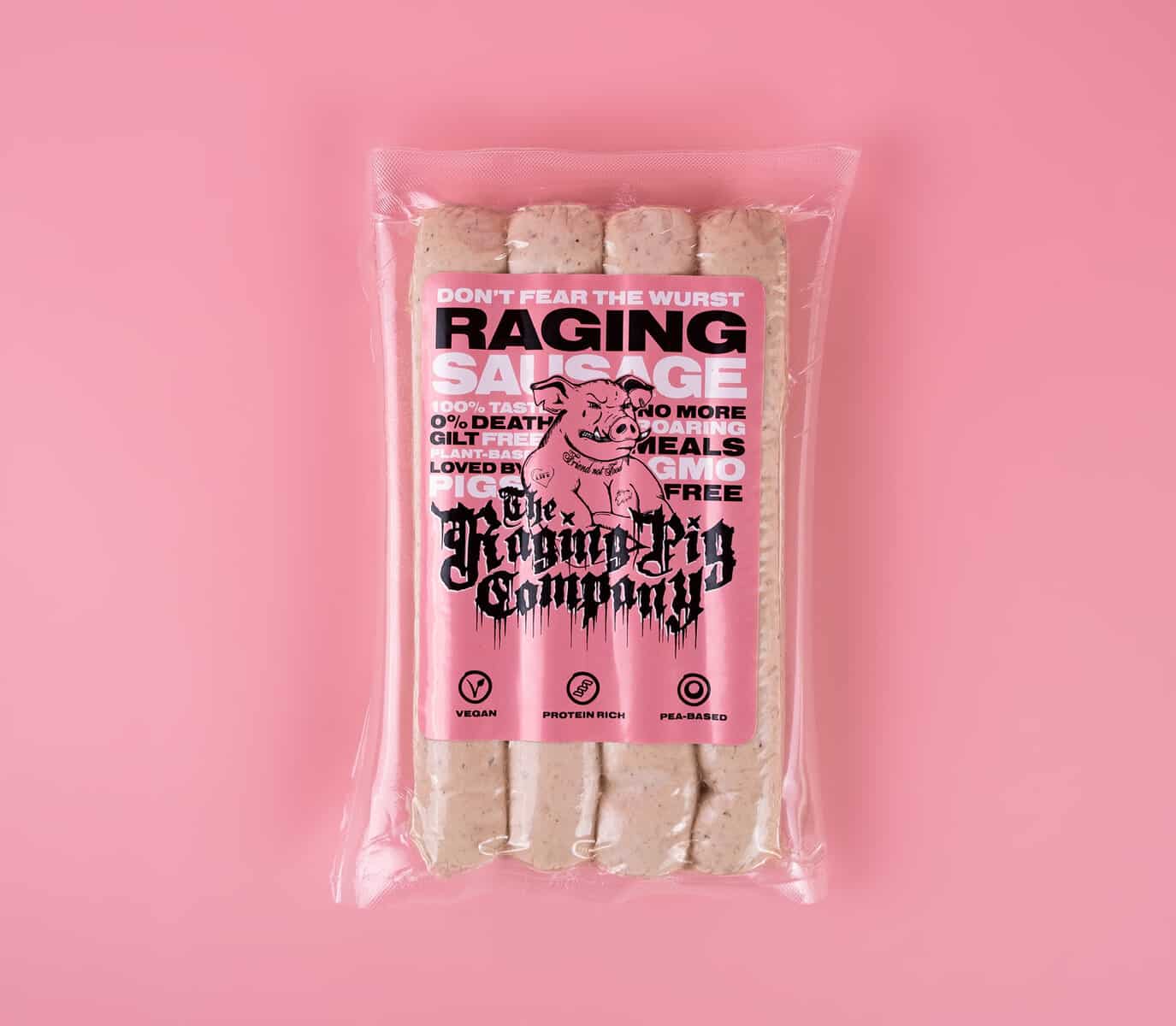 Looking into the future, we are planning to release our pretty mind-blowing Salami and Pepperoni products next. And even further down the line there is one very special, and so far secret product coming which is not yet available as a plant-based product at all, we are very excited about!
Where do you see Raging Pig 5 years from now?
Raging Pig as one of the leading plant-based brands worldwide has helped to remove millions and millions of pigs from the global food system and plays an important role in the transformation of our future food system, both from a product and educational standpoint. We're not afraid to utilize pop culture and humor and we're catering to everyone, no matter if you're vegan or a meat lover.
And, if we could dream a bit more, we've built the world's biggest pig sanctuary (where else would we put the millions of pigs we're about to save?) where people can come to visit and cuddle with one of the cutest and smartest animals there is (no, not humans. Pigs!)