Plantbased burger chain The Vurger Co. currently operates two restaurants in Shoreditch and Canary Wharf in London and a third site soon to open in Brighton. At the beginning of February 2020, the brand announced it had received £1.4 million in investment amid a period of growth, and has huge expansion plans in the UK and beyond.
There are so many exciting things about The Vurger that make them stand out in an increasingly crowded market. First of all, not just the food but the packaging is completely plantbased. Also, The Vurger's Chef Executive Chef is Gaz Oakley, otherwise known as Avant Garde Vegan.
We spoke with the lovely Rachel Hugh about the recent success of the brand that she co-founded in 2016, and plans for the future.
Please introduce your brand to our readers
Our menu is totally vegan with our burger creations taking centre stage. We put a focus on producing everything in-house using new and interesting vegetables and techniques. We also understand the impact our choices have on the environment around us, so all of our packaging is made from plants (not plastic!!) and we have a zero to landfill guarantee, with all of our Canary Wharf packaging even being composted on site!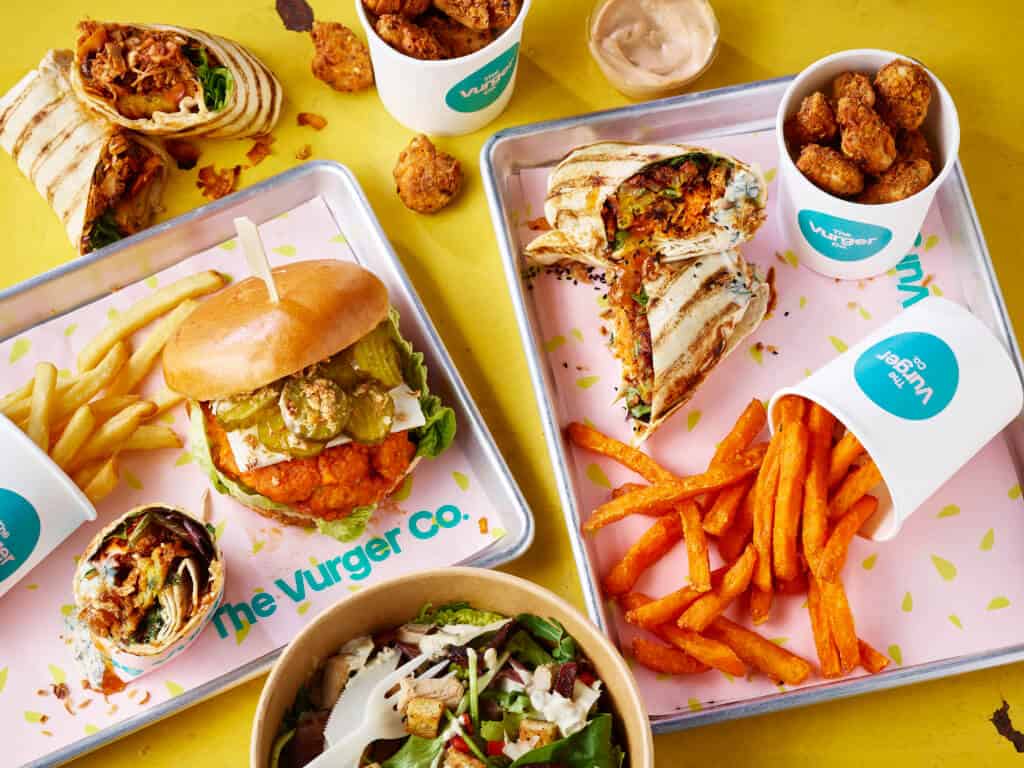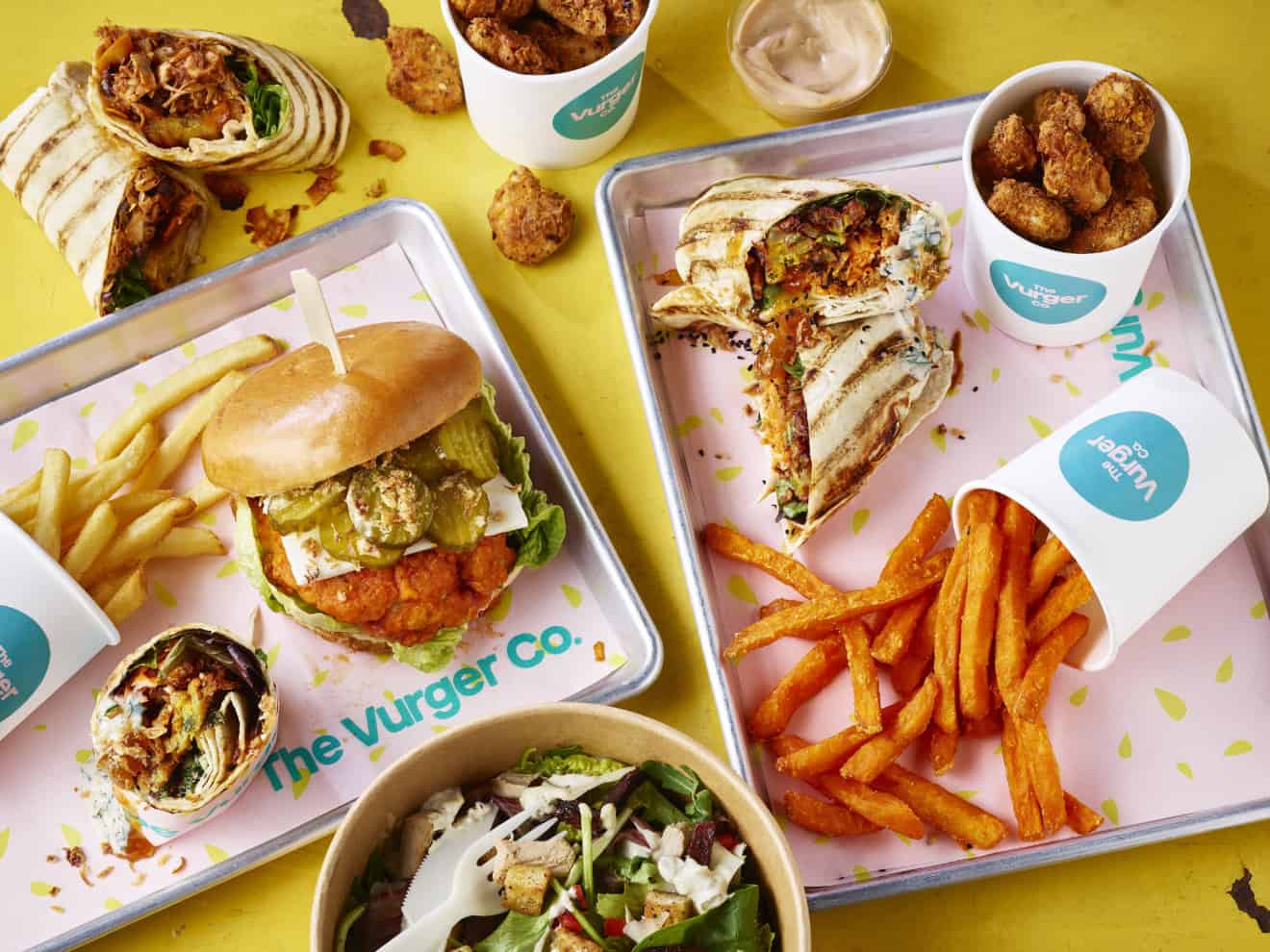 What was the motivation behind your launch?
We began as a market stall in 2016 whilst also working Monday – Friday in our previous careers, and launched in reponse to a desperate need to offer a fast food brand with a conscience in London. We then went full time into growing The Vurger Co after amassing a following on social media – several pop ups, events and festivals later we crowdfunded our first restaurant in Shoreditch which opened in March 2018.
We then set to open our second site in Canary Wharf in November of the same year. Taking the leap of faith to open a restaurant when we didn't have a background in the industry was not only a huge leap of faith, but moreover a huge belief in what we knew was going to be the biggest revolution in food – veganism.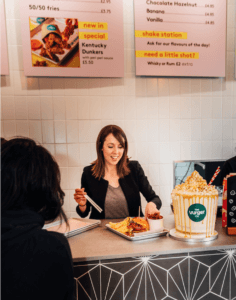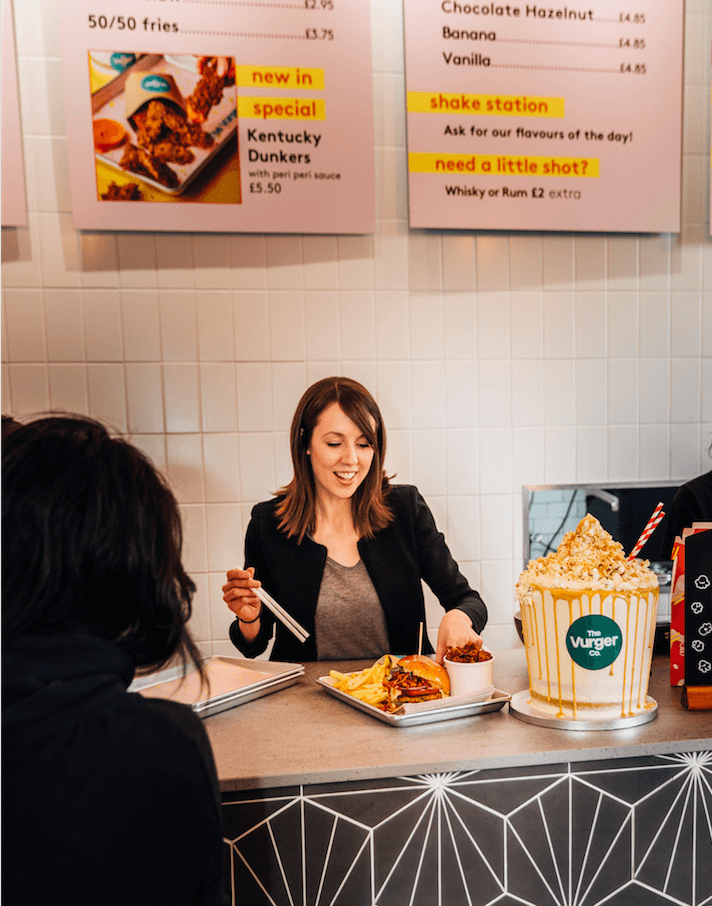 Who is the team behind The Vurger Co?
We have our co-founders Rachel Hugh and Neil Potts, who are partners in life and business! Rachel's career before The Vurger Co was in the fashion industry as a luxury womenswear buyer and Neil's career was in risk management in an international bank. We then sought the advice of several amazing chefs in the industry along the way. After building a friendship with the amazing and talented Chef Gaz Oakley (Avant Garde Vegan) throughout our journey, Gaz then joined our team as Executive chef working with our development team on our monthly specials. We then employ over 30 people across our production kitchen and two restaurants. Our team is simply amazing and the most passionate and genuinely wonderful people you could ever hope to work with.
Tell us about the vegan business scene in London and how it has changed since you first opened.
It has changed and evolved so much since we began in 2016. The whole reason for our existence is because of the serious lack of options in the marketplace back then. In the beginning, we used to talk to a few angel investors, anyone we could talk to about our concept and we found ourselves having to educate about why vegan fast food is the concept of the future.
Most didn't listen, a few thought we were mad, and more often than not we were not taken seriously. So we worked harder than ever, not on wasting our energy on those who didn't believe, but reaching out to literally anyone and everyone, to engage with our brand, try our food and follow us on social media. This is how we set ourselves apart from everyone else, it allowed us to amass a following of super passionate people who just so happened to love what we do.
Now from a time when the word vegan was seen as a negative word in the mass market, to seeing large corporations latching onto the growth in this area is pretty spectacular in such a short space of time. We're genuinely proud to have to have been at the beginning of this change of perceptions.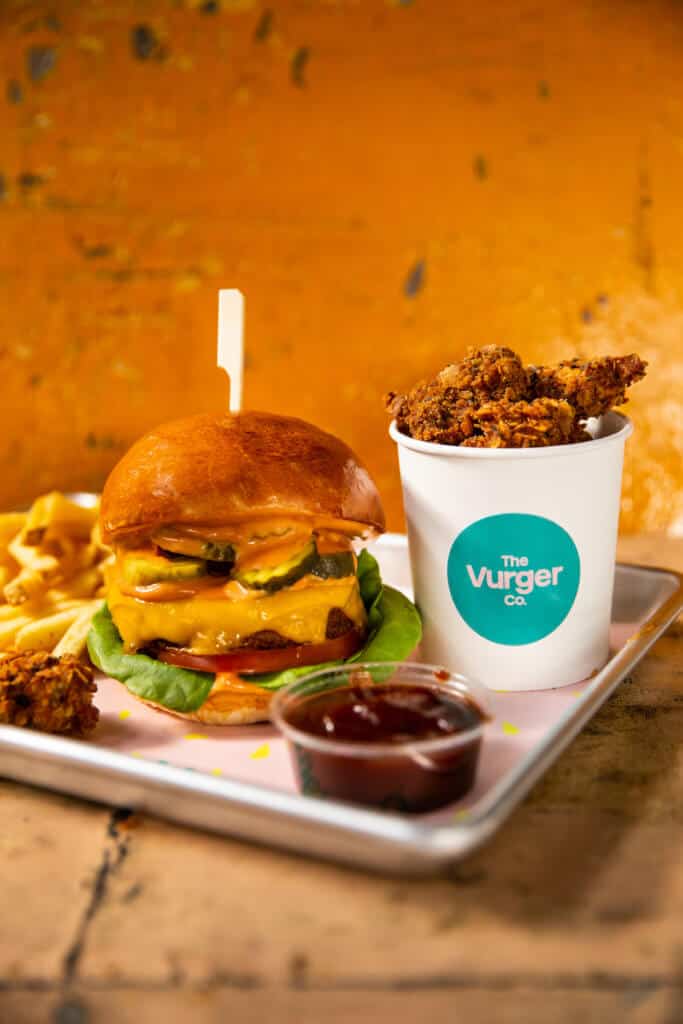 Your recent investment round – congratulations! Tell us your plans and how will the funds be invested?
Thank you so much. We are genuinely so proud to have been able to partner with Sebastiano and Miray from Dismatrix Group to push forward with our growth plans in 2020. The first of which will be our new site in Brighton opening in the first quarter which we are all as a team very excited about. Brighton marks our first step outside of London a move which is very significant and nobody else in the vegan burger fast food sphere has accomplished yet. After Brighton we have some more really exciting projects in the pipeline too!
You have intentions to open further locations within the 1st quarter of 2020 – tell us where, and why, and when?
That would be telling! Moving beyond Q1, we will follow on with our goal of making vegan fast food as accessible and convenient to a mass market as possible. This is the most exciting phase of our business to date and we're so ready.
How do you see the future of fast food and plantbased's role within it?
We took a leap of faith to open a 100% vegan fast food concept at a time when even the word vegan was considered niche and a fringe movement.  We had a huge belief in what we knew was going to be the biggest revolution in food – Veganism.
With the population set to continue growing massively, we fully believe that veganism is the only solution to a sustainable food choice worldwide. Our fast food options are made with vegetables at their core, highlighting seasonal specials, delicious recipes and chef driven flavours. Our burgers take almost 99% less water, 97% less land and 46% less energy to make when compared to the same weight of a meat-derived hamburger patty. This is the future of fast food, and we are so proud to be at the forefront of this mission, right here in London.
What else would you like to achieve with The Vurger Co?
Our intention is to become the vegan fast food household name worldwide. The word "burger" is synonymous with meat which is why even with our name we wanted to showcase how we stand out, what we're about and why you should come to us. We are the fast food concept of the future with a conscience.