Alastair Angus recently received media attention for being the first butchers shop to offer plantbased protein products. His business,
Thurston Butchers
, is now offering
THIS products
, as the flexitarian market grows and the
perception of protein
continues to evolve around the world.
Are you able to confirm that you are the first butcher shop in the UK to start offering plant protein products?
Yes, I believe that we are the first butchers in the UK to offer plant protein products alongside our meat range. There are other butchers/farm shops which provide vegetarian and vegan meal choices, but in terms of plant-based meat alternatives of this sort, we are the first.
Please describe the motivation behind this decision
The idea was born, quite simply, from customer demand. We have vegan and vegetarian customers that shop with us on behalf of friends and family and they were asking for an alternative. I think that the idea of a 'one-stop shop' for meat and vegan alternatives appeals to them so they don't have to travel to another shop. We have also found that some of our meat-eating customers are looking at cutting down on their meat intake, so this provides a great alternative.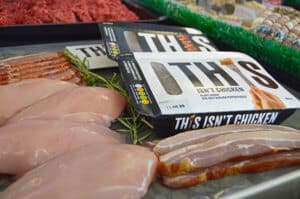 Why have you chosen the THIS products in particular and how did the collaboration come about?
After deciding to stock a small range of plant-based products, I researched some companies and THIS really seemed to fit the bill. Their marketing was clever; relaxed, informal and very appealing to meat eaters which I thought would work well for our shop. Not only that, but their products really hit the mark in terms of a realistic 'fake-meat' product. It was important for us to stock a product that was going to appeal to our meat-eating demographic so a product which resembled meat in both texture and taste seemed like the right way to go. They were understandably a little shocked when I approached them, but they've been incredibly supportive about what we are doing.
You have commented that, "As daft as it sounds we do get asked by a lot of customers for vegan and vegetarian options." Please can you expand upon this – which kind of consumers are asking such questions and what do you see as the reasons behind their requests?"
Naturally a butchers shop might be the last place you would expect to find vegetarian and vegan products. It's fantastic that our customers are confident enough to ask these questions and drive the demand forward. Mostly those asking for the alternatives are meat-eaters that are looking for an alternative for a friend/family member.
Have you tried any other plant protein products apart from THIS, if so what were your thoughts?
During the process of selecting a supplier I tried a few plant protein products. None of them really seemed to hit the mark for what we were trying to achieve. I think that if you are looking to appeal to meat-eaters, you really need a product that is close to the real thing. I also saw the social media marketing that THIS were doing and wanted to be a part of it – they're doing a great job of gaining followers and momentum.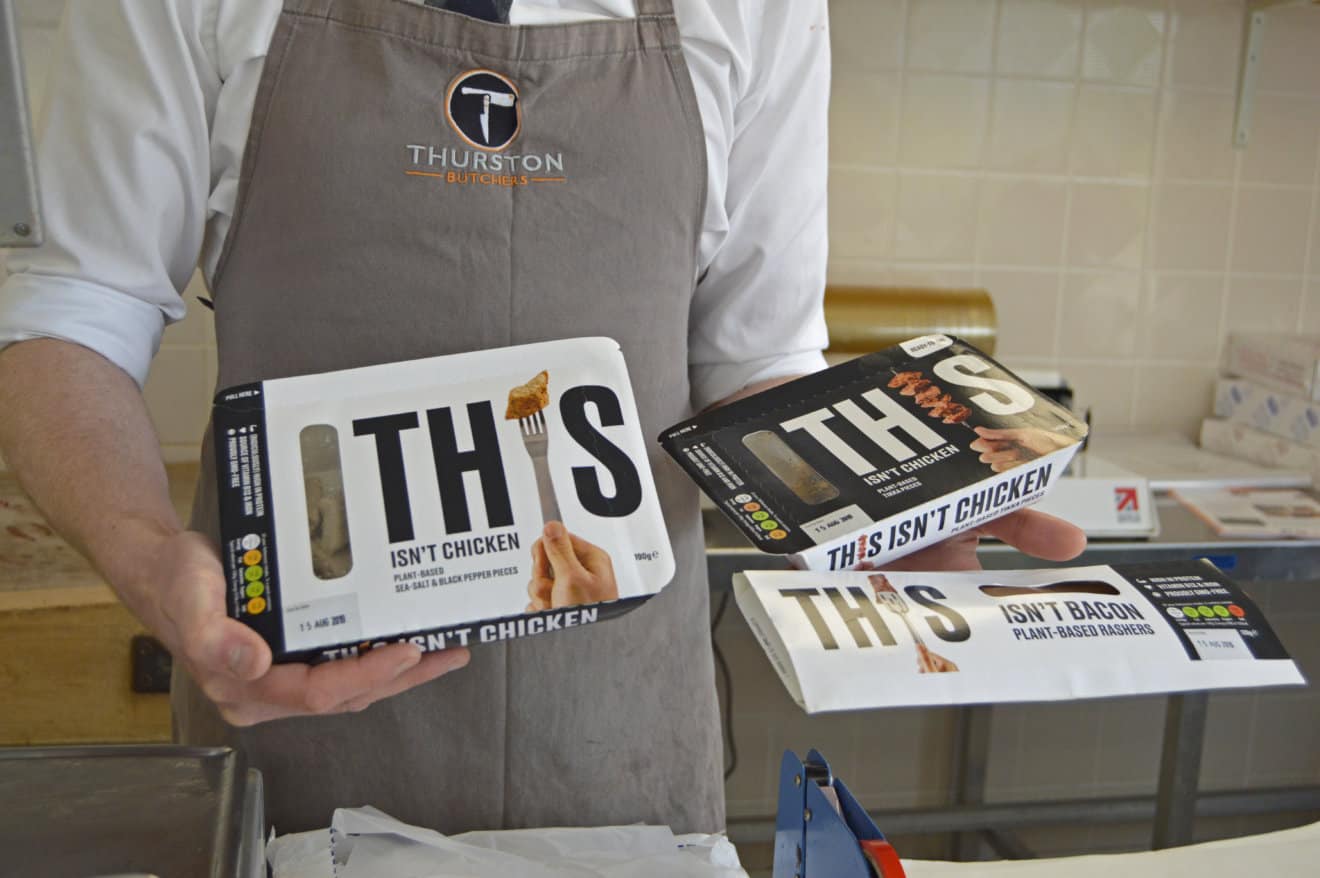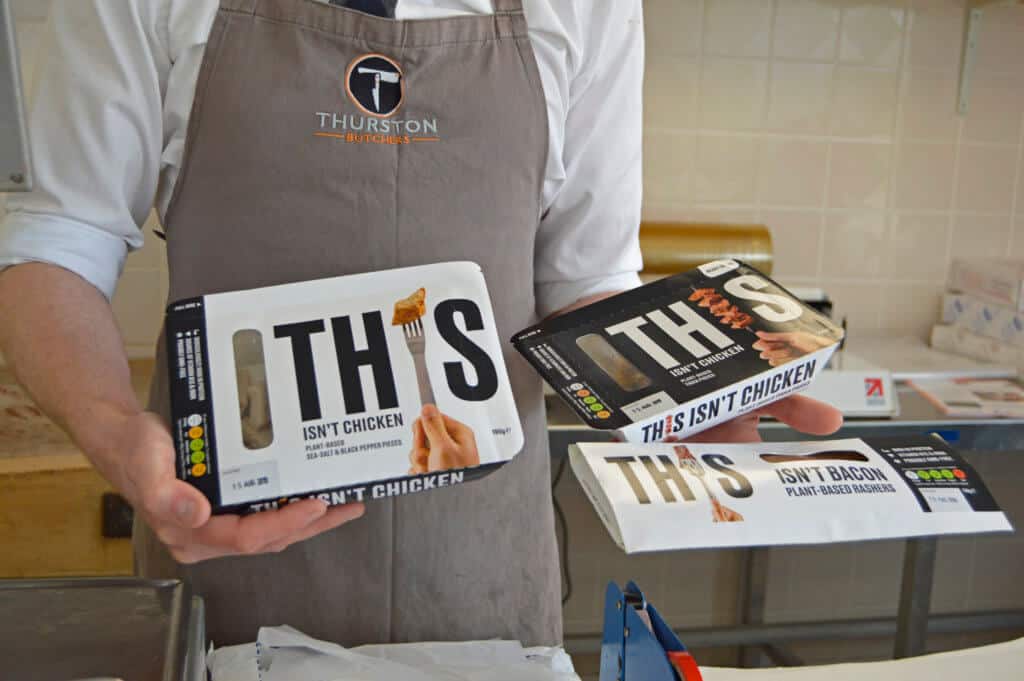 Have you spoken about the move with other butchers in the UK? What has been the response?
The response from other butchers has been very positive. I don't see all of them moving down this line but again, if the demand is there from their customers, I'm sure you'll see alternatives popping up in a few butchers shops up and down the country.
Are you aware of meatless butchers and what are your thoughts?
Yes, I'm aware that meatless butchers are developing; I think that they are a great initiative. Clearly there is enough of a demand to carry these businesses. We certainly won't be going to meat-free line any time soon as there is a growing demand for what we do at present. I think that having alternatives is key to a well-rounded and flourishing business.
Do you see yourself stocking more plant protein products in future, and do you feel that eventually this could lead to stocking less animal meat products?
I have to run my business based on what my customers are looking for. In terms of making predictions for the future, I don't see customer demand changing to the point that we stock less animal meat products. If anything, as customers look to buy less meat but higher quality meat, we will be getting busier and we will be selling more. In the first week of THIS products being on sale, the feedback has been great and we've sold lots of units. Ultimately my customers will drive the change and I am very open-minded to the prospect of selling more plant protein products in the future.