With a total capital raise of US$138 million to date, v2food is the Australian alt meat leader with a global vision. Now the most funded alt protein producer in Australia, v2food is on a mission to make meat nutritious and sustainable for generations to come.
This year saw the launch of its v2sausage, as well as the continued collaboration with Burger King in Asia to supply its Plant-Based Whopper patty.
Vegconomist had the opportunity to get to know CEO and Founder of v2food, former Masterfoods and PepsiCo Research Director Nick Hazell, to hear his views on being a future unicorn, the plant-based movement in Australia, and expansion into China.
Going back to the start, how was v2food born?
Launched in 2018, v2food was formed by CSIRO's Innovation Fund, managed by Main Sequence, a part of the Australian Government's National Innovation and Science Agenda (NISA). Competitive Foods Australia, the company behind Hungry Jack's, also contributed seed funding to help launch the startup. With the backing of both Government and industry, v2food had all the right ingredients for success from day one.

v2food is an innovative Australian company committed to making delicious food that is good for you and good for the planet. Developed with over 100 years of CSIRO food & science research and with powerful collaborations within the food industry, v2food is playing a pivotal role in changing the way we feed the growing global population sustainably. Recognising that there is a need for a version 2 of the food system, v2food is developing a range of plant-based protein products that taste great for all consumers.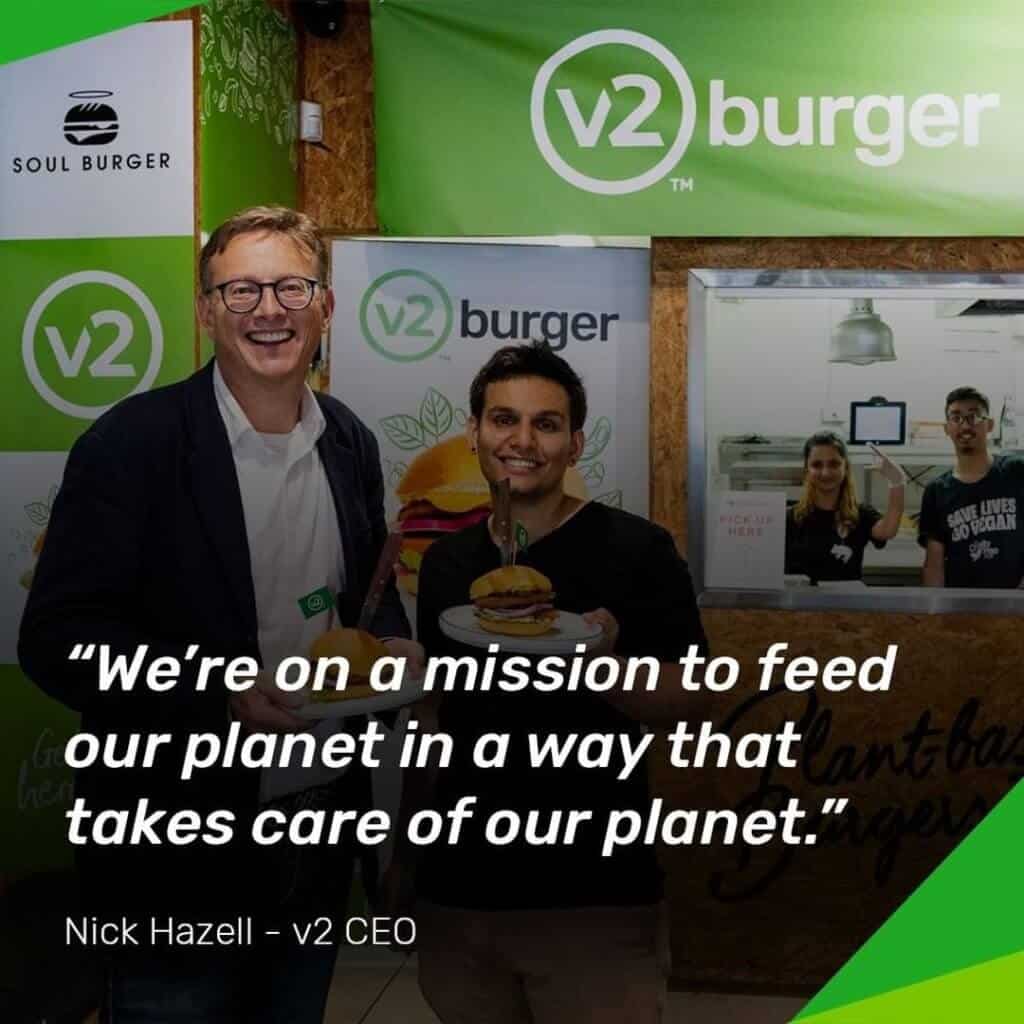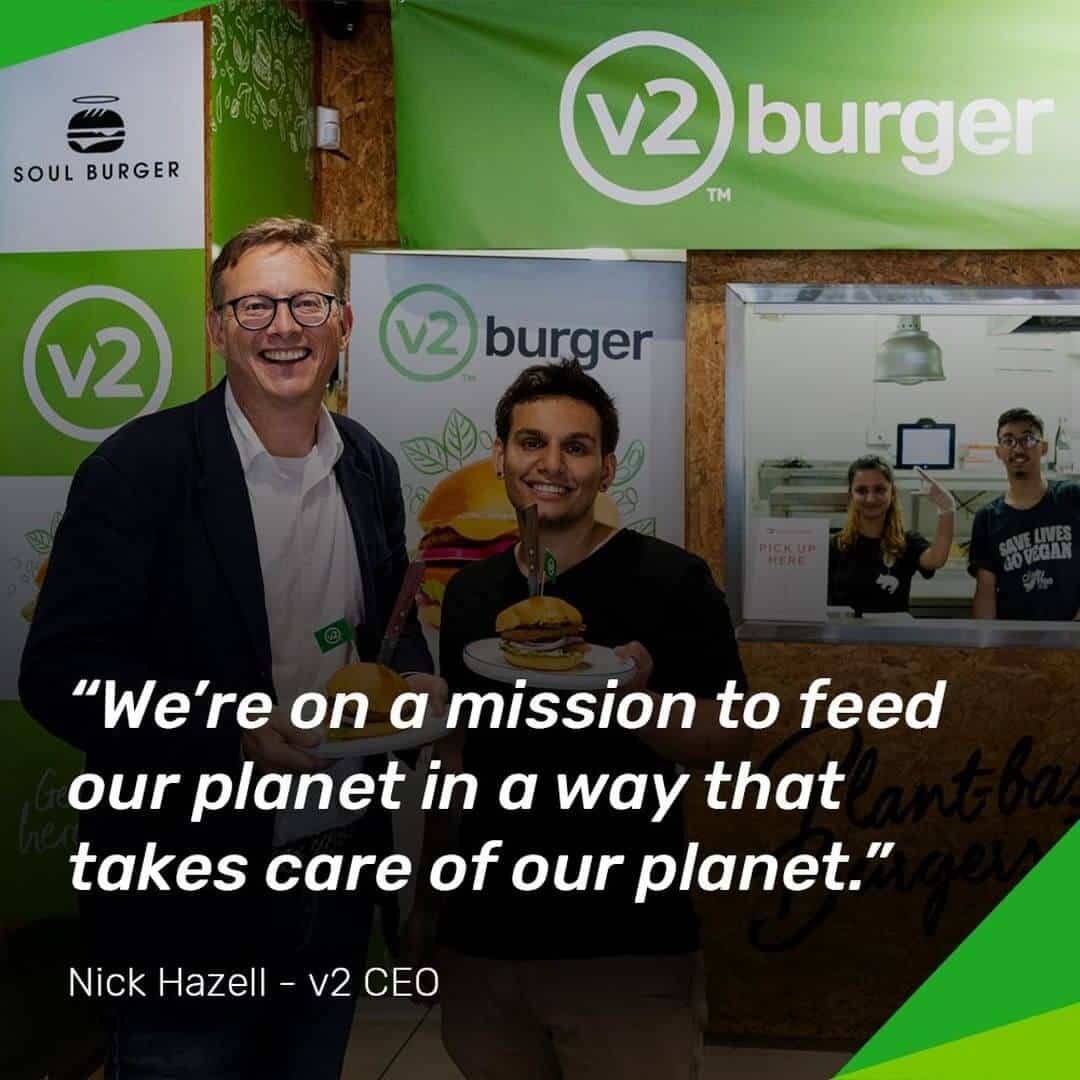 You are now the most funded alt protein producer in Australia following your recent Series B raise, congratulations! What factors are attracting investors to v2food?
Our planet will be faced with challenges around producing enough food to feed the growing world population. We have an opportunity with v2food to pioneer the plant-based category and create a product that serves today's consumers' hunger and need for more options.
Protein alternatives are gaining global traction with consumers, the industry, and investors taking notice of the environmental and health benefits they present. With a record-setting USD$3.1 billion invested in alternative proteins in 2020, we see ongoing significant market potential for v2food.
"This is just the beginning of our journey and we're committed to continuing to invest in Australia"
Plant and alternative proteins will continue to greatly benefit the Australian economy, offering a significant growth opportunity for Australia, Australian farmers and businesses alike. This is just the beginning of our journey and we're committed to continuing to invest in Australia to achieve long term goals at speed.
Our ambition is to take advantage of this exciting opportunity for the Australian agriculture industry to be at the forefront of this growing market, which will help them grow and create new jobs. This isn't about taking a share of the existing meat market, this is an additional opportunity to create a new market that could add $6 billion to our economy by 2030.
You are now halfway to achieving unicorn status, are you confident of becoming a plant-based unicorn in the future?
At a macro level the size of the prize is building Australia's plant-based industry and we would want to be a major player in the global plant-based industry.
You see some amazing figures in terms of valuation of some of the other companies out there. While encouraging, that's not our goal here. Ultimately if we're going to be successful, we will have an impact on the way people eat and the sustainability of our global food system. As a result of that, we will have a significant positive impact on the environment. That's our imperative.
Developing our footing in Asia is a high priority for us, but we also need to build the infrastructure that will enable us to scale quickly. The money we have raised, and expertise from investors including Astanor will enable us to do this.
As a country, Australia is one of the highest consumers of meat in the world. How big of a challenge is that cultural factor to an alt protein producer?
The movement towards plant-based protein is later coming to Australia when compared to the international market, but we've been impressed by the response of the Australian industry to try the next generation of plant-based products. We're continuing to grow month on month and are attracting an increasing consumer base across major & independent supermarkets. Whilst the growth is promising, there is always more to do and we are focused on improving our product taste, making it easier for consumers to use, and working with retailers to communicate the benefits to make it easy for Aussies to integrate alternative proteins into their weekly shop.
"The sector will generate over AU$1 billion in manufacturing and employ over 6,000 Australians in the next decade"
Australia is uniquely positioned to lead the charge; we have the CSIRO science, amazing Australian farmers, like-minded investors and the ambition for us to make a real difference to the planet. Modelling suggests that if the current moderate growth trajectory continues, the sector will generate over AU$1 billion in manufacturing and employ over 6,000 Australians in the next decade.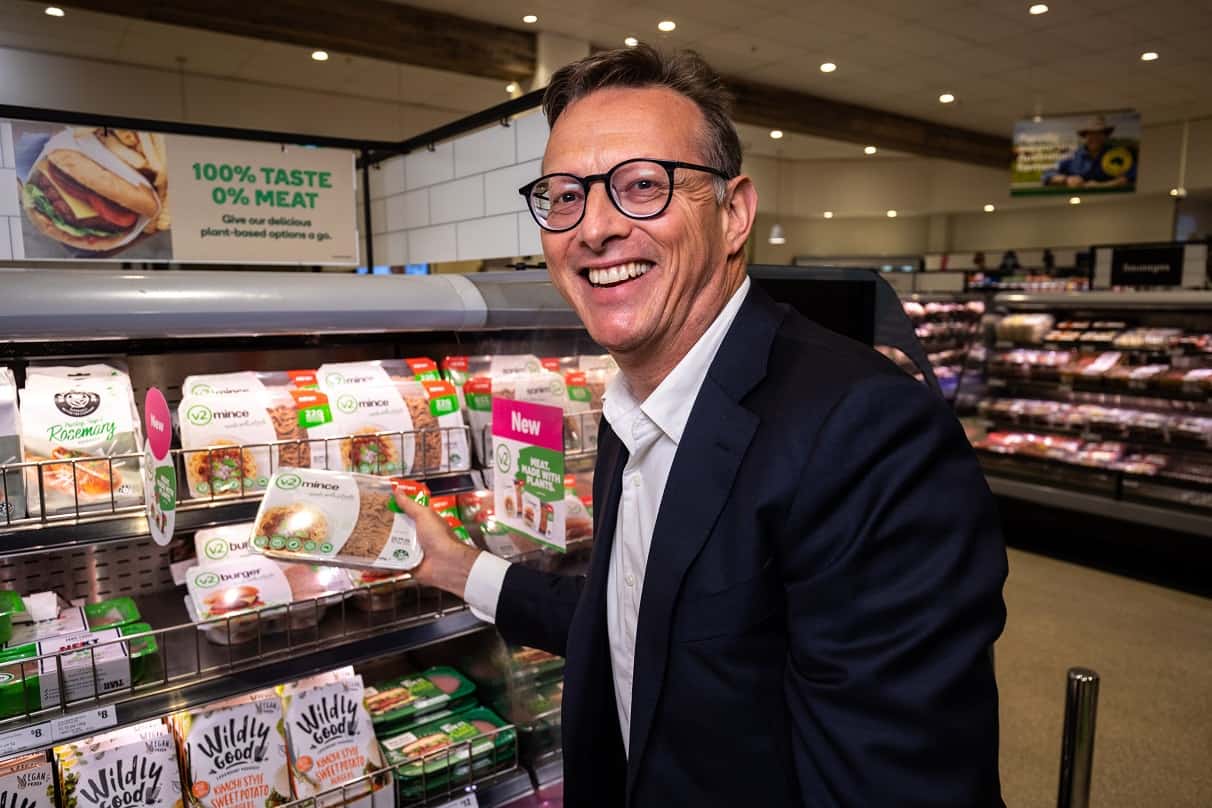 What is your opinion on recent lobbying by the Australian Red Meat Advisory Council to censor plant-based products?
v2food and plant-based options offer an exciting opportunity to Australia, farmers and the economy. From our research, the consumer confusion between animal protein and plant-based proteins does not exist. Plant and alternative proteins do not adversely impact the livestock or traditional protein sector, and in fact supports the growth and prosperity of both. Both have cohabited for centuries. There is plenty of room on the plate, grocery shelves, shopping trolleys for both.
You are not just present in Australia, of course. Which are your biggest international markets and where do you see the most potential for growth and why?
The global demand for meat is growing rapidly as nations become wealthier, but the resources of this planet are finite and are already being over consumed. China is a leading market when it comes to growth of meat consumption, as a result of increased prosperity over the last few decades. v2food has an excellent R&D team, leading-edge proprietary technology, and an international supply chain network to create sustainable animal protein alternatives.
In addition, China has the largest population in the world, and therefore has the opportunity to make a significant positive impact on the future of our planet. China is a key growth market for v2food and we are aligned in terms of our ambition to secure the future of food security and safety. We are proud to have built an excellent operational team in China to bring delicious, healthy products to the tables of Chinese consumers.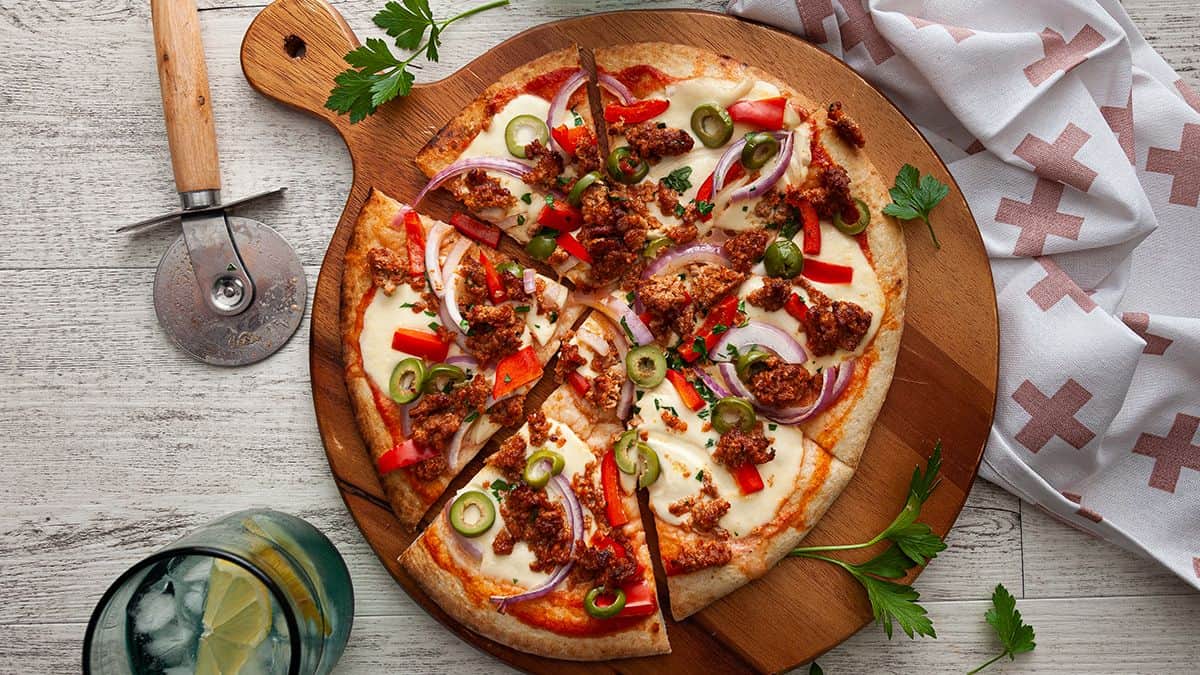 What will be the major milestones for v2food over the next five years?
Our focus is to be number 1 in Australia and focus on expansion into the growing Asian market. This is accelerating, with distribution deals in most Asian markets and a strong team in China closing some significant deals.
We've also got 18 projects going on right now with CSIRO, spanning nutrition, protein extraction technology, plant breeding technologies, soil carbon sequestration work, as well as a lot of flavour work and structure work to create ever more delicious protein. We just refuse to go slow with our mission, we take huge risks. Everyone in the business is totally signed on to try and do everything we can to better our product and offer consumers a plant-based alternative that can feed us all for years to come.
Watch this space, we have some exciting new products on the horizon!