When Violife entered the US market from Europe in 2015, the dairy-free cheese category was still struggling to win over consumers, who rejected the unappealing taste, texture and performance of most vegan cheese products. Initially starting as a small import business, Violife eventually expanded into thousands of US retail locations and launched a range of innovative dairy-free cheeses, from standard Mozzarella and Cheddar to a Parmesan wedge, cream cheese, Colby Jack and Halloumi-style grilling cheese.
Made with clean-label ingredients, the brand skyrocketed in popularity and began to feature in major food service partnerships with chains like Papa Murphy's pizza, Caribou Coffee and Peet's Coffee.
As Violife continues to expand its portfolio and reach, in 2023 the company is replacing its slogan "100% Plant Based" with "100% Dairy Free" to appeal to more consumers. Vegconomist spoke with Chief Marketing Officer Brian Orlando about the brand's latest developments, current challenges and how it plans to continue to elevate the plant-based cheese category.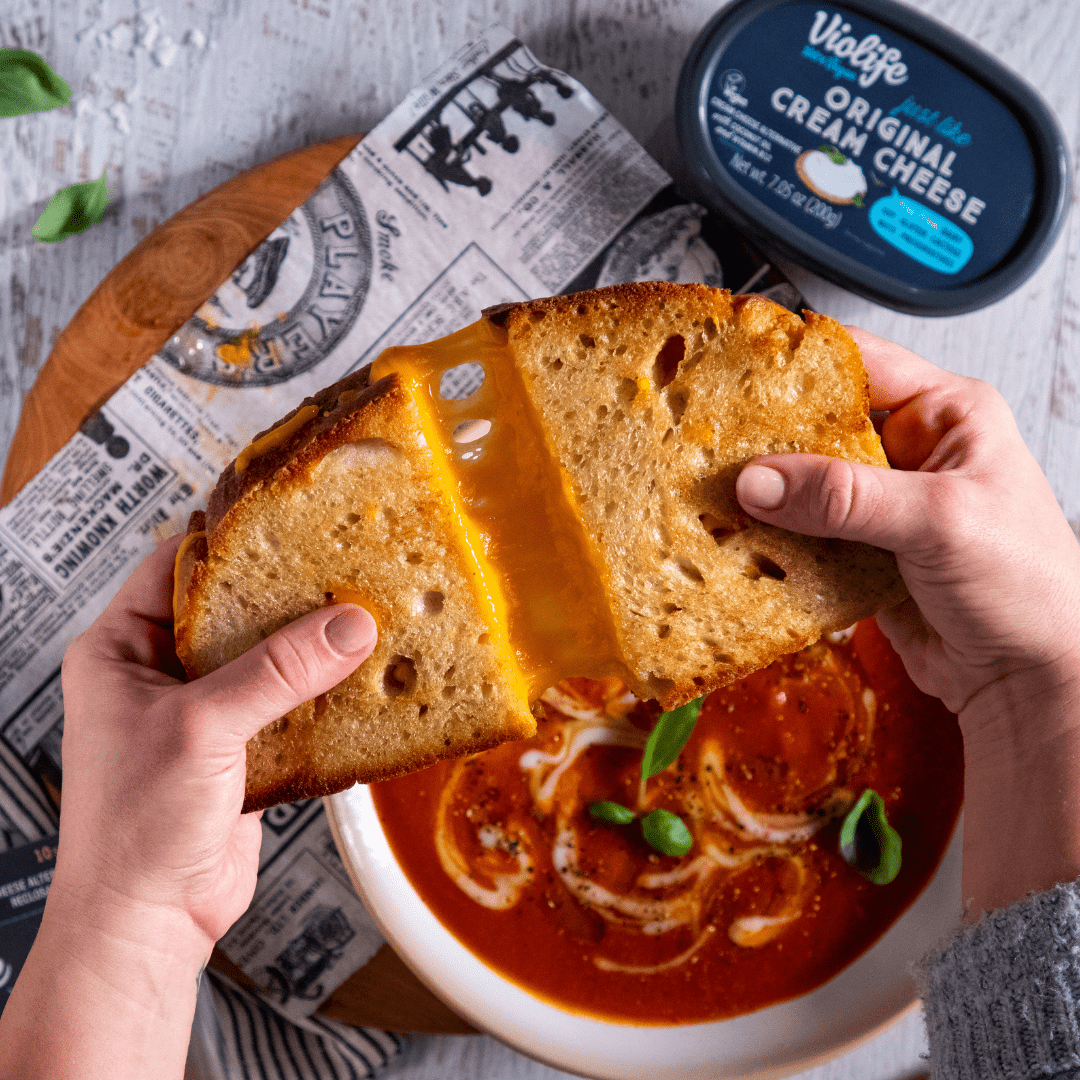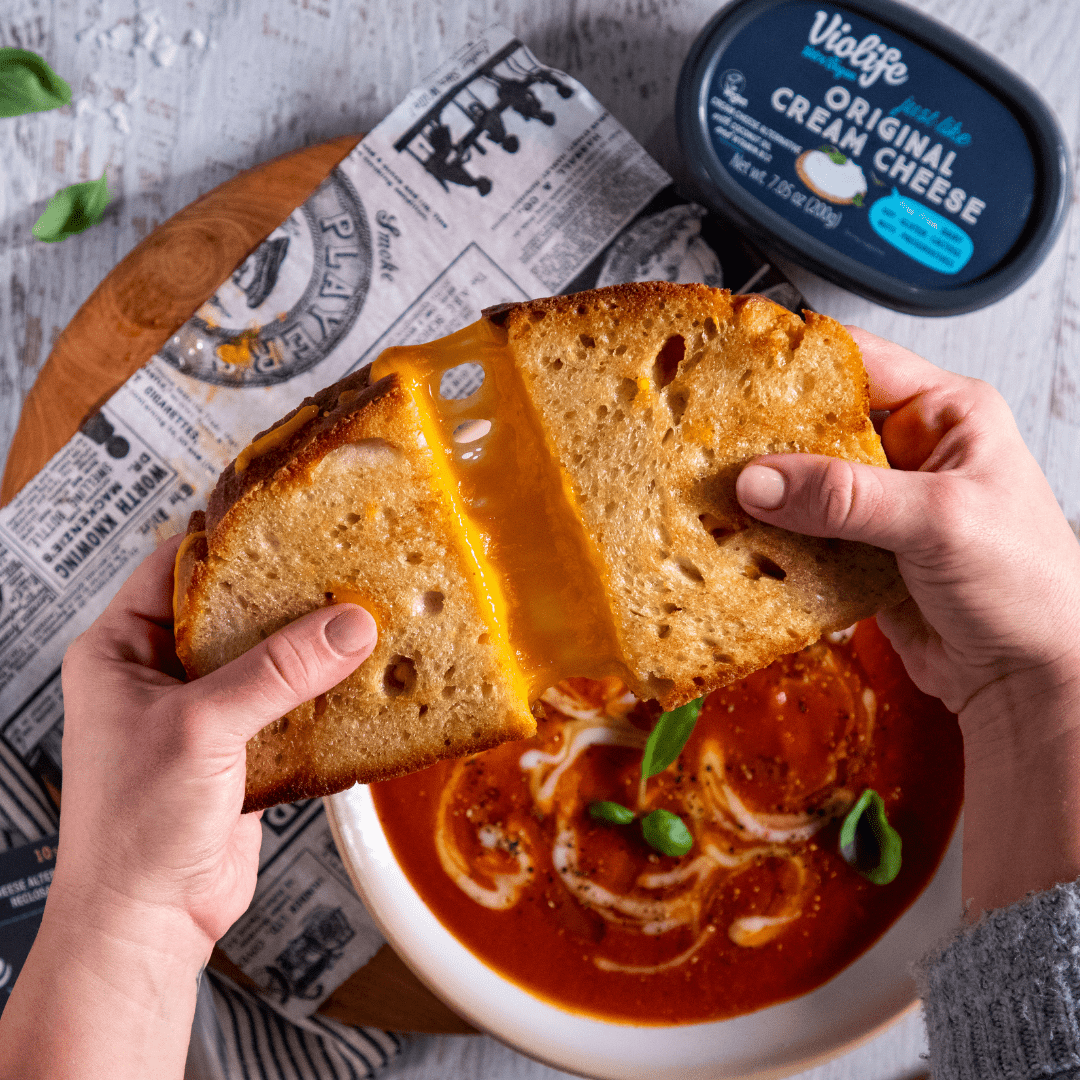 Violife recently announced it is changing its logo and packaging to read "100% Dairy Free" instead of "100% Plant-Based" – what inspired this change?
Since its founding over 30 years ago, Violife has been committed to crafting delicious vegan products everyone can enjoy. Our fans love our dairy-free cheeses for their great taste and outstanding performance. After listening to our followers, we learned that many people who enjoy Violife are not necessarily vegan. Many of our consumers seek dairy alternatives for a variety of reasons, including allergies, indigestion, and sustainability concerns.
In our goal to bring dairy alternatives to a wider audience, we are changing our tagline from "100% Vegan" to "100% Dairy Free". In the US, our Violife 100% dairy-free alternatives to cheese could save at least 50% of carbon emissions and at least 70% of land occupation per year when compared to dairy cheese. At Violife, we believe small changes can make a big difference.
Violife has one of the largest plant-based cheese portfolios – what are your top-selling US products?
Our current best-selling products tend to be some of our more traditional flavors including our shreds and slice lines. Our top sellers are Just Like Mozzarella Shreds, Just Like Cheddar Slices, Just Like Cheddar Shreds, Just Like Original Cream Cheese, as well as our Cream Cheese variations.
What do you currently see as the biggest challenge for the plant-based cheese market?
Violife is the #1 dairy-free cheese in the US and globally. While milk alternatives have become a staple in the homes of many consumers, far fewer have yet to purchase dairy-free cheese. The dairy-free cheese category still has significant room to grow, and as the category leader, we believe we are best positioned to lead this growth and become the next generation of cheese.
"They have embraced plant-based milk with open arms, but are hesitant to believe plant-based cheese can be delicious and perform like dairy cheese"
Another challenge the alt-cheese category often faces is that consumers have very low expectations around the taste and performance of dairy-free cheese. They have embraced plant-based milk with open arms, but are hesitant to believe plant-based cheese can be delicious and perform like dairy cheese, even though the category has made drastic improvements. Availability in-store has also been a hurdle for the brand and the alt-cheese category. Violife has vastly improved its distribution to a national scale over the last few years, winning in stores like Walmart, Kroger, Albertsons Safeway Co, Whole Foods Market, and more.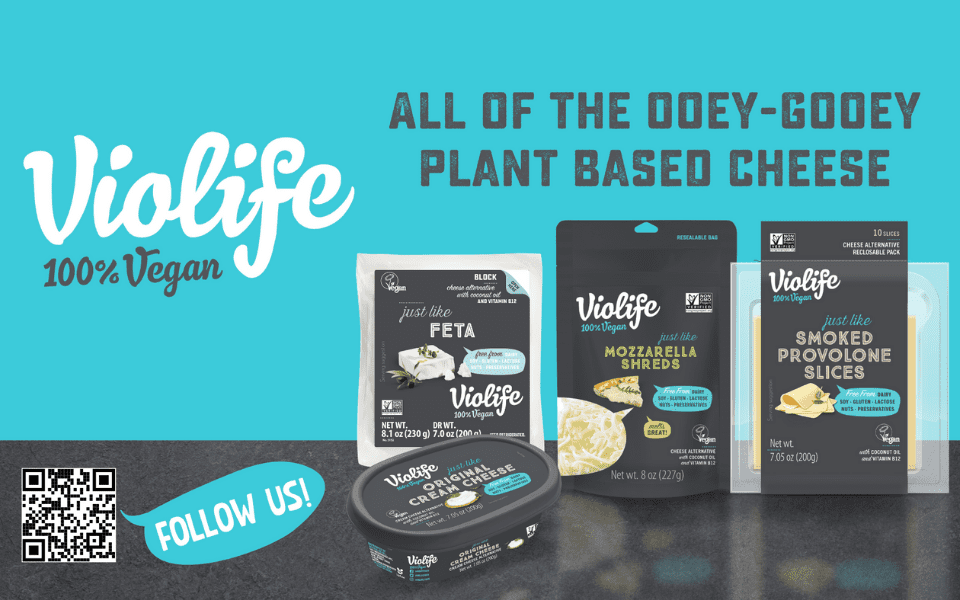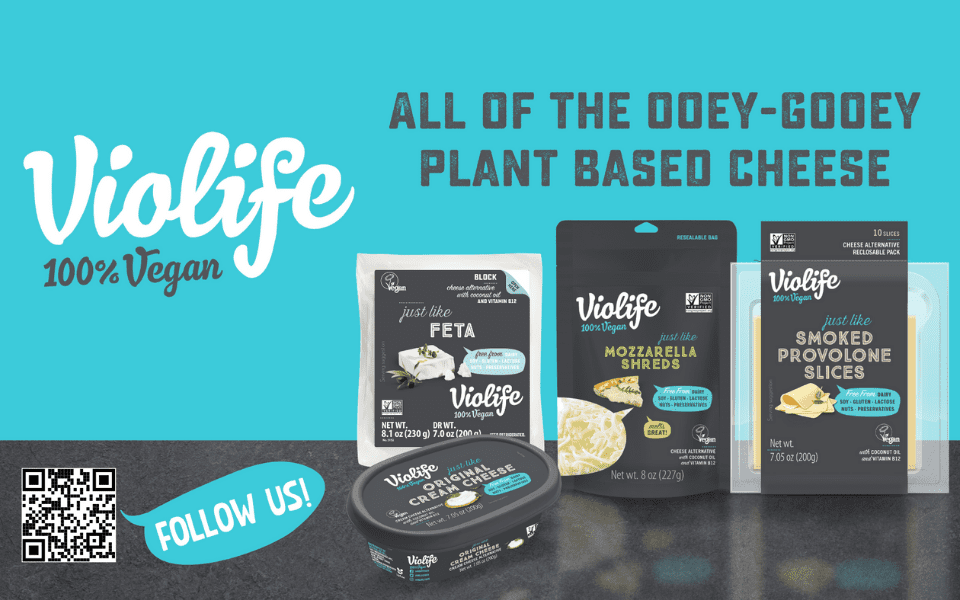 Now we need to continue to raise awareness of our delicious, dairy-free cheese alternatives that are more easily digestible by your body and better for the environment. Availability and awareness will ultimately lead us to expanding the alt-cheese category in North America and winning the hearts of those seeking out dairy-free alternatives.
Violife is one of the fastest-growing plant-based brands, with a presence in 65 countries, including the US, UK, Europe, and Canada. What markets do you hope to expand to next?
Violife has been a pioneer in the dairy-free cheese industry for years. Violife's teams around the world are constantly looking for opportunities for Violife to continue to grow and bring dairy-free cheese to those who are looking for a tasty alternative.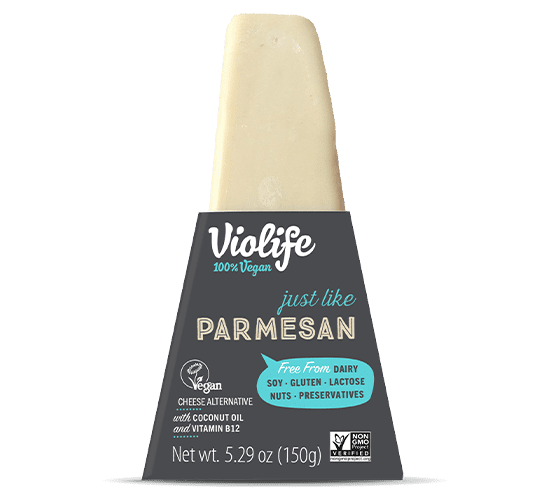 Violife's products have been featured in several major launches, including 7-Eleven Canada's first vegan breakfast sandwich and Burger King UK's Bakon King. Can we expect more food service partnerships this year?
Our food service team is always on the lookout for vendors that are looking to incorporate more dairy-free or plant-based alternatives on their menu. Some other partnerships you'll see launching this year include Emmy Squared's first foray into plant-based pizza, Caribou Coffee, Barnes and Noble, PLNT Burger, and all Papa Murphy's US locations, just to name a few.
We've also recently partnered with several retail brands including Mings Bings, Splendid Spoon (D2C meals), Tattooed Chef, Planet Based Foods, and Alex's Awesome Sourdough Pizza.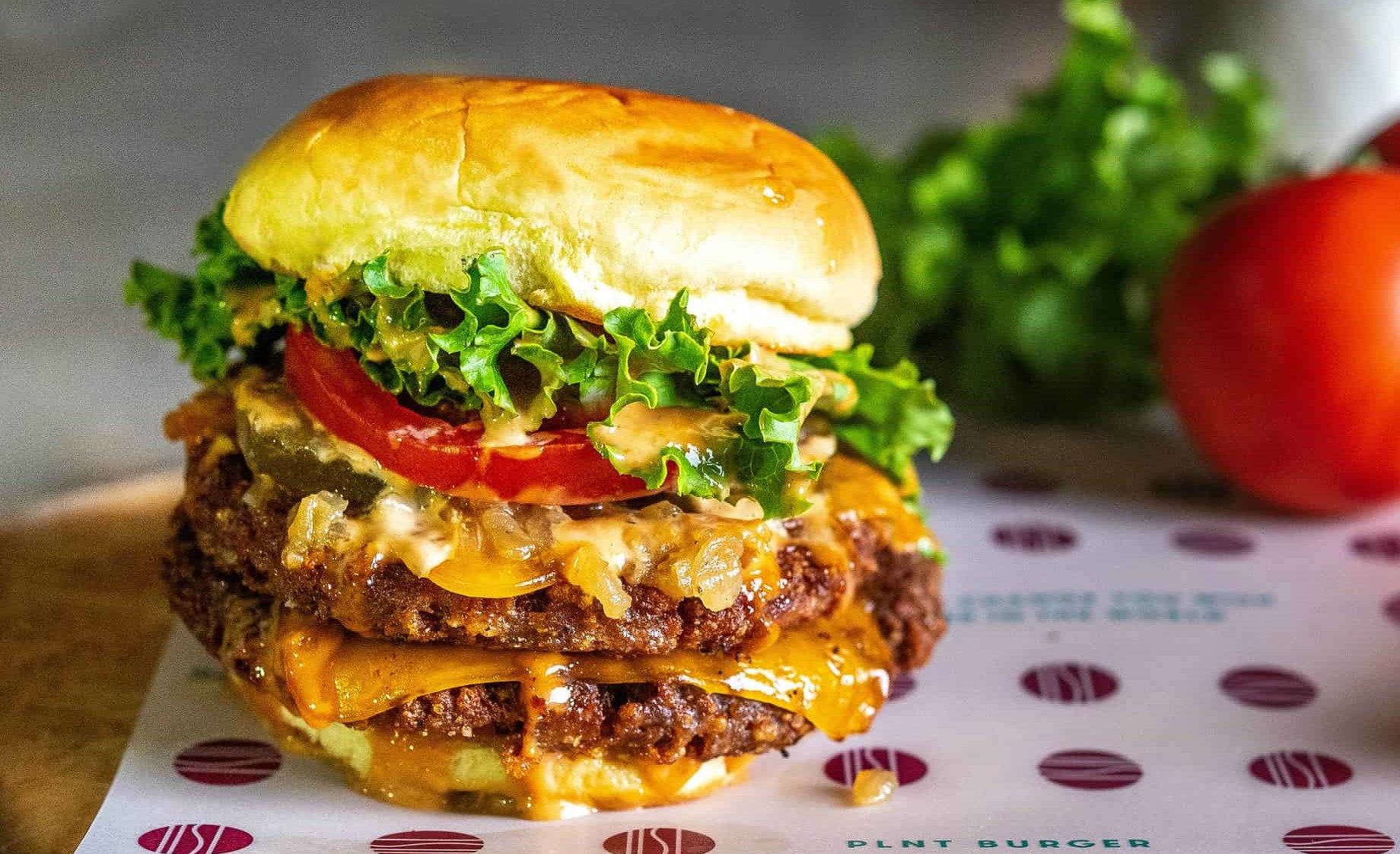 Violife recently debuted its first dairy-free sour cream in the US – are there any other innovations launching in 2023?
We are currently working on updating our packaging this year to celebrate the 100% dairy-free shift and will then be shifting our focus to new product releases for 2024.
Are there additional big or exciting innovations in the pipeline?
We've got a few tricks up our sleeves which will be launching in 2024.
Looking ahead, what role do you think Violife will play in shaping the plant-based cheese industry?
The US has seen a growing number of households purchase plant-based cheese in the last couple of years, and they are often choosing Violife as their first dairy-free cheese brand. Consumers choose Violife for a variety of reasons, including health, allergies, indigestion, and sustainability concerns. Our goal has always been to bring great taste and outstanding performance to the vegan and dairy-free category, and we'll continue to champion this mission as we continue moving forward as a brand.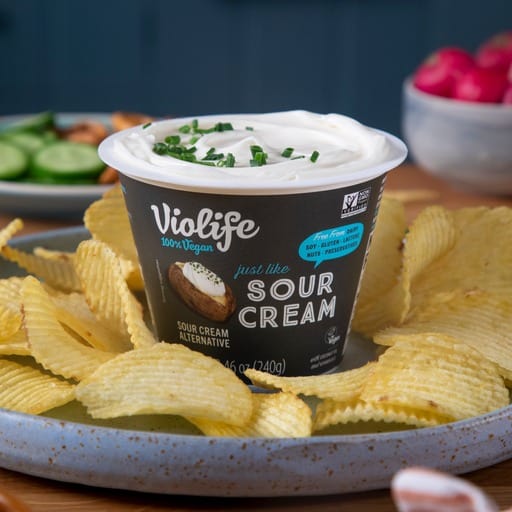 As a brand that focuses on dairy alternatives to cheese, now is the time to embrace our vegan roots and vegan customers and also welcome in those who are choosing to lead a dairy-free life.