Since its launch in 2014, the Yuícery brand has developed from a pure juice manufacturer into a profitable company that now sells vegan food supplements in addition to juice products, and opened its first brick and mortar gastro-store in downtown Stuttgart this year.
Oliver Neuzerling, the managing director of Yuícery, told us more about the new franchise concept and other company developments.
What is the current product range of Yuícery?
The Yuícery brand is currently made up of three product segments. It started with the juice factory in Munich, which produces cold-pressed juices and juice cures and sells most of them through its own online shop. Yuícery was expanded with a performance line offering vegan supplements.
The latest addition to the brand is the store in Stuttgart, where customers can enjoy healthy and freshly prepared food and drinks. In addition to sweet and savoury bowls, the store offers salads, waffles, smoothies, the cold-pressed juices from Munich, coffee and frozen yoghurt – all without preservatives, animal additives or flavour enhancers. We are currently working on expanding our store assortment, as we would like to offer hot meals especially for the cold season.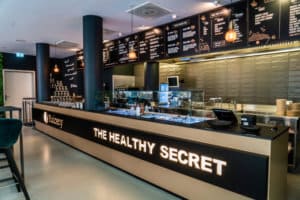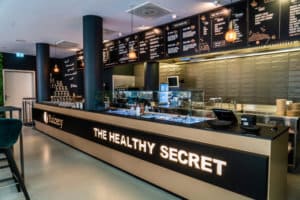 How are the products distributed?
Yuícery's strategy is mainly based on social media marketing and a smart store concept. The cold pressed juices and performance products are mainly distributed through our online shop. This is promoted through the personal social media channels of the founders, among others. Most important to us is the feedback of our customers, without whom we could not make Yuícery big.
What is behind the franchise concept?
The Stuttgart store is the first store of the Yuícery brand to offer a carefully selected range of healthy food and drinks in addition to the well-known juices. We opened the store with the aim of creating a place where people can enjoy healthy, vegan food in an appealing and relaxed atmosphere – and with the certainty that, despite fast preparation, the highest quality is guaranteed. When designing the interior of the stores, we paid attention to creating a cosy but at the same time exclusive ambience that appeals to a wide range of people. We do not only want to welcome athletes or already passionate vegans, but also students, professionals and families.
In our store we would like to invite everyone to live a health-conscious lifestyle – starting with the right nutrition. Everyone is welcome to come and discover healthy and also environmentally friendly alternatives to the usual fast food.
Our concept has been very well received in Stuttgart so far, which is why we want to establish the Yuícery brand as the market leader in the vegan fast food sector.
You have opened a vegan gastronomy store in Stuttgart, are there more stores planned?
Yes, definitely! We are currently planning the opening of the second store, which is scheduled for early 2020. This will also be in Stuttgart – in the well-known Milaneo shopping centre and thus our first store in a closed shopping centre. For the following years, we are also planning not only large-scale expansion within Germany, but also want to expand into other European countries with our store concept including philosophy.
Who are the founders of Yuícery?
The founding team of Yuícery consists of Oliver Neuzerling, Torben Platzer and Matt Schuldt.
Oliver Neuzerling is the managing partner of the company and brings significant catering experience to the Yuícery. In the early years he started as an apprentice at Roomers Frankfurt, later he became a face in a well-known club and restaurant in Munich and today he is the soul and leader of the Yuícery brand.
Torben Platzer and Matt Schuldt are branding experts who have expanded the team in 2018 as partners and are thus part of the new label Yuícery. Together they manage the Munich branding agency TPA Media and are responsible for the brand strategy and thus the external appearance of Yuícery in the following years. Both are well known from Forbes and Entrepreneur magazine, among others.
For more Information please visit www.yuicery.de.