Data provided exclusively to vegconomist by Alternative Proteins Global offers highly compelling insights into the alt protein investment landscape in the first half of 2023.
The data reveals that alt protein investments reached $1.008 billion in the first half of 2023 — greater than the $940 million raised in the second half of 2022. Furthermore, deal count in 1H 2023 was 95, again greater than 2H 2022 at 84 deals. And while the average deal size decreased, the median deal size increased from 2H 2022 to 1H 2023.
"…plant-based foods are still a booming business"
In the 1st half of 2023, there were 95 investment deals totaling $1 billion USD across the alternative protein industry, with the funding coming from 325 investors. Whereas, across the entirety of 2022, $2.709 billion USD was invested across 208 investment rounds. In total, over the past 18 months, there have been 303 investment deals into alternative protein companies totaling $3.717 Billion USD, with participation from 1,198 investors, according to the firm.

Europe leads the way
Europe received more investment in 1H 2023 than in 2H 2022, and European investments represent two-thirds of the global investment in 1H 2023. Crucially, Europe was the only continent to receive increased investment in this period compared to 2H of 2022. Conversely, all other continents received far less investment in the first half of this year and both Africa and South America received no funding in this period.
Europe received the majority of investment at
$672M USD.
Oatly is responsible for a huge share of this funding, closing
two rounds
of $125 million and $291 million respectively. Globally, Europe secured the majority of alt protein investments, largely due to Oatly's rounds and the $70 million raised by
Unibio International
(a Danish producer of fermented single-cell proteins), representing the three largest investment rounds for 1H 2023.
Founder and CEO Nicholas Dahl notes that while Oatly's two rounds were reported to total $300M, Oatly actually lists $291M after discount, with the small print in the company's press release stating at the time: "The Notes have an aggregate principal amount of $300 million and the Note investors paid a purchase price of $291 million, reflecting an original issue discount of 3%."
Biggest investments
The top 5 investments in the first half of 2023 total $568M USD which is 56% of the $1B USD total alternative protein investment across 95 deals. To put this another way, just 5% of the total deals represent more than half of the entire alt protein investments in this period.
(Green = Plant-based, Yellow = Fermentation, Blue = Cultivated)
After Oatly and Unibio, the largest sums of funding were raised by Canadian plant meat producer No Meat Factory at $42 million and the young cultivated meat company Omeat at $40 million.
Founded in 2019 by Dieter Thiem and Leon Bell, No Meat Factory produces plant-based protein products for its brand partners, ranging from burgers and chicken nuggets to whole-muscle alternatives. In addition to its state-of-the-art facilities in British Columbia, the company says an upcoming second facility near Seattle will further increase production capacity and manufacturing for plant-based deli and sausage alternatives.
In total, there were 95 deals with participation from 325 investors.
Biggest earning companies, past 18 months
The top 12 Investments received $1.817B USD or 48.9% of the $3.7B USD total alternative protein investment across 2022 and 1H 2023. In other words, 4% of the total deals represent nearly half of the total investment for the past 18 months.
(Green = Plant-based, Yellow = Fermentation, Blue = Cultivated)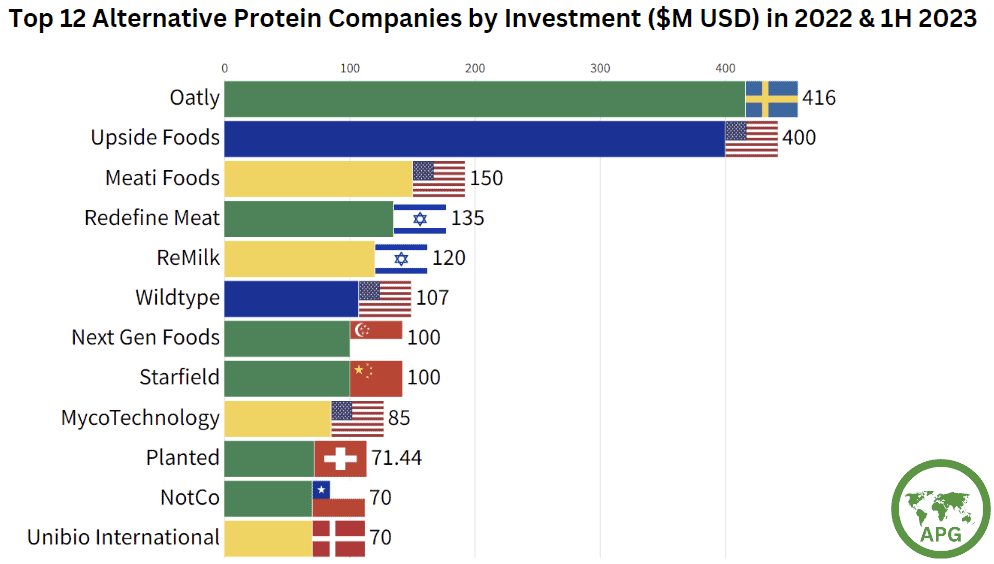 Aside from Oatly's rounds, it comes as no surprise that the next biggest investment was for Upside Foods, which this year made the headlines along with Eat Just to become the first cultivated meat company to receive full FDA approval and begin sales to consumers in restaurants. Wildtype also secured notable funding in the cultivated field for its salmon, with its $100M raise early last year from investors including Leonardo DiCaprio marking the largest ever Series B round for a cultivated seafood company. Wildtype states that it expects to launch its salmon into US foodservice this year.
Also coming as no surprise is that fermentation is emerging as a key sector, and this has been predicted over recent years by many state of the industry reports, with animal-free dairy continuing to gain traction. In terms of plant-based companies, aside from Oatly; Redefine, Next Gen, Starfield, and NotCo are all foodtech startups continuing to gain foothold, especially in foodservice.
"Global growth of the plant-based foods industry is undeniable"
"In this difficult economic climate, businesses across the board are being challenged [this also applies to the animal meat industry as per Circana data]. With many experiencing diminishing revenues and declining profits, companies are being forced to cut costs, lay off staff and pivot strategically, ie consolidate.
"In emerging industries, challenges and setbacks are inevitable. However, if the determination and collective mission is there, then comes growth and success regardless of the setbacks and economic climate, and nowhere are those aspects more apparent than in the plant-based foods category," comments industry expert Allen Zelden.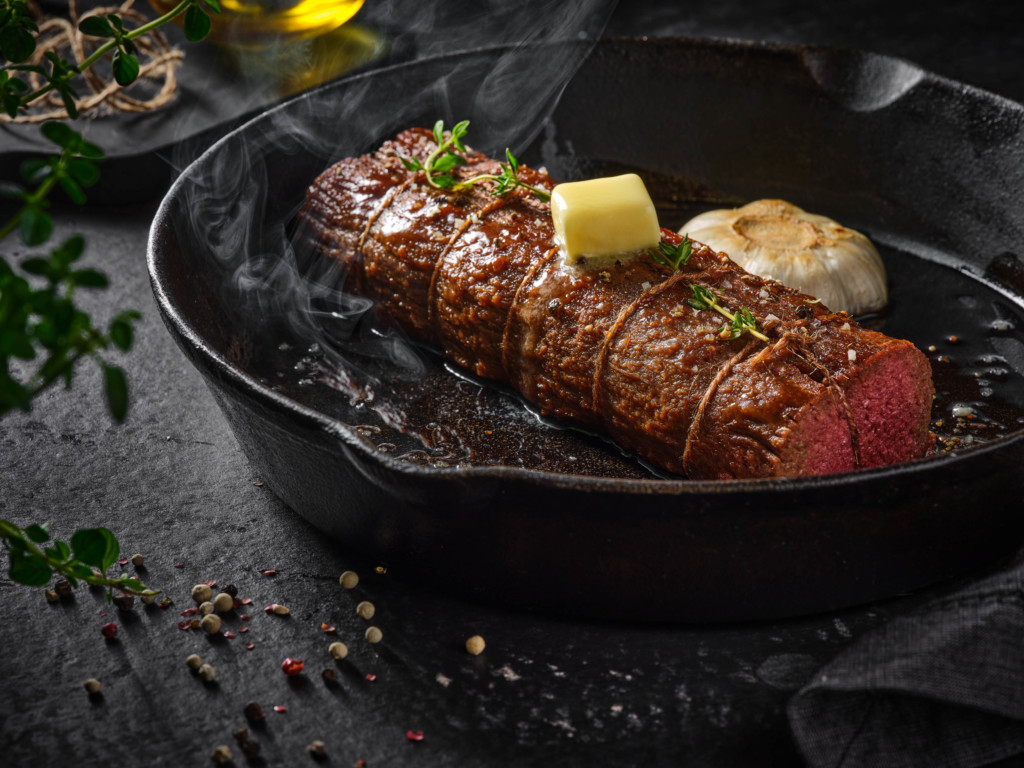 "Ultimately, the food industry is going greener and the global growth of the plant-based foods industry is undeniable. It's just a matter of understanding the position of the market and looking beyond the hype of agenda-fuelled headlines. From your local supermarket shelves to international markets, plant-based foods are still a booming business," he adds.
Says Nicholas Dahl of the data his firm has compiled: "APG's goal is to collect data and analyze all aspects of the alternative protein industry to provide detailed insights for industry stakeholders. Accurate and regularly updated investment and investor data and insights is rarely provided within the industry, however, is very useful to all industry stakeholders, as it is one of several indicators useful when assessing the current & future potential of the alternative protein industry."
About Alternative Proteins Global
Alternative Proteins Global has previously
launched a database
of alt protein events happening globally, which has been translated into 17 languages & for which an updated version will be released on Monday next week. The Organization will soon be launching a new service for start-ups in the industry raising capital to better track investment and investor data within the industry
.
Further information can be found at the firm's About Page and more insights into the Alternative Protein Investment landscape in 2022 & 2023 can be read at Nicholas Dahl's personal LinkedIn page.