La Vie, a French producer of plant-based pork products, has announced a new crowdfunding campaign and product launch as it continues to see rapid growth across Europe.
The campaign will take place on Crowdcube from September 7 to 28, with the aim of raising €1 million. It follows a period of considerable success for the company, with 2.5 million products sold in the past 18 months — equivalent to one every 12 seconds.
"This strategic step aims to unite a global community of change-makers"
Despite challenging market conditions, La Vie has seen 379% year-on-year growth, and can now be found at 4,600 retail stores and 3,000 restaurants across Europe. In the UK, the brand has seen 144% growth since its launch last year, and is present at major retailers such as Sainsbury's, Waitrose, and Ocado.
Through the new crowdfunding campaign, La Vie customers will have the opportunity to participate at the same share price as an expert investor, joining existing investors such as the CEO of Vinted, the chairman of Oatly, and actor Natalie Portman.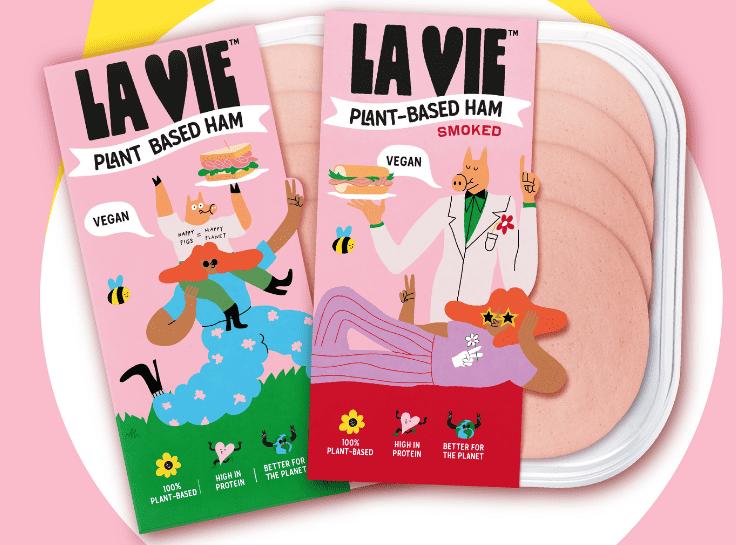 "Disruptive approach"
La Vie has also announced the launch of a new product in France — vegan ham. Made with just seven ingredients, the ham is produced without texturing agents and contains 19 grams of protein per 100 grams. It is said to have the same juiciness and texture as conventional ham, and is already available in stores.
Additionally, La Vie will be launching a virtual restaurant next month in collaboration with Taster. The restaurant will initially offer vegan bacon burgers, fries, and grilled cheese sandwiches for delivery across Paris, before rolling out all over Europe.
The news comes just days after La Vie announced a partnership with UK supermarket Sainsbury's to offer a vegan BLT as part of the chain's lunchtime meal deal.
"The food tech industry is currently experiencing a slowdown, but our outstanding results and investments are a testament to our disruptive approach, driven by proprietary tech and a brand centred on pleasure," said Nicolas Schweitzer, CEO and co-founder of La Vie. "Responding to the high investor and customer demand, we're opening up our capital for a limited time. With the plan to hit €12 million annualised run rate by the end of the year, it underscores the promising future of the industry. Our unique blend of technology and brand identity sets us apart, challenging industry norms. This strategic step aims to unite a global community of change-makers who resonate with our vision."