Tastewise
​, an AI-powered food intelligence startup founded by former Google executive Alon Chen, has released information based on billions of data points, looking at consumer motivations for the food and beverage industry during the
current pandemic
to help those in the space best support shoppers.
In this time of
global pandemic,
consumers are increasingly aware of their health the best ways to defend it.
Tastewise
says that while the past year has seen a huge uptake of interest in food and beverage with
functional benefits
, the current climate is seeing "staggering growth" in this area.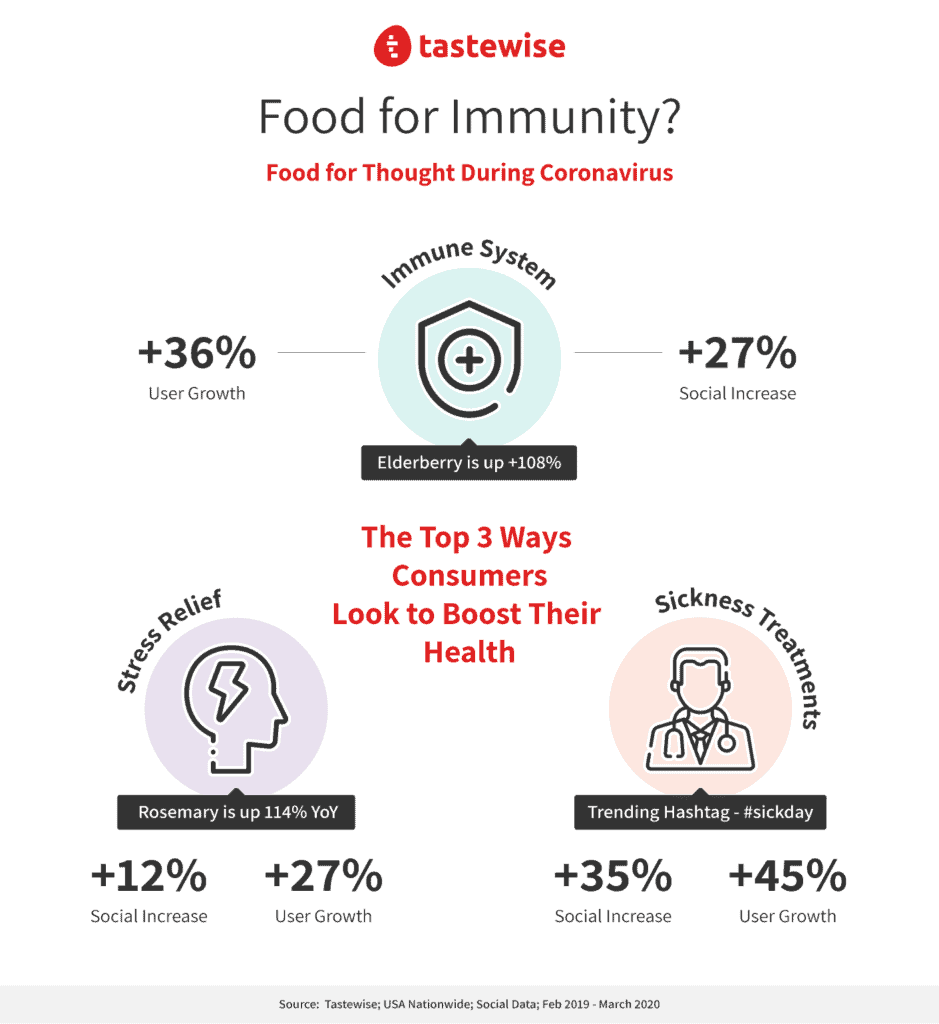 The new findings include the following:
'Immune system' as a desired function of food and beverage is rising +66% MoM. Typically, as we approach the end of winter, we expect to see less of this. However, current concerns have changed the pattern.
Immunity, stress relief, medicinal benefits, and more are all skyrocketing. It is more important now than ever for food industry players to understand what solutions consumers look for in stressful times, and why.
Top three ways consumers are trying to boost their health
Immune system: +27% social increase // 36% user growth
Interest in "immune system" is up 66% MoM. Usually, as we are getting closer to the end of winter we expect to see less of this function – but Covid-19 changed that.
Example: Elderberry  is up +108% in consumer conversations at home about "immune system"
 Stress relief:
Increasingly relevant as consumers find themselves in a time of health, social and economic upheaval. The motivation is experiencing +12% YoY growth and will likely drastically increase moving forward.
Example: Rosemary is up 114% YoY for "stress relief"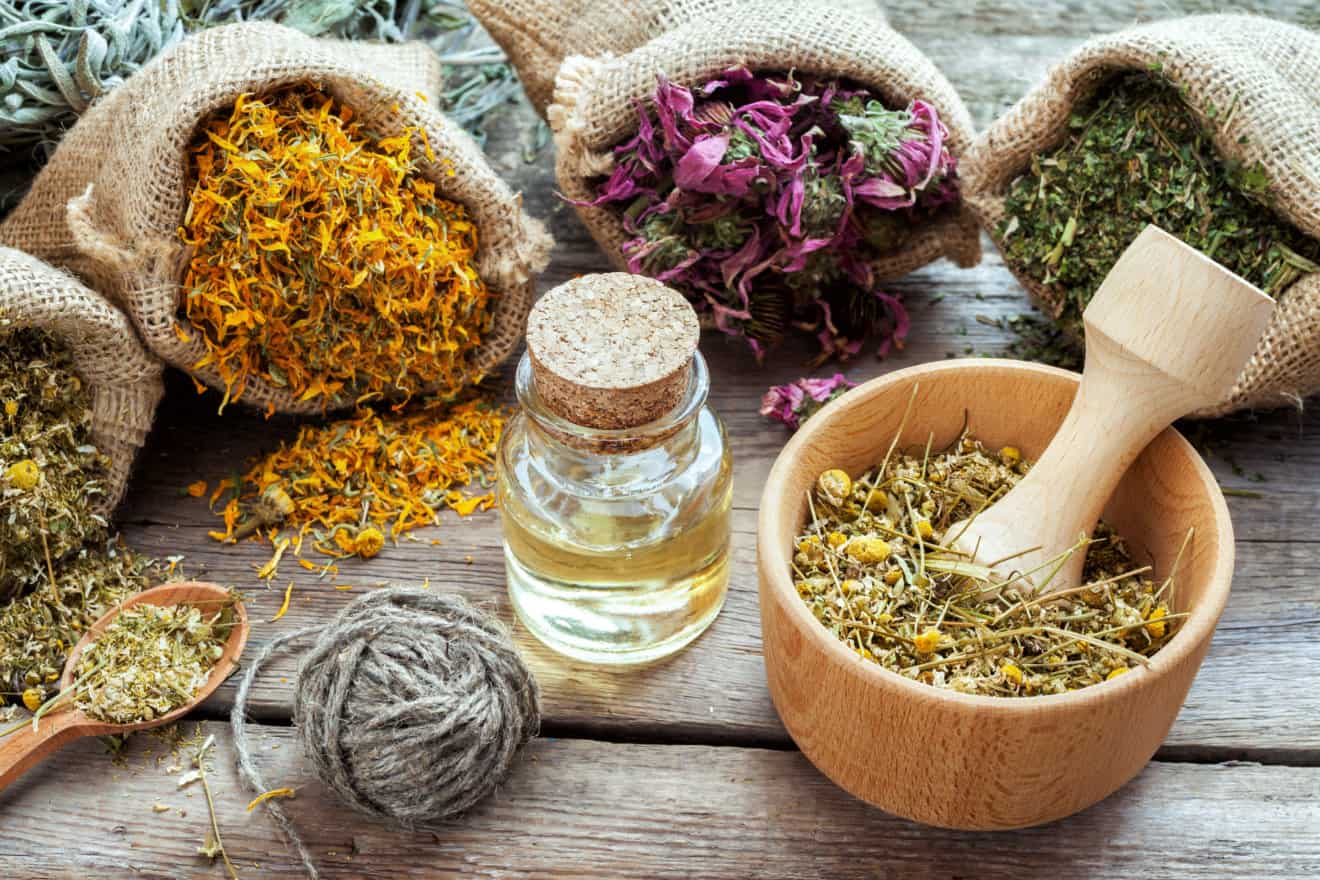 Food-based sickness treatments help people to take a proactive approach to preserving their health; 45% more consumers YoY are focused on this quality. We expect to see that number climb over the coming months.
Example: Trending hashtag #sickday
4 ingredients that support consumer health efforts:
Melon is up +28% for sickness treatment

Fruits, like citrus, are well known for their health-protecting qualities; vitamin-c-rich melon is demonstrating very early signals of a potential trend for health benefits.
For example, Bitter melon is known in non-western medicine for its healing properties.

Kombucha: +73% for medicinal

Kombucha pairs gut health with medicinal ingredients like passionfruit and mushrooms.
The medicinal functions of mushrooms are up +55% in popularity, YoY.

Pickles: +18.5% for immune system

Pickling immunity-boosting ingredients like radishes/carrots enables them to last longer and provides a much needed health boost.
In addition to the ingredients themselves, the pickling process also offers health benefits. The popularity of fermentation as a preparation method is up +11% YoY and growing.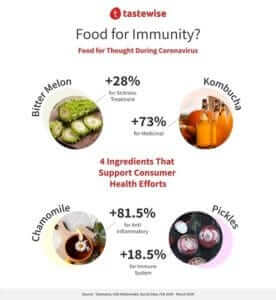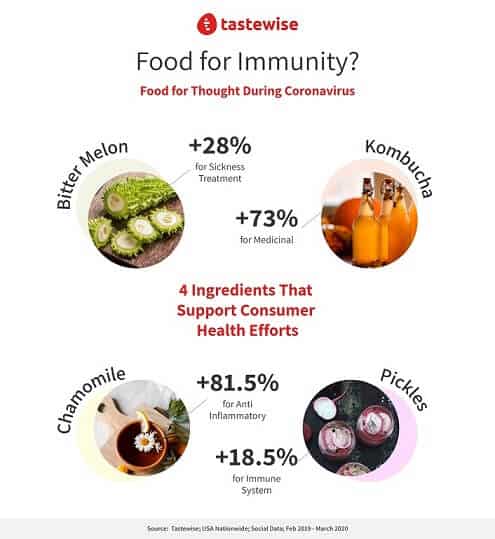 Chamomile: +81.5%  for anti inflammatory

Chamomile is well-known for its relaxing properties in tea; consumers are beginning to use the flower for anti-inflammatory purposes.
In uncertain times, consumers go with what they know to provide comfort and boost health.
*Note: this information does not constitute medical or health advice; all data is reflective of the most recent trends in consumer interests