According to research carried out by Persistance Market Research, the market for vegan egg substitutes is set to witness significant revenue growth through to 2029. The top-selling vegan egg product in the US is the JUST Egg, which is outperforming conventional eggs in some sectors. JUST Egg has sold 15 million units of the vegan liquid egg, as revealed by CEO Josh Tetrick on Twitter yesterday.
In last few years the outbreaks of various flus in the poultry industry has made major impact on the prices of eggs. Also the limited production of eggs has impacted the fluctuation in the prices of eggs, leading to the need for producers and food technology companies to come up with the viable solution for the egg. Other innovative egg replacement products recently developed include FUMI Ingredients' vegan egg whites created by upcycling used beer yeast from breweries.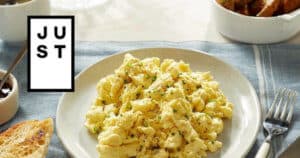 The study shows that the vegan egg substitute industry offers great opportunities for manufacturers due to its increasing growth trends. On the basis of form, the vegan egg substitute market is organised into the segments of Solid and Liquid. In terms of type, the market is segmented into Starches, Algae Flour, Soy-based, and Other.
Increasing health-related issues like obesity and heart-related diseases have increased the consumer's inclination towards low cholesterol food ingredients, thus increasing demand for vegan egg substitutes. Due to increasing demand from the growing vegan population as well as increasing applications, the global vegan egg substitutes market is expected to grow positively over the forecast period, however the research shows that hindering factors in the current market include taste, and lower availability.
Some of the market participants operating in the global vegan egg substitute market identified across the value chain includes Glanbia Plc., Archer Daniels Midland, Cargill Incorporated, Kerry Group, Ingredion Incorporation, Renmatix, Bob's Red Mill, House Foods America Corporation, Nayosa Foods Inc., and others.