The Plant Based Foods Association (PBFA) and Datassential have released a new report, The State of Plant-Based in Food Service, which demontrates the "explosive" growth of plant-based foods on US restaurant menus.
"This research lays the foundation for how plant-based foods can be implemented to optimize overall brand strategy of food service"
Among many key highlights, the report found plant-based alternatives have increased by 62% in the last 10 years, with nearly half, or 48%, of US restaurants now offering plant-based food options. In addition, more food service operators plan to increase their plant-based meat options in 2023, while 60% believe that plant-based alternatives are a long-term trend.
According to PBFA, the new report serves as a baseline for understanding how plant-based foods are performing across food service menus to help inform future growth. Major findings are presented here:
Macro trends
Plant-based foods can now be found in 48.4% of US restaurants.

Since 2012, the presence of plant-based alternatives on menus has increased by 62%. This number has consistently grown – without decline – from about 30% ten years ago.

Compared to other restaurant types, fast-casual establishments are most likely to offer plant-based options, while fine dining is the least likely.

The term "plant-based" saw the highest growth out of all lifestyle and menu descriptors, e.g. "vegan", "vegetarian", etc.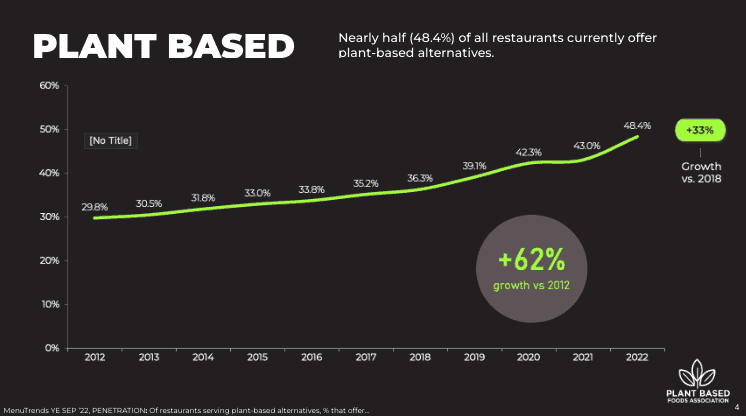 Consumer perceptions
Almost one-third of the US population shows a strong affinity for plant-based food. This figure skews toward women, younger consumers, Asian and Black ethnicities, and fast casual customers.

Many consumers still express strong concerns about the taste and affordability of plant-based meals at restaurants – according to PBFA, these numbers have actually increased by 6% since 2021.

About 1/3 of consumers surveyed worry about paying too much for plant-based ingredients, or not being satisfied with the taste of their meal.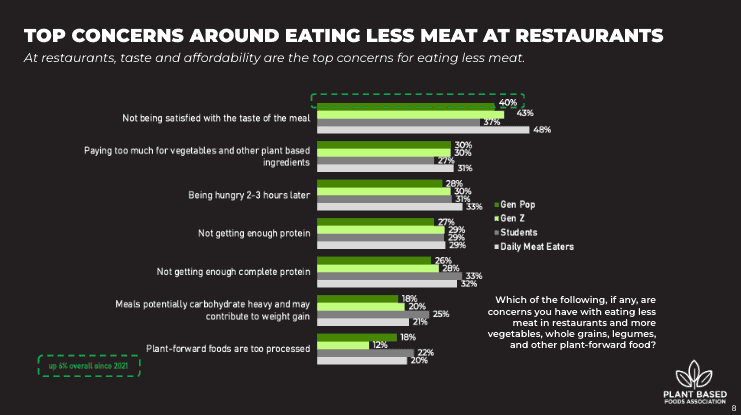 Plant-Based Meat
While veggie burger penetration decreased during COVID, plant-based meat burgers continued to see growth. Plant based meat burgers are expected to double their penetration in the next four years, surpassing veggie burgers in 2025.

New proteins like crumbles, seafood and plant-based eggs saw the highest growth in 2022.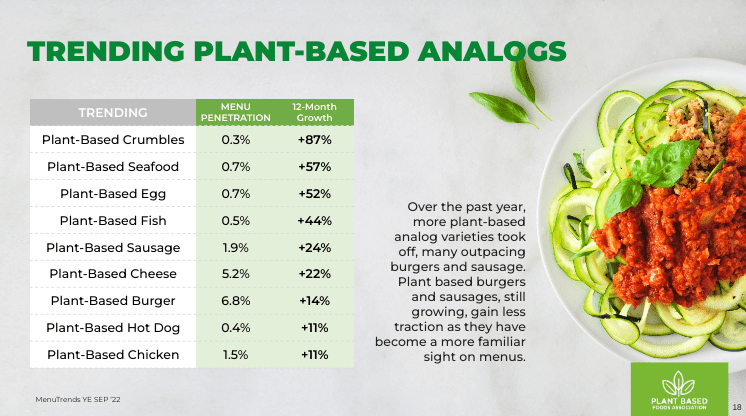 Nearly 30% of food service operators plan to add more plant-based meats to their menus.

In fact, four times as many plan to increase their plant-based meat offerings rather than remove them in 2023.

60% of operators believe plant-based alternatives represent a long term trend.
Dairy-Free Milk and Cheese
According to the report, the popularity of non-dairy alternatives has skyrocketed across all segments, and is especially strong in health-conscious fast-casual restaurants.
On beverage menus, almond milk is the most common milk alternative, and has been growing for the past 4 years.

Coconut milk appears the most often in savory menu dishes – especially on Thai and Indian menus.

Oat milk has experienced "extreme growth" on menus after being nearly non-existent just four years ago.
Compared to liquid milk, non-dairy cheese on menus is not nearly as accessible. Traditional dairy cheese is found on a large percentage of restaurant menus, PBFA states, which means there is a lot of growth potential for plant-based cheeses in food service.
Innovation opportunities
The report also notes that Limited Time Offers, such as Beyond Meat's collaboration with KFC, can produce significant impact that leads to new innovation, consumer trial, and permanent menu expansion.
The full report can be downloaded here.
"Plant-based foods are the arm of innovation for food service operators and a key opportunity to engage a new segment of consumers looking for a variety of plant-based options," shared Hannah Lopez, the PBFA Director of Marketplace Development, Foodservice. "This research lays the foundation for how plant-based foods can be implemented to optimize overall brand strategy of food service establishments."