In a recent market research report, British market analyst Technavio forecasts annual growth of around 7% for the global market for rennet between 2018 and 2022. Due to the worldwide trend towards a more conscious plant-based diet and lifestyle, Technavio also sees high growth potential for animal alternatives such as microbial rennet, plant-based rennet and FPC.
The report not only paints a detailed picture of the global rennet market, but also analyses the most important trends and drivers that could influence market development through to 2022. The most relevant indicators of growth and decline in individual market segments are examined in more detail. The main focus is on facts and figures relating to the most important rennet products (animal rennet and microbial rennet) and to the key global regions America, APAC and EMEA.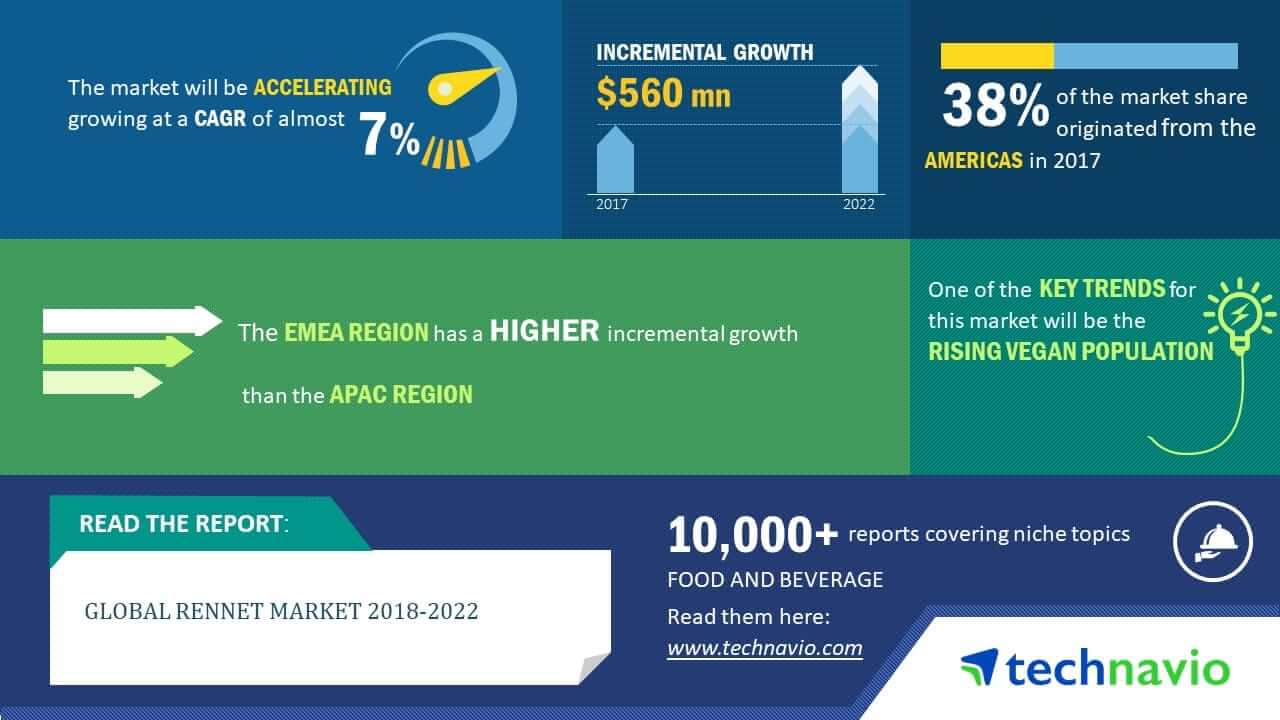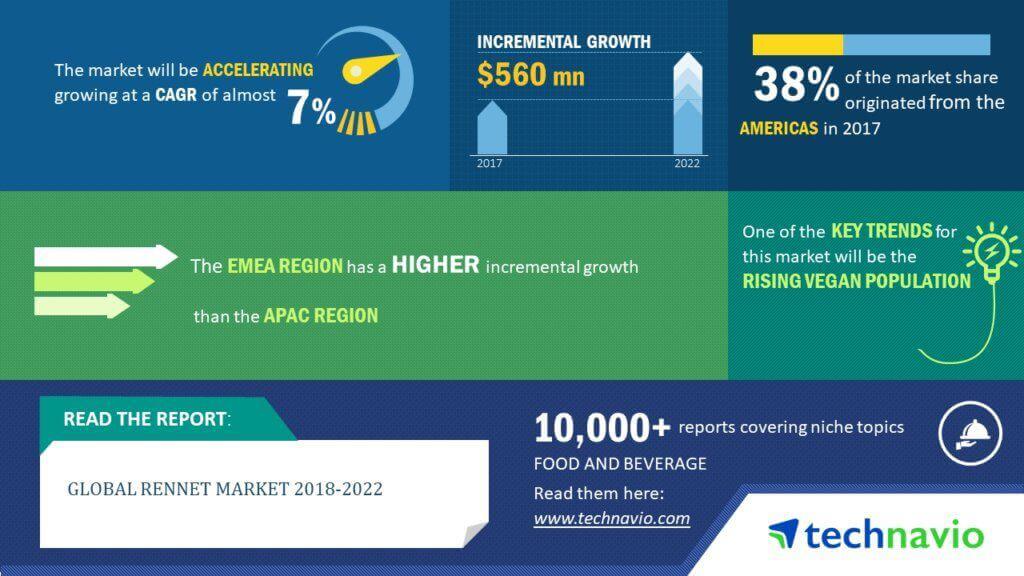 Aktuelle Marktdaten – © Technavio
Animal rennet had the largest market share of over 38% in 2017, but is expected to decline by almost 3% by 2022. Nevertheless, this segment will continue to dominate the market. The Americas also had the highest market share for 2017 at almost 38%, followed by EMEA and APAC. According to the forecast, all regions will continue to grow, with the EMEA region experiencing the most significant increase.
Drivers and indicators
Technavio believes one of the main reasons for this positive market development is the increasing global demand for whey protein and similar ingredients for various products and supplements. In particular, increasing health and fitness awareness is identified as a driving force. For example, gyms, fitness clubs and other fitness centres are attracting ever-increasing numbers of visitors, which in turn leads to a higher demand for protein substitutes and dietary supplements. Another reason for the increased production of such base ingredients is their use in other foods and beverages on the market, such as baby and sports foods.
Furthermore, the number of consumers worldwide who prefer a vegan and vegetarian diet is increasing. This will further raise the demand for microbial rennet, plant-based rennet and FPC during the forecast period. In particular, the rapidly-growing vegan population places great value on completely animal-free products and accordingly consumes only alternatives which meet this requirement. This will also significantly expand the plant-based rennet market. For some time now, the food industry has experienced changing consumer behaviour and significant sales increases in the area of purely plant-based and vegan food products.
A senior analyst responsible for food research at Technavio says, "Veganism is becoming a global trend. Veganism is the practice of abstaining from the use of animal products, predominantly with regards to nutrition. People choose a vegan diet mainly because of its health benefits. Due to the increasing trend towards veganism, many food retailers have started to stock vegan food.".