Dutch supermarket giant Jumbo announces the launch of its own house brand Lekker Veggie, now available in 670 stores in the Netherlands and Belgium, stating: "With Lekker Veggie we are entering a new phase with our range of vegetarian and vegan products."
The news comes at a point where product releases, new brands, and investments in the Netherlands are increasing exponentially. In recent months: Fazenda Futuro announced its entrance into Netherlands and beyond; Upfield announced a €50M investment in a plant-based industrial hub; and of course Beyond Meat entered the Netherlands too this May, across 700 locations.


The supermarket chain Jumbo, which owns around 670 markets in the Netherlands and Belgium, decided to expand its vegetarian and vegan range with the launch of its house brand Veggie Chef back in 2017. This new own-brand vegan product range contains 42 vegetarian and vegan plant-based meat alternatives.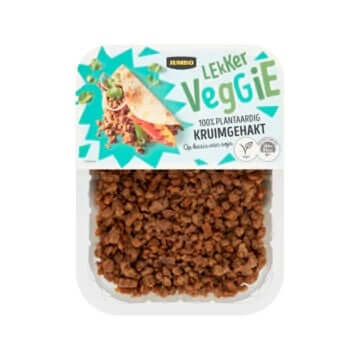 Jumbo plans to expand the Lekker Veggie range with new products in the following weeks, as it recognizes a change of preferences among its customers. Olaf de Boer, Jumbo's director of commerce, said: "With Lekker Veggie we are entering a new phase with our range of vegetarian and vegan products," adding that "Vegetable alternatives to fish and meat have attracted a lot of attention in recent years, and by no means only among vegetarians and vegans. We have noticed that more and more Jumbo customers are putting a day without meat on the weekly menu, sometimes even several days a week. With these meat substitutes we are responding to this."