The Moringa Ingredients Market is set to grow from its current market value of more than USD 5.5 billion to over USD 10 billion by 2024, according to a new research report by Global Market Insights, Inc.
Growing use of moringa in medical applications owing to its effectiveness in treating numerous diseases will augment moringa ingredients market trends. Some of these diseases fall along the likes of anemia, asthma, constipation, diarrhea, stomach pain, diabetes, intestinal ulcers, headache, heart-related problems, high blood pressure, thyroid disorders, fluid retention, and viral, fungal and bacterial infections, the rising prevalence of which could stimulate the global moringa ingredients market size.
Moringa powder is considered as a highly nutritious food as it consists of a rich number of vitamins, minerals, and phytochemicals such as magnesium, calcium, potassium, iron, folic acid, copper, zinc, vitamin C, vitamin D, and vitamin E. It also has antioxidant, anti-inflammatory, and tissue-proactive properties.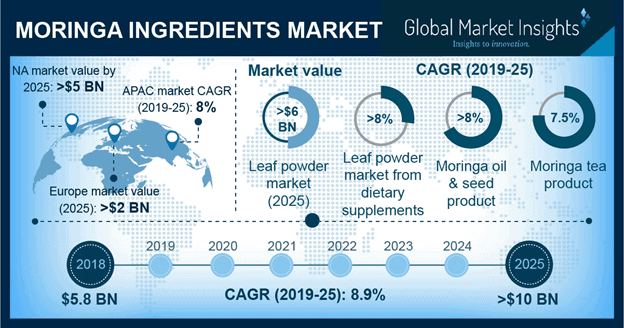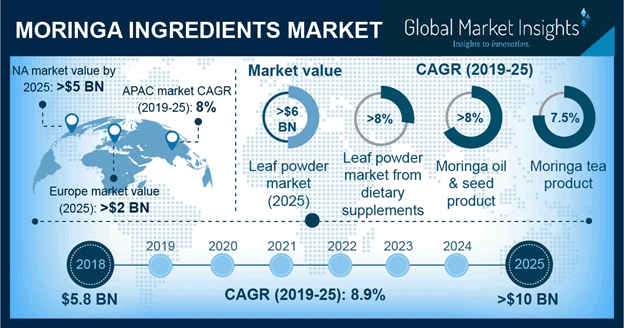 The global moringa powder market is likely to witness considerable growth on account of its rising demand from the dietary supplement segment, with consumption expected to surpass 700 kilotons by 2025. Moreover, Global Market Insights, Inc. predicts that the moringa Ingredients market could become a USD 10 billion industry by 2025.
Increasing awareness regarding weight management among working professionals mainly in Germany, the UK, China, and India could also offer considerable growth impetus to the market over the coming years.
In terms of application, the cosmetics sector in moringa oil & seed market is projected to accrue proceeds of over 8% between 2019 to 2025. Moringa is a widely used ingredient in the cosmetic industry because of its moisturization properties.
Based on regional analysis, the U.S. is expected to become a prominent region in the global moringa tea market. Reports suggest that the U.S. moringa tea market is expected to reach USD 350 million by 2025. Increasing demand for moringa tea as a dietary supplement owing to its antimicrobial, antifungal properties may foster regional industry growth. Surging demand of caffeine free beverages coupled with its high nutritional value could also play a vital role in augmenting U.S. moringa tea market size.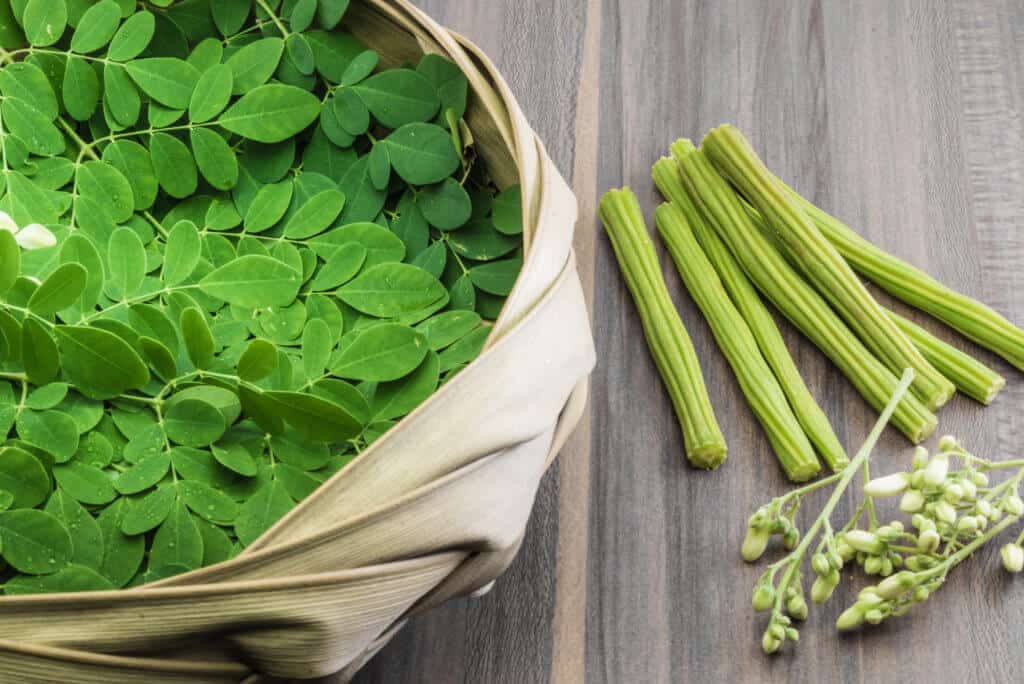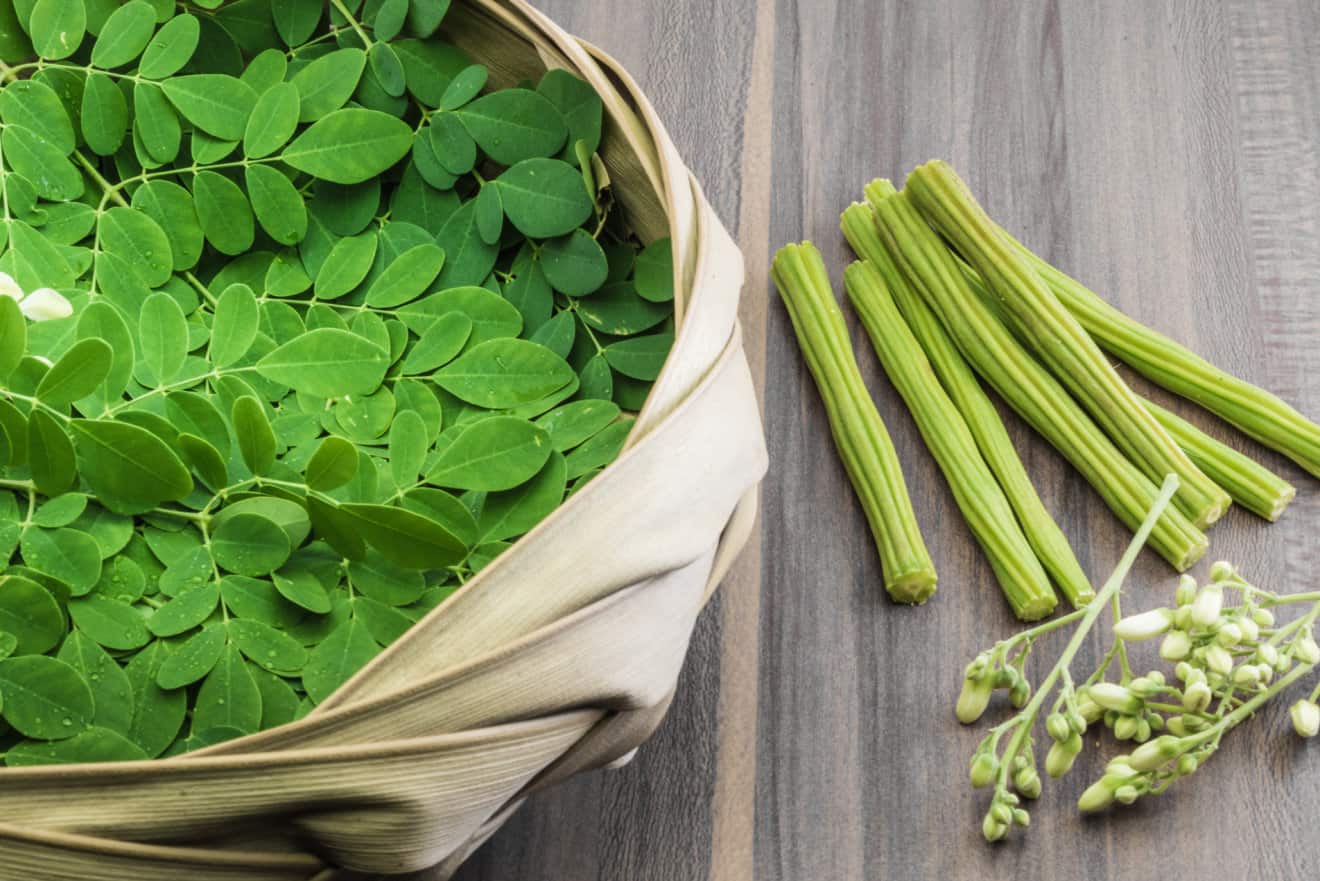 The German moringa oil & seed market is expected to garner considerable proceeds, with water treatment application anticipated to growth over 8% during the forecast timespan. Increasing product penetration in water treatment process on account of its cost-effectiveness as well as for its use an as alternative industrial coagulants could positively impact Germany moringa oil & seed market outlook.
China is also poised to become a prominent region in the moringa leaf powder market. According to reports, the food application segment in China moringa leaf powder market accounted for more than USD 30 million in 2018. Increasing demand for natural food ingredients due to increasing health awareness could propel regional market outlook. Growing use of moringa powder in various sweet dishes and savory to improve nutritional content could also aided the growth of China moringa leaf powder industry size.
Prominent market players operating in global moringa ingredient market include Ancient Greenfields, Earth Expo Company, Herbs & Crops Overseas, Genius Nature Herbs, Kuli, and Grenera Nutrients. These companies are actively focusing on various strategic initiative to strengthen their product offerings and increase their presence in international markets. Initiatives such as collaborations and acquisitions could also help enhance business operations and production capacity of industry partakers, which could indirectly augment global moringa ingredients market size by 2025.