This Monday, V2Food announced the launch of its plant-based meat products into over 600 Woolworths supermarkets in Australia. At the same time, the Australian food startup plans to raise new capital to pursue its growth strategy.
Last month, V2Food launched its mince and burger products into all 61 outlets of Drakes supermarkets in Australia and is now increasing the number of stores in which its meat substitutes are listed by a factor of nearly ten. In this context, V2Food founder and CEO Nick Hazell told The Australian Financial Review that the launch in Drakes was followed by large step-ups in sales, which may have been a key argument for the current deal with Woolworths.
Out of 1000 Woolworths supermarkets in Australia, over 600 are adding V2 mince and V2 burgers to its range. Initially, V2Food's products will not be available in the meat counters of branches in Western Australia, but across all other Woolworths in Australia, as reported by news.com.au.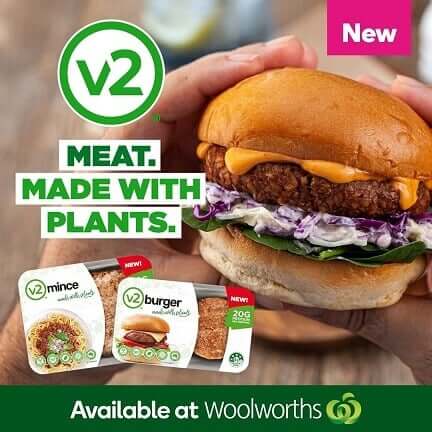 Last week, we reported on the opportunities offered by domestic plant-based production for Australia's economic recovery, with V2Food playing a major role in this opportunity as the fastest-growing domestic company at the moment. In order to grow even faster, the startup, which was founded less than a year ago, is now planning to raise new capital.
In November 2019, the food startup had already raised $35 million, with a new round of investment expected to significantly exceed that amount, as Nick Hazell told The Australian Financial Review: "The appetite for investment in this category is huge."
Overall, the success of the domestic plant-based industry depends on the acceptance of Australian consumers. As of right now, Australians are the main driving force behind V2Food's success, as Nick Hazell highlighted in an interview with news.com.au: "People are looking to reduce their meat intake. Vegans and Vegetarians have been looking for this, but half of Australians are looking to reduce their meat consumption. We're about getting plant-based to everybody and this is a great step."