A new Burger King campaign promoting its plant-based menu launched in Spain and the United States in May 2023. Created by the DAVID Agency in Madrid, "Confusing Times" utilizes humor and irony in a series of TV, radio, and print ads.

The campaign addresses the concept of confusion to promote the BK menu, with mentions of the chain's Plant-Based Nuggets and Long Chicken, and the Plant-Based Whopper Jr.
The ad shows an array of circumstances when people appear confused about the facts: is an eco-friendly Black Friday purchase good for the planet or not good at all? Should you delete a message or send the wrong message by deleting it? Is Max a dog's name or a boy's name?
A kid's POV
Recently, Burger King launched "A Little More Confusing Times," the third part of the campaign that promotes plant-based items such as the Long Chicken and the Whopper Jr. The new iteration is narrated and performed entirely by children and directed by Oscar nominee director Claudia Llosa, says The David Agency.
In the ad, a little girl is confused by the realistic taste of Burger King's plant-based options: "Are these nuggets really plant-based? Do I like veggies now?" she wonders.

"We're having so much fun exploring and stretching this boundless creative platform for Burger King's plant-based category and products. Looking at confusion from a child's perspective, and working with children for this chapter, was both very exciting and very challenging," said Saulo Rocha, CCO at DAVID Madrid.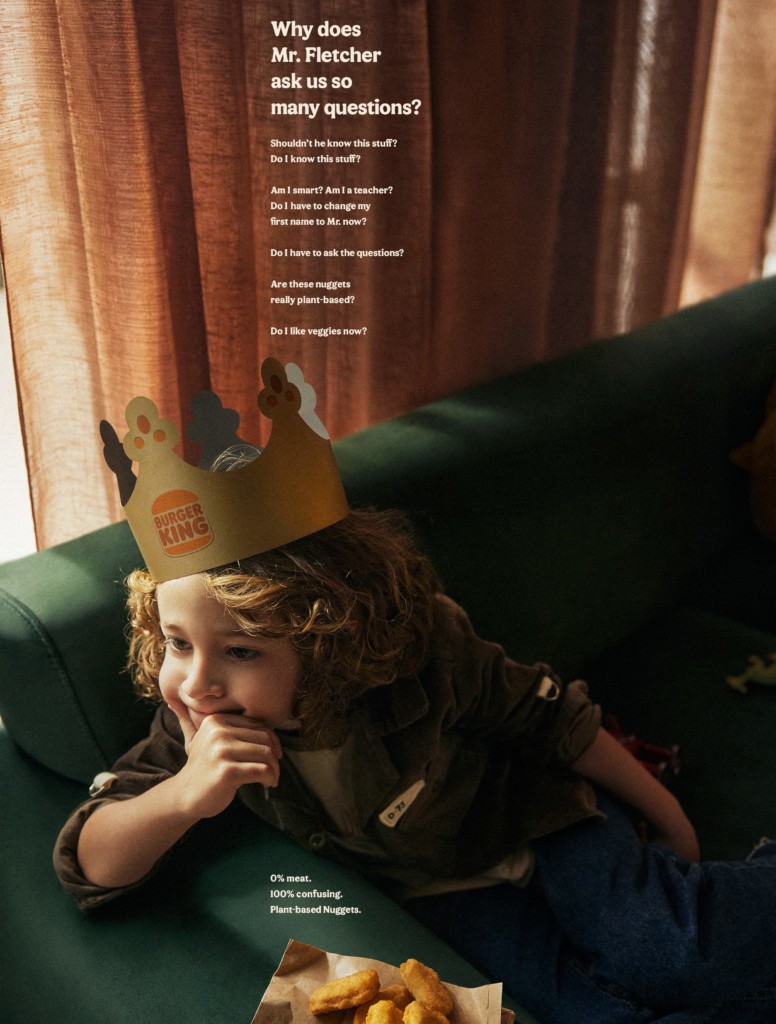 Are these really plant-based nuggets?
Burger King has responded to the growing trend of vegetarianism, veganism, and flexitarianism by launching plant-based versions of popular menu items in many countries: a 100% plant-based popup in Costa Rica, a Bristol Burger King outlet in the UK, and a restaurant in Lisbon, Portugal, that became 100% vegan (including materials). The chain's latest popups were launched in three Nordic cities and most recently Barcelona, for the month of May this year.
"This year's campaign is coming back to the origin of Burger King's leap in the plant-based segment, which started with the plant-based Whopper and has been steadily expanding ever since. With Colombia adding the plant-based Long Chicken and Nuggets, and countries in Europe offering most of their sandwiches and nuggets with plant-based alternatives, we're covering everything right down to the plant-based Whopper Jr," says Sabrina Ferretti, Head of Burger King Marketing.
"This chapter of Confusing Times does a great job of renewing the platform while serving more guests' needs," she adds.
The global campaign for Burger King's new plant-based offering kicks off in LATAM and is due to be broadcast in international markets. "A Little More Confusing" will run across print, film, and radio. The TV spot can be viewed here.
With thanks to DAVID Madrid.