According to MarketsandMarkets analysis, the plant extracts market is estimated to be valued at USD 23.7 billion in 2019 and is projected to reach USD 59.4 billion by 2025, at a CAGR of 16.5% from 2019 to 2025.
The rising awareness regarding the side-effects of synthetic flavors and health benefits offered by phytomedicines and herbal extracts have significantly fueled the market for plant extracts. Further, due to the growth in R&D activities in plant extracts market and increase in popularity of convenience foods, there has been a growing need for plant extracts in food & beverage industry.
Attractive Opportunities in the Plant Extracts Market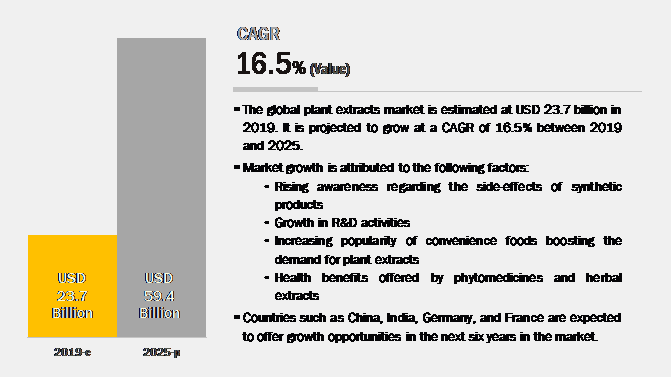 e – Estimated; p – Projected
By application, the pharmaceuticals & dietary supplements segment is projected to account for the largest share in the plant extracts market
The pharmaceuticals & dietary supplements segment is expected to be the largest application segment of the plant extracts market. This can be attributed to increasing consumer awareness about the benefits of herbal medicines over allopathic medicines. Further, as a result of the growing incidents of illnesses due to stressful and busy lifestyles, consumers are demanding functional food & supplements for regular consumption. Some of these supplements include phytomedicines and herbal extracts, which are composed of naturally occurring components; they are scientifically demonstrated to promote positive effects on the target functions beyond basic nutrition. Further, many governments are highly promoting the use of herbal extracts for medication instead of synthetic ones, which is also driving the segment's growth.
By type, phytomedicines & herbal extracts accounted for the largest share in the plant extracts market during the forecast period
The demand for phytomedicines & herbal extracts is increasing significantly in various applications, including skincare, health care, functional food, nutraceuticals, and cosmetics, due to the growing awareness of its health benefits among consumers. Also, improper use of antibiotics causes certain bacteria strains to develop resistance, which further leads to fatal consequences. These instances have encouraged the demand for plant-based medicines and supplements. Herbal medicines are witnessing an increasing preference as they mainly protect from several infections and are considered better alternatives for existing and emerging antimicrobial drug-resistant (ADR) pathogens.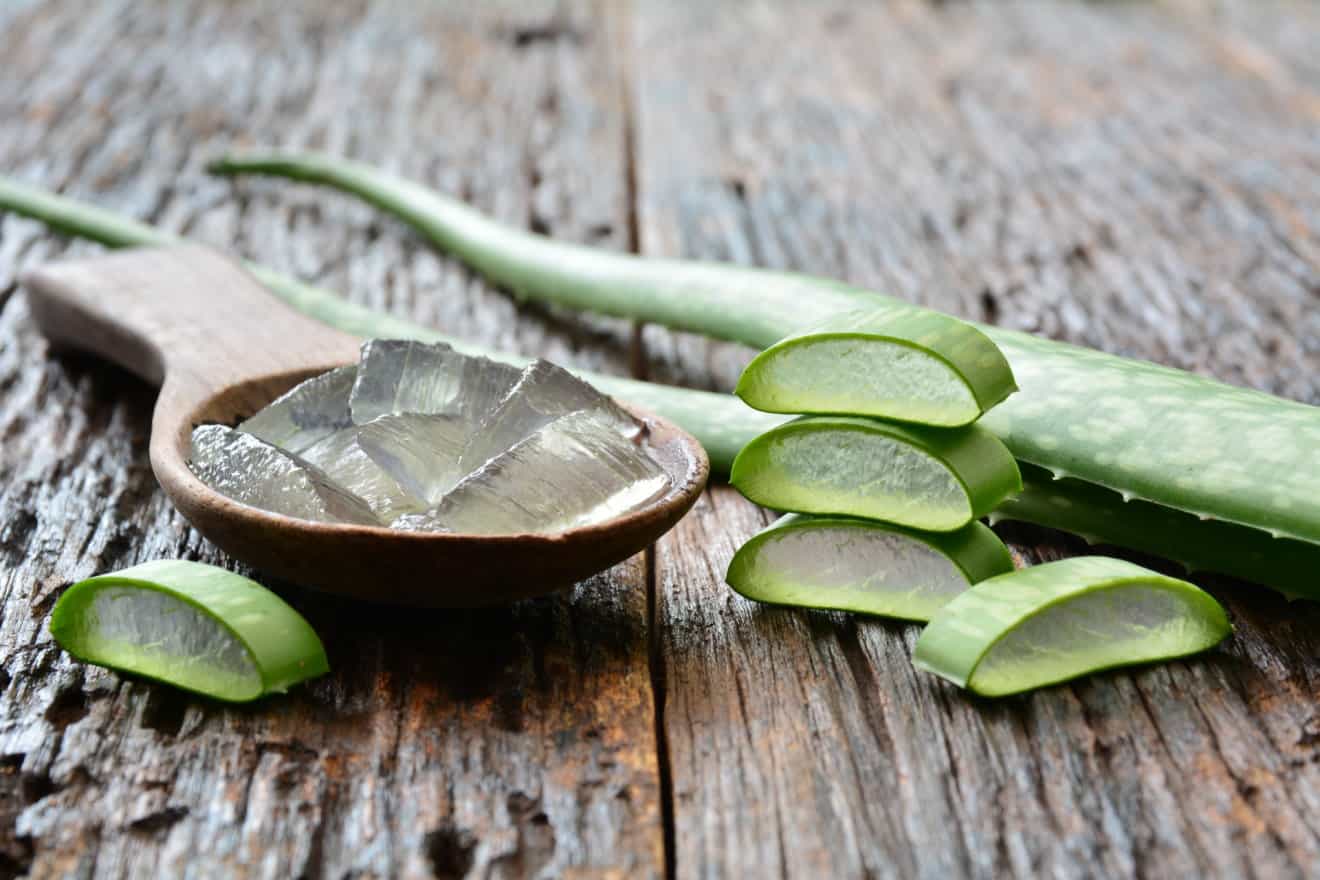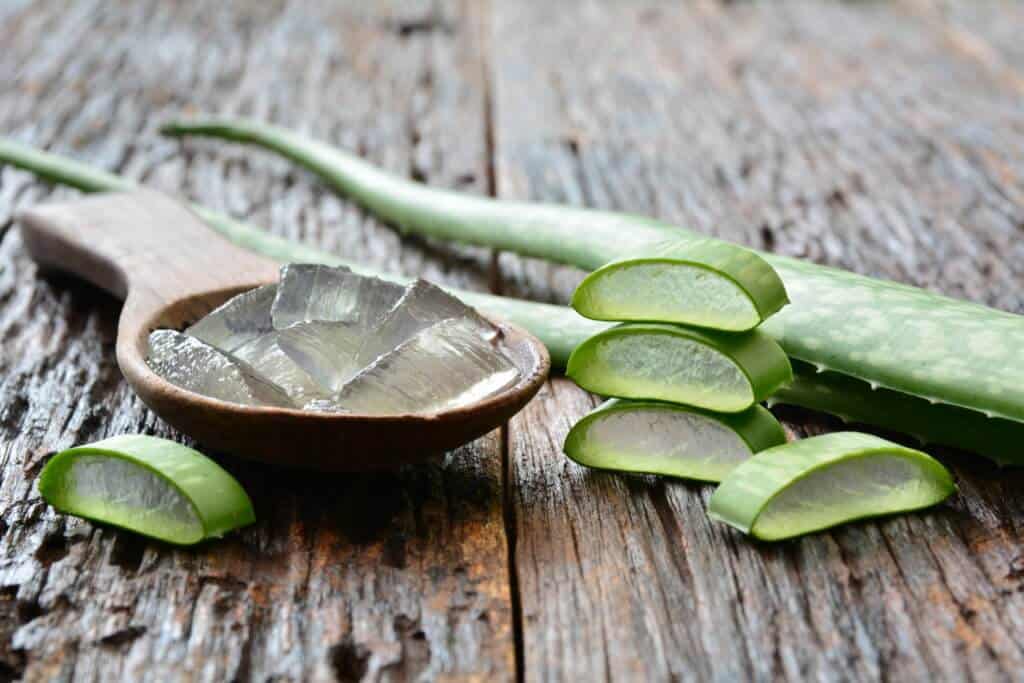 As a source, leaves are projected to record one of the fastest growth in the plant extract market during the forecast period
Leaves and herbs are used since ancient times to manufacture herbal medicines. However, they are now gaining tremendous popularity due to the changing consumer trend of using natural products rather than synthetic ones. The leaves of many plants, including rosemary, aloe vera, basil, thyme, clove leaves are highly rich in antioxidants and also offer anti-microbial properties. This has led to their extensive usage in the cosmetics, pharmaceutical, and personal care industries.
Due to high Vitamin A, Vitamin K, Vitamin C, magnesium, iron, potassium, and calcium content, basil extracts are used extensively in food & beverage applications. Similarly, mint extracts have broad applications in personal care and pharmaceutical products, as they generally help in treating allergies, fighting bowel infections, and treating the common cold. Apart from these, many other leaves and herb extracts are gaining popularity across many industrial verticals according to the properties they offer.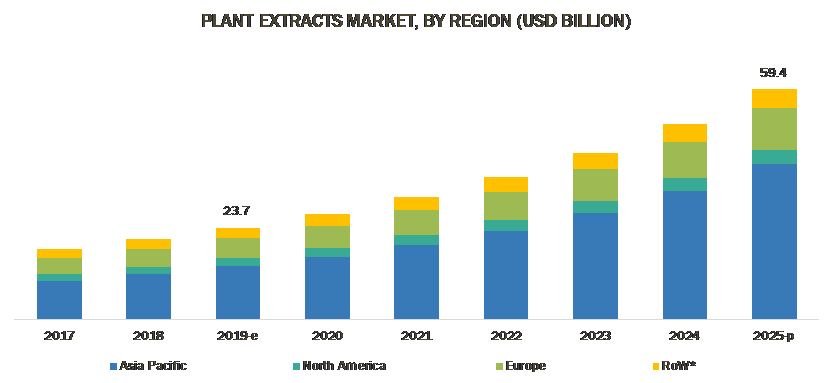 e – Estimated; p – Projected
*RoW includes South America and the Middle East & Africa.
Asia Pacific is projected to account for the largest market share during the forecast period
In 2018, Asia Pacific constituted a market share of 56.5% within the plant extracts market. The market for plant extracts in the region is thriving due to strong local and international demand.  The Asian countries such as China and India have a sizeable tropical area, having diverse medicinal and herbal plants. This allows small and medium-sized manufacturers of plant extracts, to have efficient processing of plant extracts as they are aware of the benefits offered by them, owing to the rich history of producing medicinal plants with advanced technology. Manufacturers in Indonesia, India, and Thailand are continuously investing in the market and focusing on innovation to expand their product range. This is due to the rise in the trade of plant extracts between Asia and international manufacturers of plant extract-based products.
Key Market Players
The key players profiled in the plant extracts market include Givaudan (Switzerland), Sensient Technologies (US), Symrise AG (Germany), Kangcare Bioindustry Co., Ltd. (China), PT. Indesso Aroma (Indonesia), PT. Haldin Pacific Semesta (Indonesia), Vidya Herbs Private Limited (India), Tokiwa Phytochemical Co., Ltd., Native Extracts Pty. Ltd. (Australia), Shaanxi Jiahe Phytochem Co., Ltd. (Jiaherb, Inc.) (China), Synthite Industries Private Ltd. (India), Döhler (Germany), International Flavors & Fragrances, Inc. (US), Martin Bauer GmbH & Co. KG (Germany), and Arjuna Natural Extracts Ltd. (India). These companies are focusing on strategies such as new product launches, expansions & investments, acquisitions, and agreements & partnerships to expand their operations across the globe.