Veronica Fil is a former behavioral economist, who now specializes in marketing for the alternative protein industry. She is the co-founder of Grounded Foods Co. and author of Plant Based USA: a Guide to Eating Animal-Free in America.
Reinventing the menu: more chefs embrace plant-based alternatives to meet diner demand
By Veronica Fil
As I patrolled the floors of the National Restaurant Association Show in Chicago last week, I was struck by a realization: 'plant-based' no longer appeared as a specialty category of the food service industry. Judging by the sheer amount of meat, seafood, and dairy alternatives spread throughout the Show floor–and the excitement surrounding them–I knew that plant-based food had become firmly embedded in the mainstream culinary mindset.
"While ethical veganism might not be driving the change, rational business sense is."
It hasn't always been this way. It wasn't that long ago when restaurants only offered "vegetarian options" by special request. Choosing this path would earn you a bland vegetable risotto at best, and a judgemental glance from your server on the side. Fortunately, in 2023, you'll struggle to find a US restaurant, hotel, or fast food chain that doesn't only offer a variety of plant-based options, but proudly promotes them as a dining drawcard.

While ethical veganism might not be driving the change, rational business sense is. Requests for vegan and plant-based dishes are now so commonplace that it's almost impossible for restaurant owners and chefs to neglect their plant-based menu offerings–unless they're happy to take deep cuts in revenue.
Furthermore, the savviest business owners see these alternatives as an opportunity; to attract more diners, to differentiate themselves in a competitive market, and to experiment with a new set of tools in the culinary arsenal. Whether it be ground pork made from jackfruit or shrimp made from mung bean protein–this latest wave of plant-based innovation allows chefs to create new, novel culinary experiences that attract adventurous diners regardless of their dietary predilection.
For my new book Plant-Based USA: A Travel Guide to Eating Animal-Free in America, I trawled the country in search of restaurants, chefs, and brands that embrace plant-based eating. In my research I discovered that a large number of these businesses were owned by hospitality veterans who were not actually vegan, but who understood the urgent need to reduce our reliance on animal proteins.
It's these individuals who now play a critical role in making plant-based food more mainstream; normalizing animal-free alternatives and demonstrating how easily they can be incorporated into everyday cooking.
"The most popular menu items were always plant-driven"
Chef Charlie Ayers, restaurateur and the former executive chef for Google Inc., is one such individual. "From my restaurant to the cafeterias at Google, the most popular menu items were always plant-driven," he told me. The day I visited the Show, Ayers was cooking up samples of Shrimpish–a konjac-based seafood alternative that's already made its way into the dining halls of Harvard University–and serving it to passers-by who I don't think even realized it was plant-based.
"As an operator myself, I know that plant-based food is not a fad. It's something that's going to continue to grow. [As chefs] we need to think about how we're going to incorporate that into every mealtime," he said.
Guy Vaknin, the Head Chef and Founder of City Roots Hospitality Group has been making plant-based cuisine the default dining option for years through his Beyond Sushi chain. While walking the restaurant show, I stumbled into Guy at the Chunk Foods booth, where a crowd had gathered around fat wedges of juicy, glistening steak…made entirely animal-free.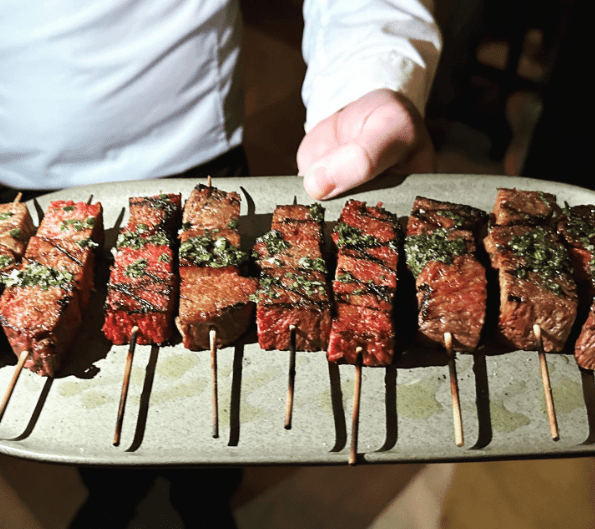 Unlike the faux chicken nuggets, beef patties, and Beyond sausages we're all used to at this point, Chunk was debuting a whole cut 'steak'–and it was met with a feverish level of excitement. Guy smiled as he watched the public's reactions.
"When the food transcends a label and incorporates delicious flavor and texture, that's how you draw people in. Products like Chunk are truly innovating what plant-based cuisine can be and bringing it to a whole new audience. I believe the hype will continue to grow," Guy commented.
We've seen a swell of negativity around flailing retail sales in the plant-based category of late, but if we look at restaurant trends, it's clear that consumer demand remains strong. And next time you read a Bloomberg rant trying to convince you otherwise, just tell them to speak to the chef.
---
Veronica Fil is an LA-based writer and marketing strategist who specializes in the business of food. She is the co-founder of alternative protein company Grounded Foods Co. and author of Plant-Based USA: A Travel Guide to Eating Animal-Free in America.