Every week, Plantbased Business Expert Elysabeth Alfano breaks down the headlines with her review and analysis. Here is the rundown from her video for the week ending September 18, 2020.
Veganism Is Having A Blast
According to vegconomist, Chef's Pencil, a recipe and food blog website, has this to say: "Veganism is having a blast! It's popularity and adoption continuing to surge at record highs; twice as high as it was 5 years ago." Pencil's Chef analyzes google trends and search terms and has come to the conclusion just from 2020 alone that the surge is twice as high as it was five years ago.
What's my business bottom line here? It's that if people are saying, "Veganism and plant based are going to be mainstream," I say that they are in fact mainstream right now. Businesses can either get on board and shift their products to be plant based or they can be left behind. Veganism is showing no signs of stopping.
Nothing Says Leather Like Pineapple
My second headline revolves around the growth in vegan leather. I interviewed Stephanie Downs, the co-founder of Material Innovation Initiative, on the Plantbased Business Hour and she says that it is actually fruit leather, things like apple, pineapple, even grape residue, that is bringing brand awareness to the fast-approaching $89 billion vegan leather industry.
My business bottom line here is that companies like Tesla, Mercedes Benz and Adidas, are right to be transferring out of animal-based materials and into plant-based materials because Gen-Z and Millennials are very much on board. They don't want animals in the food supply chain and they don't want animals in the materials supply chain. It is in fact a misconception that animal-based materials are a by-product of the food supply system. Indeed, they are not. They are their own destructive industry.
Roll With It For The Best Stock Price
Oh, Beyond Meat! You are always in the news! Beyond Meat now has plant-based meatballs in grocery stores in the U.S. They are about $6.99 depending on where you are in the country, with twelve meatballs per package at places like Krogers and Whole Foods and Albertsons.
Here's my tip for you*: I wait for Beyond Meat to have a product launch with something like the meatballs. The stock goes up, as it did here from about 146 to 158, and then I wait for the lull to happen, as analysts who still aren't with the plant-based program inevitably downgrade the stock. When the stock comes down, then I buy it. As Beyond Meat's Ethan Brown has said on the Plantbased Business Hour, he is dedicated to innovation. I know another great product is coming out and then I'll have another surge in the stock market.
*This is my own strategy and not financial advice.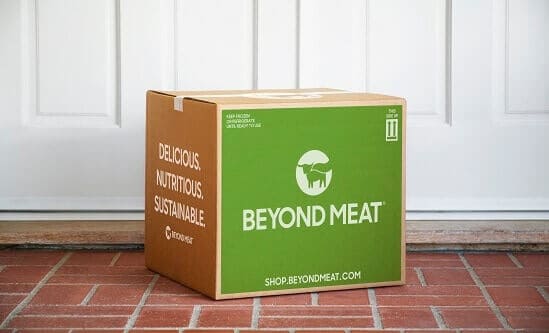 That's this week's Plantbased Business Minute! If you'd like a deeper dive into plant-based business, you can subscribe to the Plantbased Business Hour. If you are a plant-based small business or a meat and dairy company looking to navigate the changing landscape of plant-based business, you can reach out to me at [email protected].
Until next week's Plantbased Business Minute, together we are taking back our health, the health of the planet, and the health of our bottom line.
---
Elysabeth Alfano is a Plantbased Business Expert and Media/Communications Consultant. She is also the host of the Plantbased Business Hour.