Albertsons Companies announces it has revamped its lineup of frozen entrees with 55 new items, from organic plant-based meals for vegan and flexitarian consumers to premium high-protein power bowls and more.
"We're in a new age for frozen meals," said Chad Coester, SVP of Albertsons Companies Own Brands. "Shoppers deserve premium meals that deliver on dietary needs and indulgence. We've reimagined our frozen meal lineup with new formats to deliver on quality first."
"Flat out, this is delicious food," he added.
In the USA, plant-based meals are a $4.5 billion industry with 31% growth since 2017. In addition, 39% of the general population says they want to eat more vegetables and 29% identify as flexitarian, meaning they pursue a plant-based diet while occasionally eating meat.
In partnership with the Plant Based Foods Association (PBFA), Albertsons introduced new plant-based frozen bowls and plant-based meatless proteins, all of which are certified USDA-certified organic and contain the Plant Based Foods Association "Certified Plant Based" seal.
"It's exciting to work with Albertsons Cos. in bringing the first products to market that are both USDA-certified organic and Certified Plant Based," said PBFA Senior Director of Retail Partnerships Julie Emmett.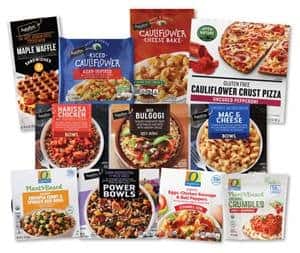 The O Organics® bowls deliver more than 11 grams of protein, and the plant-based burgers, patties, and crumbles are made with soy, pea, and/or chickpeas (garbanzo beans).
O Organics edamame teriyaki vegetable rice bowl
O Organics black bean & quinoa bowl
O Organics three bean chili & kale bowl
O Organics chickpea curry & spinach rice bowl
O Organics plant-based power burger
O Organics plant-based breakfast patties
O Organics plant-based crumbles