As reported by Vegan Food & Living, Aldi UK has announced a major expansion of its Plant Menu range for Veganuary.
The supermarket chain is now offering three new alt seafood products — No Fish Burgers, No Fish Cakes, and No Fish Scampi. Chicken lovers can enjoy the Battered No Chicken Nuggets and No Chicken Wings, and there are also two brand new duck alternatives on offer — Shredded No Duck and Hoisin No Duck Kit.
"Veganuary is getting bigger and bigger each year"
In what is claimed to be a "supermarket first", Aldi has also launched takeaway-style plant-based battered sausages. Additionally, customers can choose from Pulled No Pork, Vegan Steak, Organic Tofu, and Roasting Joints in the varieties No Beef and No Chicken.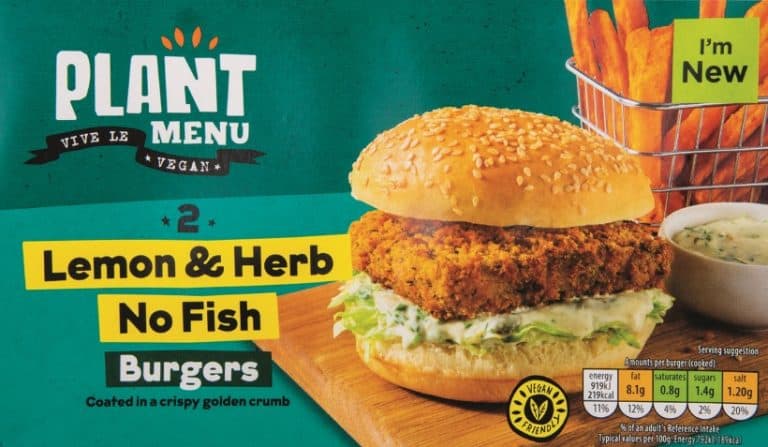 "Plenty of choice at great value"
Last year, Aldi reported that it had experienced a huge 500% surge in sales during Veganuary, after launching a range of new plant-based products including bacon, cheese, and sponge puddings. The chain also recently offered an extensive selection of vegan Christmas products, including roasts, pigs in blankets, and a cheese selection pack.
"Veganuary is getting bigger and bigger each year as the UK's appetite and interest in plant-based food grows," said Aldi MD of buying Julie Ashfield in 2022. "In response to that demand, we're continuing to expand our vegan offering, giving our shoppers plenty of choice and all at great value. But it's also a trend that we're witnessing year-round and, as more and more people adopt this diet, we expect these products to remain popular throughout the year."
The new Plant Menu products are now available both in-store and online.