Food tech company Armored Fresh announces it will soon launch its innovative Almond Milk Cubes and American Slices nationwide in the US. In addition, the brand recently debuted its Zero Dairy Cheese product, Almond Milk American Slices, at the 2023 Consumer Electronics Show in Las Vegas.
"I wouldn't know this was vegan cheese"
A subsidiary of Korean food and beverage leader Yangyoo, Armored Fresh specializes in alternative dairy and says its "world-changing technology" can sustainably replicate the animal proteins found in dairy with plants.
To create its products, Armored Fresh scientists have collaborated with a team of Michelin-rated chefs to develop a precision formulation of plant-based lactic acid and almond milk. This technology, it states, allows the brand to replicate the aroma, texture, and flavor of dairy cheese with no dairy, cholesterol, gluten or GMOs.
In 2022, Armored Fresh raised $23M in Pre-Series B funding and debuted its Almond Milk Cheese Cubes at select grocery stores in New York City.
Superior melt
In addition to taste, Armored says its R&D team worked hard to address one of the biggest challenges facing plant-based cheeses: meltability. Using proprietary methods, the company says its researchers have successfully replicated the melting properties of conventional cheese, resulting in a soft and chewy product indistinguishable from dairy.
To showcase the cheese, Armored Fresh chose to sample its Almond Milk America Slices in grilled cheese sandwiches at CES 2023. The brand reports the product has received "extremely positive" feedback from leading industry officials, with some offering statements such as, "This product will be a really big hit," and "If you hadn't made me aware of it, I wouldn't know this was vegan cheese."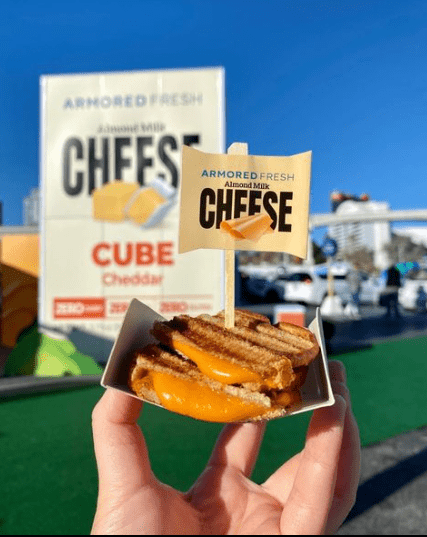 New varieties
Armored Fresh plans to make its products available for purchase nationwide on its website in late January. The company is also expanding its line to include other flavors, such as Pepper Jack, Monterey Jack, and Mozzarella.
Upon the company's US debut last year, Daniel Yang, Sales Manager of Armored Fresh USA, shared, "It's a great privilege and pleasure of mine to be able to partake in this exciting launch of Armored Fresh Cheese. We understand that the US market for cheese is one of the biggest in the world and there is a need for great-tasting plant-based cheese. Understanding the demand from consumers for a cheese that tastes great and provides great nutrients is a passion of our company; therefore, to be able to be part of that change is truly exciting for me."