As the CBD craze show no signs of slowing, Bravura Foods is the latest to join this growing market. The company has been developing a CBD infused lightly sparkling range of drinks behind the scenes with a new brand The Leaf Life set to make its debut in the retail market at the end of September.
The drinks will be available in slim line 250ml recycle cans retailing from £1.99 in three flavours; Laidback Lemonade, Relaxing Raspberry and Mindful Mango and Passionfruit. The range is certified by the Vegan Society.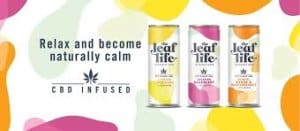 The natural drinks contain 15mg of full spectrum, fully certified CBD and are free from all artificial flavours and colours. Lisa Gawthorne, Co-Founder and Director at Bravura Foods commented: "We so excited about this launch, not just because its one of our own brands but because it really tastes amazing for CBD product. It is the lowest calorie, lowest sugar CBD drink on the market made without any artificial sweeteners – each can only has between 19-25 calories in the range."
The product will be officially launched at the Lunch Show in September and at the same time, it will be launched into all the major health food wholesalers including Tree of Life and The Health Store. The company is currently in talks with various major high street and grocery retailers.