The Califia Farms website is now advertising two lines of vegan butter; sea-salt with olive oil and sea salt with avocado oil. The whole-food spreads are cultured with nutritional yeast and use avocado oil & olive oil, tiger nuts and cashews as the base. Both products are made without palm or canola oils or trans fats.
The LA brand received $225 million in Series D financing this January led by the Qatar Investment Authority (QIA), with participation from others including David Yeung's Green Monday Ventures, marking one of the largest private capital raisings within the natural foods sector. The company stated that the funds would allow Califia to increase production capacity, carry out substantial R&D, and develop deeper U.S. penetration as well as global expansion.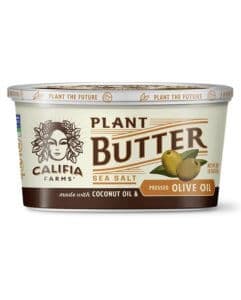 "The more than $1 trillion global dairy and ready-to-drink coffee industry is ripe for continue disruption, with individuals all over the world seeking to transform their health & wellness through the adoption of minimally processed and nutrient rich foods that are better for both the planet and the animals," said Greg Steltenpohl, Califia's Founder and CEO. "Califia's role is to help plant the future."
The products appear to be available on Ocado as well as on the company's website.