Dairy alternatives leader Daiya announces its newest product innovation, Chick'n style shreds, which the brand is rolling out on new signature pizzas and flatbreads.
"Our team has been incredibly imaginative in figuring out a way to offer a plant-based chicken pizza"
The shreds, made from peas, oats, and rice, are said to be an allergen-friendly product that meets current demand for better plant-based chicken alternatives. When paired with Daiya's pizzas and flatbreads, the shreds are said to offer an easy and convenient frozen meal option.
Now available at Walmart, consumers can enjoy the Chick'n style shreds in the following products:
Daiya BBQ Plant-Based Chick'n Style Thin Crust Pizza – Daiya's gluten-free thin crust layered with chick'n style shreds, smoky BBQ sauce, tomatoes, red onions, and melty mozzarella shreds
Daiya Plant-Based Chick'n, Smoked Bac'n & Ranch Style Flatbread – Pulled shreds, smoked bac'n style bits and ranch sauce layered with mozzarella shreds on a crispy gluten-free flatbread-style crust.
The company says "extensive" research and development went into creating the Chick'n shreds, which are free from the top eight allergens. When sampled at Natural Products Expo West, Daiya reports it received highly positive feedback from attendees, who praised the shreds as a tasty and groundbreaking product.
Cheese investment
In addition to plant-based chicken, Daiya has also revealed it is developing more realistic vegan cheese. Earlier this month, the company said it made a multi-million dollar investment in natural fermentation technology to produce plant-based cheese that is more similar to dairy.
Daiya said the investment, which it expects will yield products by the end of 2023, is one of the largest investments ever made in the plant-based cheese segment.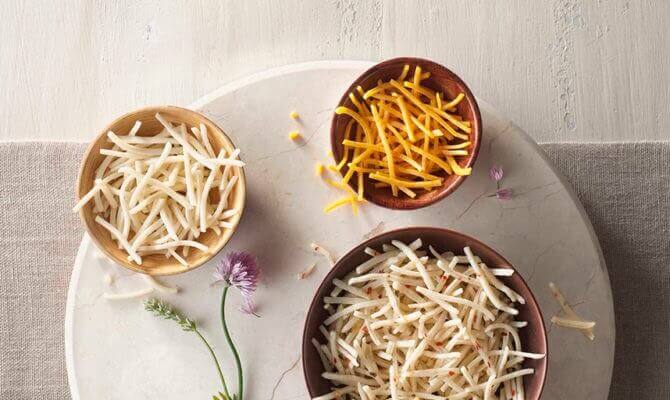 "Innovation is at the core of what we do at Daiya," said Daiya Chief Marketing Officer, Melanie Domer. "Our team has been incredibly imaginative in figuring out a way to offer a plant-based chicken pizza, without the allergens you would normally find in such a product. We're confident that these new flavors of our Pizza and Flatbread will truly delight frozen pizza buyers."
The new pizza and flatbreads are now available in US Walmart stores.