Dr. Oetker Poland has announced the launch of its first ever plant-based pizza in collaboration with vegan cheese brand Violife.
The Feliciana Vegan Verdure Piccante is a plant-based version of the company's popular Feliciana thin crust sourdough pizzas. It features a slightly spicy tomato sauce, Violife cheddar flavour cheese, mushrooms, tomato, and green pepper. Dr. Oetker said it chose to work with Violife because the brand is the most popular vegan cheese in Poland.
The plant-based pizza launched at over 8000 Zabka convenience stores on August 31. It will roll out at other retailers in the second half of September.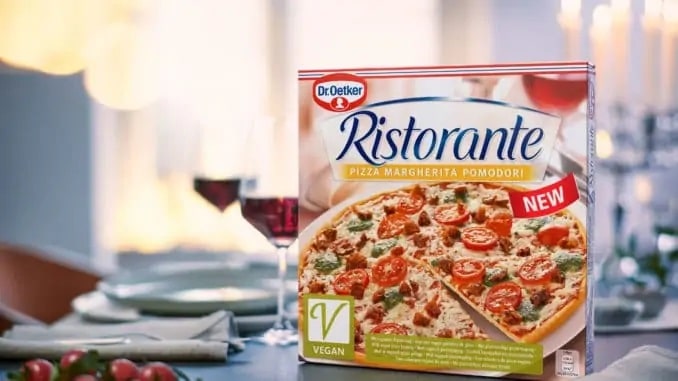 Vegan pizzas by Dr. Oetker
Elsewhere in Europe, Dr. Oetker has launched various plant-based pizzas, including the Margherita Pomodori. This pizza is part of the company's Ristorante range, and was named the fourth best vegan frozen meal globally by abillion earlier this year. Dr. Oetker also offers two vegan pizzas under its deep-dish Chicago Town brand — Tomato Stuffed Crust Sticky BBQ Jackfruit and Tomato Stuffed Crust Smokey Bac'n and Mushroom.
"Dr. Oetker recognised the trend towards a vegetarian diet early on by listening closely to the consumer. In all product ranges, we therefore offer vegetarian and, in the areas of nutrition and freshness, also vegan products from which interested customers can choose," the company told vegconomist.