German-French multinational Dr. Oetker has added a new pizza, the Vegan Pepperoni-Salame, to its Ristorante range in the UK.
Sold frozen, the pizza features a thin crust and the brand's signature passata, topped with dairy-free mozzarella and vegan pepperoni. The launch follows the success of Dr. Oetker's first plant-based Ristorante pizza, the Vegan Margherita Pomodori, which was introduced in 2021 and is now the most valuable vegan frozen pizza in the category. The product is widely cited to have had a value of over £2 million in February 2023.
"We're confident that this new addition will be popular with consumers"
Dr. Oetker has also launched vegan pizzas as part of its offshoot brand Chicago Town, which offers deep-crust Chicago-style pizzas. The first option, Vegan Tomato Stuffed Crust Sticky BBQ Jackfruit, launched in 2020, followed by Tomato Stuffed Crust Smokey Bac'n and Mushroom the following year. Both have proved hugely popular, with the former becoming the UK's bestselling vegan pizza in 2020.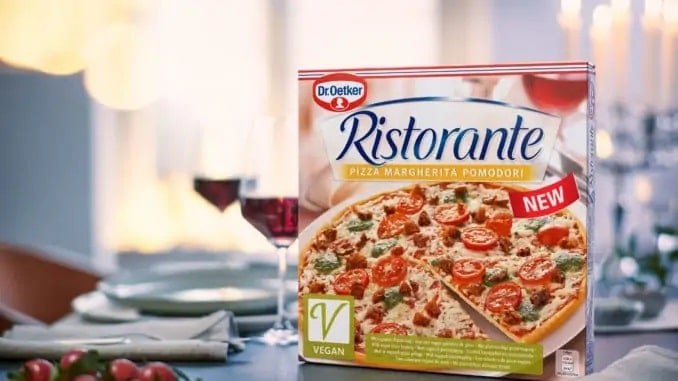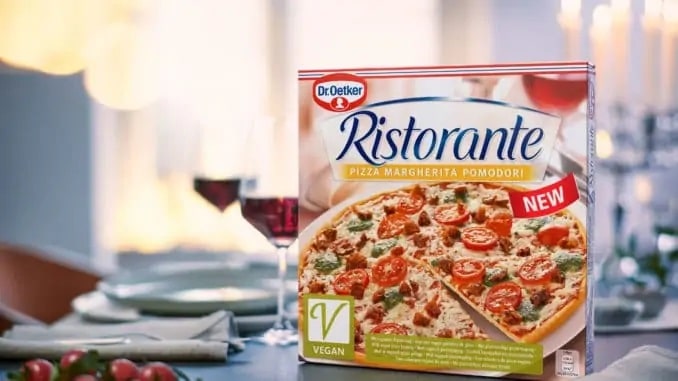 "Huge success"
Dr. Oetker offers frozen pizzas in numerous other countries in Europe and further afield, including the Netherlands, Poland, Australia, the US, and South Africa. Some are sold under the Dr. Oetker name, and others under local brands owned by the company.
In Europe, Dr. Oetker offers a wide selection of vegan products, such as baking mixes, puddings, and an alternative to crème fraîche.
"Our first vegan pizza has been a huge success within the category since its launch in 2021, so we're really excited to grow the range with our new Ristorante Vegan Pepperoni-Salame and to help vegan pizza lovers have more options when it comes to playing it Italian," said Paula Wyatt, head of marketing at Dr. Oetker Ristorante. "We're confident that this new addition to our portfolio will be popular with consumers and will bring even more variety for those on a vegan diet or looking to reduce their meat and dairy consumption."
The new pizza will launch at Tesco on May 15.