From December, a new flavour will be added to the range of energy drinks offered by the company 28 BLACK. It will be made with hemp, currently a trending ingredient. With the product, known as 28 BLACK Hemp, the company is responding to consumer demand for new taste experiences. The energy drink owes its slightly bitter taste to a hemp infusion that is free of THC and CBD and has no psychoactive effect.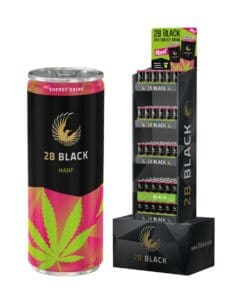 "Energy drinks are still in vogue, as is hemp – so what could be more natural than combining both?" says Felin-Joy Sade, Marketing Director at 28 BLACK. "With 28 BLACK hemp, we are increasingly targeting consumers between the ages of 18 and 35. We see great potential here. In the next three years, annual growth of 24% is expected for hemp-based foods."
The launch of 28 BLACK hemp will take place both online and offline through a wide-ranging campaign. In addition to the TV, cinema, OoH, print, and social media channels, the target group will be addressed with samples and large billboards in front of stores, as well as secondary placements inside stores at the PoS. 28 BLACK Hemp is vegan-certified and perfect for vegans, vegetarians, and flexitarians. It's also taurine, gluten, and lactose-free.