Field Roast Grain Meat Co, owned by Greenleaf Foods, the plantbased arm of Maple Leaf, has added Plant-Based Nuggets to its portfolio of frozen plant-based appetizers. The range has steadily been increasing, as has the company "Data shows that Field Roast is outpacing competitors in the frozen plant-based space," says the release.
According to market research, the brand's Fruffalo Wings and Miniature Corn Dogs are both growing over 490% year-over-year. The company also scored a win this year when it signed up to a multi-year agreement to provide its Lightlife Burger and Field Roast Frankfurter to the Chicago arena.
Field Roast began in 1997 and was acquired in 2018 by Maple Leaf Foods for $120,000,000 (plus related costs). Maple Leaf Foods Is a packaged animal meat company, which like many others, has seen the value in having a plant-based arm in recognition of the massive growth potential in this sector. The Q1 report from Maple Foods this year evidenced that its plant-based protein group Greenleaf, which currently consists of Field Roast and Lightlife, reached over double the sales growth of its meat protein group in the same period.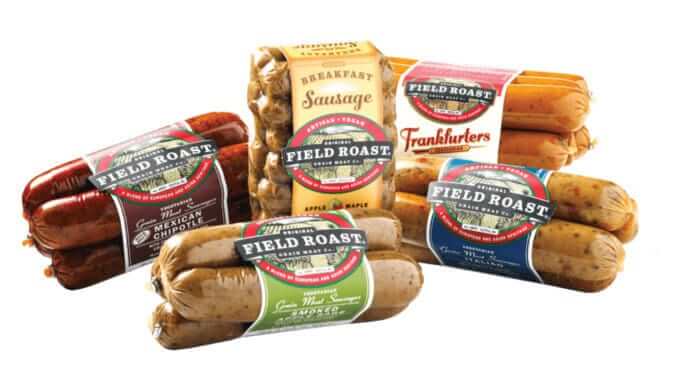 The Field Roast brand offers plant-based meats and cheeses using fresh whole-food ingredients; grains, vegetables, legumes and spices. Field Roast Plant-Based Nuggets are currently available in the frozen aisle at stores across the US and Canada, with online options available for delivery. The product will also be coming to food service locations in the future.
Dan Curtin, president of Greenleaf Foods commented: "Remember the joy that a chicken nugget could bring you as a kid? We're bringing that back with an absolutely delicious plant-based nugget that's easy to prepare, flavourful on its own, yet still stands up to dips and sauces. And they're not just for kids—adults are going to crave these, too."